Stories

4 things you need to know to save money on home heating
October 24, 2019
Am I the only one who's thrilled when the weather cools off, and it's time to get cosy on the couch with a movie rather than going out?
There's nothing like stepping into a warm home when it's raining, snowing or just plain chilly out… and then staying indoors and hibernating until April.
That's #AdultingDoneRight.
But if you don't have the most efficient heating system, or if you haven't weatherproofed your home, you're gonna have to crank that heat up for maximum cosiness. Which means you're using more energy and spending more money than you should be—not cool. (Actually, coolness is the problem here, but I digress.)
Do you have the right heating setup for your home, so you can stay warm for less? Here are five things to consider:
1. Why you should choose a natural gas furnace
Natural gas is about one third of the cost of electricity. For maximum savings, high-efficiency natural gas furnaces are up to 99 per cent efficient. Check out the annual fuel cost comparison for all areas of BC where we deliver natural gas. If you want to calculate your home energy costs for space heating and compare the cost difference between natural gas, oil, propane and electricity, use our energy comparison tool.
Save even more: get a rebate up to $1,000 on a high-efficiency natural gas furnace
Residential gas $/kWh price comparison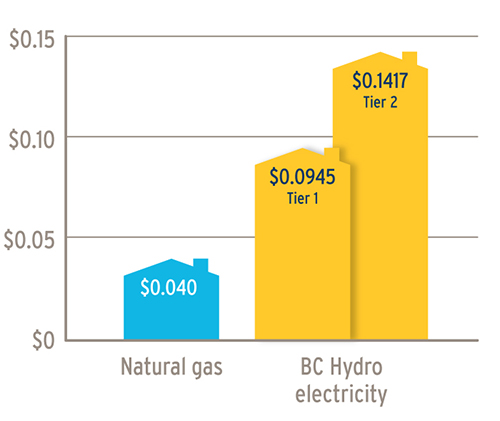 Based on rates as of April 2019. Electricity rates exclude basic charges.
2. Where you should install a natural gas room heater, wall furnace or fireplace
The glow and warmth of a natural gas fireplace makes any room inviting. And the beauty of it is, you can install one practically anywhere. They can be gravity-vented through a roof, or direct-vented to an outside wall. Hearth-mounted models can be vented into an existing fireplace.
Do you have a small secondary suite or a particularly chilly room, like a garage or rec room? Direct-vent room heaters / wall furnaces are a great option. They're self-contained, don't require chimneys or ductwork, and can be installed on most exterior walls without taking up a lot of space. And just like natural gas fireplaces, you can turn them off (or down) when you're not using that space to save energy and money.
Get a natural gas wall furnace rebate up to $700.
3. How to weatherproof your home
If you aren't doing everything you can to keep drafts out, then you're losing valuable heat! Caulking windows, weatherstripping doors, sealing gaps and cracks and upgrading your insulation are all great ways to stay cosy and shrink your energy bills.
To get all the details on how to winterize your home, check out our energy-saving tips and how-to videos.
4. How to optimize your heating system to save energy
Do you have a connected thermostat? Using one can help you save up to 15 per cent on your home heating costs by programming it to 17 °C for when you're out or asleep, and no higher than 20 °C when you're home and awake.1
Here are a few more tips to keep your heating system in top shape:
Change your furnace's filter regularly so the furnace doesn't have to work as hard.
Have your furnace serviced annually by a licensed contractor to help keep your system running safely and efficiently.
If you have baseboard heaters, vacuum them regularly and leave space in front of them to let the warm air flow into the room.
Get more space heating energy-saving tips.
Of course, one of the most important tips to save money on heating costs is the most simple: put on a sweater. I know it's tempting to crank up the heat whenever you're feeling chilled, but make sure you've put on some warm layers first to see if the extra heat is even necessary. While you're at it, get comfy on the couch with a blanket, a big mug of hot chocolate and a great new show to binge on—now you're saving money and living your best life.
#AdultingDoneRight
In case you need more convincing that you should keep your space heating costs as low as possible, check out how much of your home's energy goes toward space heating:
Energy usage in BC homes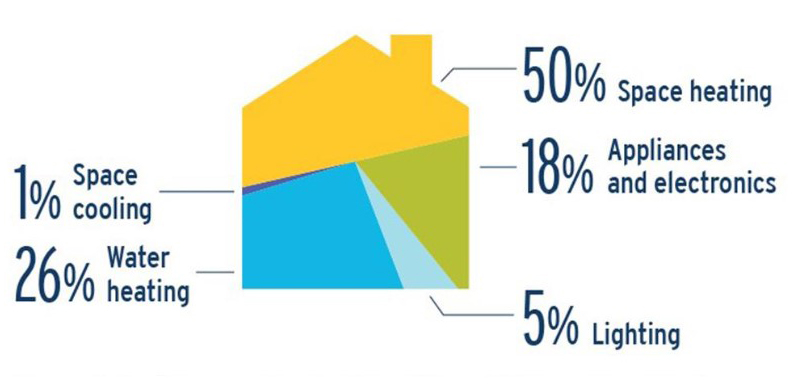 Source: Natural Resources Canada, Office of Energy Efficiency, Comprehensive Energy Use Database, residential sector, BC, Table 2: Secondary Energy Use, 2016.
You might also be interested in:
6 ways to help ensure your newly built home is comfortable and energy-efficient
The facts about where B.C.'s energy comes from
Related stories
More about