Getting natural gas: it's easier than you think

Want to start enjoying the benefits of natural gas? It's easier than you might think: you can request a natural gas line installation online, pay as little as $15, and the installation is typically completed in less than a day. Afterwards, our crew will restore your property to its original condition.
Cost for natural gas installation
It costs as little as $15 to get connected to natural gas
The cost depends on the distance from our natural gas main line (located under roadways) to the location where your natural gas meter will be installed.
$15 for the first 25 metres
$125 for each additional metre
We measure from the middle of the road to the location where your gas meter will be.
For example: if you're located on a 20 metre-wide road, we'll need to install 10 metres of gas line from the gas main to your property line. If the distance from your property line to your gas meter location is 15 metres or less, that means we're installing a total of 25 metres or less of natural gas line, which will only cost you $15: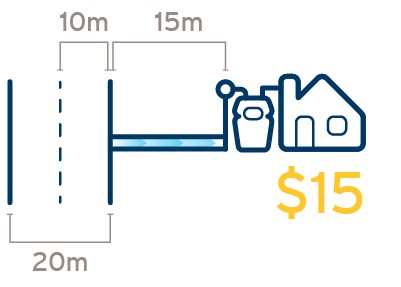 Open a new account, or request a gas line installation
If your home is already connected to a natural gas line:
If your home isn't connected to natural gas yet:
If you are experiencing issues with Internet Explorer, please try a different browser or call 1-888-224-2710 to speak with a customer service representative.

The installation process
After you request a natural gas line:
Our crew will install a natural gas line and a natural gas meter on your property, connecting to our natural gas main.
You'll need to have a licensed gas contractor connect the meter to your home, and connect your natural gas appliances after we install your natural gas line and meter. We recommend hiring your contractor as soon as possible so they can help you decide on the best appliances for your home, and other important details.
Find a licensed contractor

Restoring your property after the installation
To install the gas line and meter, we'll need to dig on your property. Our crew will restore your property back to its pre-installation state.
Installation timing
The installation will typically be scheduled three to six weeks after you submit your gas line installation request.
If we need to do a site visit and/or additional planning before the installation, the process will take longer.
If we need to do a gas main extension, the process could take 13 weeks or more.
Once the installation has begun, it's typically completed in less than one day.
Contractors and commercial customers
Contractors requesting natural gas service on behalf of homeowners
You can submit the request under your company's name. You'll be billed for any natural gas consumption while the account is in your company's name.
After the installation is completed, please call us at

1-888-224-2710

to close the account. The homeowner should then call us to open their new account.
Business, commercial and industrial customers
Complete our natural gas service request form for new or additional gas service. You'll need to provide your business number.
We'll contact you with a price quote, review the service agreement with you and get your approval before scheduling the installation.