Digging safety for homeowners

Anytime you're planning to work in your yard—such as building a deck or even just planting a few perennials—you must click or call BC 1 Call in advance to request the location of underground gas and other utility lines on your property. Doing so could help you avoid safety hazards and costly repairs if you were to damage a buried gas or other utility line.
Three easy steps for safe digging
Request location information

—

at least three business days before digging. There's no charge for this service and BC 1 Call will notify all member companies that have utilities buried in your yard. Call BC 1 Call at

1-800-474-6886

, or click:


Plan where it's safe to dig

—

after you've contacted BC 1 Call, we'll send you a map and directions of where the gas line is buried on your property. You'll receive this information within three days.
Find the line

—

use the map to mark the location of the gas line on your property. If the area where you plan to dig is within one metre of where the line is indicated on the map, carefully dig with a hand shovel. As well, take note of the following:
The gas line may be near the surface due to erosion or the soil shifting over time.
Don't use any power equipment within one metre of the gas line.
If you need help understanding the map and directions provided, call us at

1-888-822-6555

and we can walk you through the details.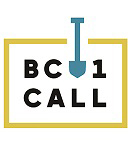 Don't assume the depth of buried utilities
Don't make the mistake of assuming utility lines are always buried several feet underground. Some lines are buried less than 12 inches from the surface. Why aren't they deeper? Many of them have been buried for decades, and multiple things can remove soil from above the lines, like erosion over time, landscaping projects and floods.
Any type of ground disturbance could lead to damaging a line including planting small shrubs, digging fence post holes and even driving a few stakes or spikes in the ground to set up a tent.
Watch our video to learn more
Follow this checklist when hiring a contractor to dig on your property
Use the following checklist before work begins and help keep everyone safe.
BC 1 Call ticket

—

keep in mind that if the contractor damages an underground natural gas line or other utility when digging, you could be liable for repair costs. Make sure they contact BC 1 Call at least three business days before work starts to get a free map of FortisBC's underground utilities on your property. Click on bc1c.ca or call

1-800-474-6886

.
Liability insurance

—

ensure your contractor carries this (ask to see a copy) to help protect you in case they damage your property.
WorkSafeBC clearance letter

—

ensure the contractor you're hiring is registered, and in good standing, with WorkSafeBC. Ask them for their WorkSafeBC clearance letter that will tell you their current standing.
Business licence

—

make sure the contractor has a licence for your city. If unsure, contact your city's business licence office.
Permit

—

if building a deck or fence, check to see if the project requires a permit by contacting your city's permit office.
Better Business Bureau

—

check to see if your contractor is accredited with the Better Business Bureau. And even if they're not, you can still find out their rating and if there's been any complaints lodged against them.
Property lines

—

know where your property line begins and ends to ensure you don't dig on city property.
What if you still damage a gas line or smell gas?
Stop what you're doing, shut off any power tools or machinery and call the FortisBC Emergency Line at 1-800-663-9911 (24 hours) or 911.