Advanced gas meters

FortisBC is working to build a more reliable natural gas system for our more than one million customers across British Columbia. In May 2021, we filed with our regulator, the British Columbia Utilities Commission, to upgrade our natural gas meters as part of the Advanced Gas Meters project. On May 15, 2023, we received approval of our application.
Improving BC's energy system
Upgrading to advanced gas meters will modernize our gas infrastructure. The new meters will allow us to better monitor and manage our system using a wireless network. For example, we will be able to remotely detect and respond to gas leaks, including in the event of an emergency such as an earthquake.
This project is one of a number of upgrades we are exploring to improve the resiliency of BC's energy system.
Advanced gas meter benefits
Advanced gas meters will offer customers a number of benefits:
Customers will be able to access daily data on their gas use, empowering them with the tools they need to make cost-effective energy choices for their families and businesses.
Safety enhancements such as notifications if unusual gas flows are detected, which could indicate a faulty appliance.
Reduced inconvenience to customers by no longer needing to shut-off gas service during meter exchanges or regularly entering customers' properties to read meters.
Switching to advanced meters will mean fewer cars on the road as we will no longer
need to manually read individual meters, eliminating an estimated 1,100 tonnes of
greenhouse gas emissions per year.
Project timeline
Before we filed our application with the British Columbia Utilities Commission, we engaged with the community.
The feedback we received at information sessions – as well as by phone and email – helped us develop our application.
We anticipate replacing our gas meters between 2024 and 2028.

Frequently asked questions
A closer look
Safety of our customers, employees and the public is our top priority. We're here to answer your questions and provide facts regarding advanced meters, and empower our customers with transparent and informed energy data.
Did you know millions of advanced meters similar to what we will be using operate safety across North America? In fact, advanced meters emit less radiofrequency than the human body. Take a look at the graphic below to compare: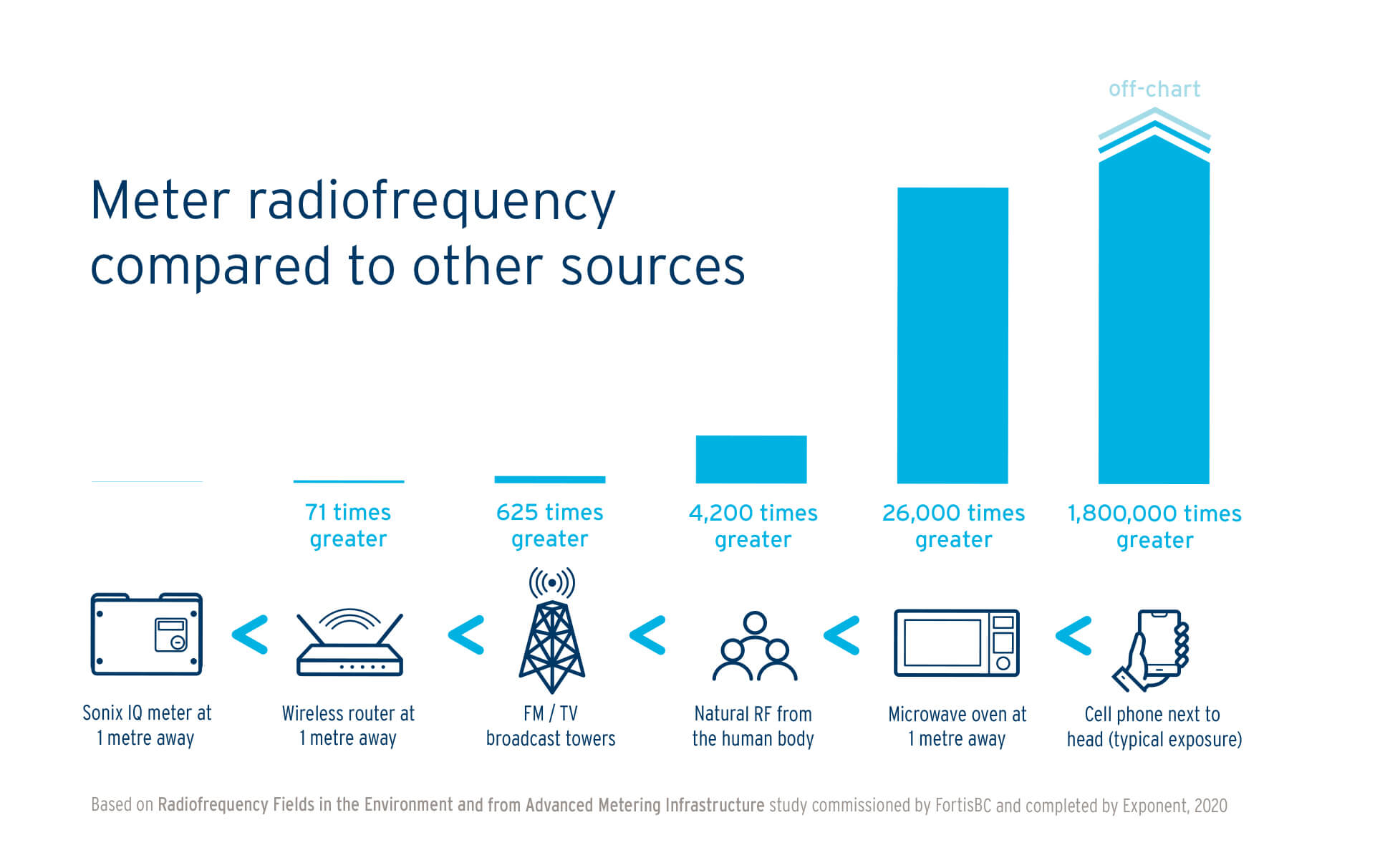 Want to know more about our Advanced Gas Meters project?
To learn more about our Advanced Gas Meters project, email [email protected] or call 1-833-592-7937.