Advanced gas meters

FortisBC is working to build a more reliable natural gas system for our more than one million customers across B.C. That's why we're preparing to apply to our regulator, the British Columbia Utilities Commission, to upgrade our natural gas meters as part of the Advanced Gas Meters project.
Overview
Upgrading to advanced gas meters will modernize our gas infrastructure. The new meters will allow us to measure customer gas use over a wireless network. This will allow us to better monitor and manage our system, for example we will be able to remotely detect and respond to gas leaks.
It will also eliminate the need for us to enter customers' property regularly to read meters.
Advanced gas meter benefits
Advanced gas meters will offer customers a number of benefits: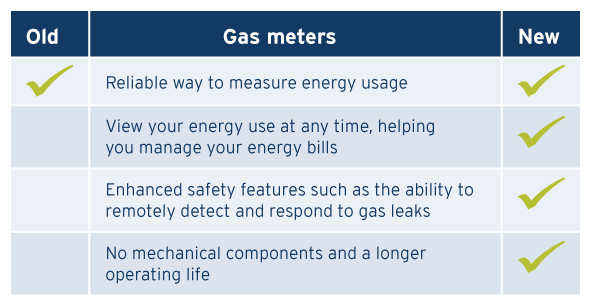 Switching to advanced meters will mean fewer cars on the road as we will no longer need to manually read individual meters, eliminating an estimated 1,100 tonnes of greenhouse gas emissions per year.
Upgrade timeline
Before we file our application with the B.C. Utilities Commission, we will be engaging with the community.
The feedback we've received at information sessions–as well as by phone and email–will help us develop our application.
If approved, we anticipate replacing our gas meters between 2022 and 2025.

Frequently asked questions
What are advanced gas meters?
Advanced gas meters use sound waves to measure gas consumption and send this information to FortisBC over a wireless network, instead of manually reading individual meters.
They record gas consumption over time–the same information our meter readers have always collected manually.
Advanced meters have virtually no moving parts, and are smaller and expected to last longer than existing meters.
They will be battery-powered and have an anticipated lifespan of at least 20 years.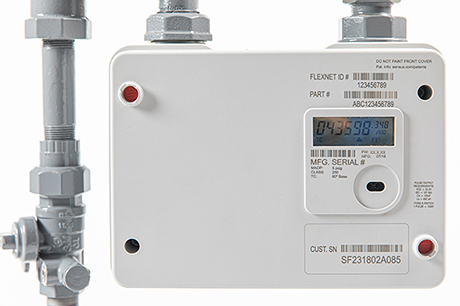 Why does FortisBC want to upgrade to advanced gas meters?
The Advanced Gas Meters project is one of a number of upgrades FortisBC is exploring to improve the resiliency of the system that supplies B.C. homes and businesses with natural gas.
Upgrading our customers' gas meters to advanced meters will modernize our gas infrastructure and allow us to better monitor and manage our system. The project will also offer our customers a number of new benefits:
Gas use will be measured through a wireless network. Regular visits to read individual meters will not be required.
Customers can access daily updates on their gas use.
We can remotely detect and respond to gas leaks, including in the event of an emergency.

Future meter exchanges can be done without interruption to gas service.

Do advanced gas meters need wifi to work?
No, your advanced gas meter won't need an internet connection to work. They will operate using a FortisBC-owned wireless network that is separate from your home wifi.
When will gas meters be upgraded?
We're in the process of applying to our regulator, the B.C. Utilities Commission, to upgrade our gas meters. Our current schedule would have us upgrading our residential and commercial customers to advanced gas meters between 2022 and 2025.
Will I be notified before you install the new gas meter?
We anticipate meters will be upgraded between 2022 and 2025. We'll reach out to customers to notify them before work starts to exchange meters in their community.
Do I need to be home when my meter is changed?
When it's time to upgrade your meter, we'll contact you to arrange a convenient time for our technician to come to your home or business. To do the exchange, your natural gas service will be shut off temporarily so our technician can safely do the work. After the exchange is done, the technician will need to enter your home or business to relight your heating system and appliances.
It's important to always try to keep a clear path to your natural gas meter at all times. That means being careful not to block it, whether with stored items, snow or shrubbery. Keeping the area around your natural gas meter clear ensures that you, the meter reader or emergency responders can reach it safely at all times.
Can I choose not to upgrade my meter?
All natural gas customers will have their meters upgraded as part of this project.
While we encourage customers to take advantage of the benefits advanced meters offer–including daily updates on their gas use–we will also offer a radio-off option.
If customers choose the radio-off option, they will still have an advanced gas meter installed, but the wireless transmitter will be disabled.
Instead, we will manually read the meter.
Those who choose the radio-off option will need to pay additional fees to ensure the majority of our customers are not responsible for covering the additional costs associated with this.
Are advanced gas meters safe?
Millions of advanced meters similar to what we will be using have been installed safely across North America. This includes about 130,000 FortisBC electricity customers.
FortisBC advanced gas meters will meet the same Canadian and international standards as our existing meters, and the same safety standards as other electronic devices around the home.
Do advanced meters emit radiation?
Advanced meters use a wireless transmitter that emits a low level of electromagnetic field.
They emit a significantly lower level of electromagnetic field than many common devices such as cell phones, wifi routers, baby monitors and microwaves.
There is no evidence to conclude that exposure to these low-level electromagnetic fields is harmful to human health, according to the World Health Organization and other medical organizations including Health Canada.
How will my private information be handled?
FortisBC takes customer privacy seriously. Advanced meters will only transmit a gas reading at a certain point in time along with a code that FortisBC uses to identify a meter. FortisBC will use this information to calculate customers' bills.
Customer information such as account balance, consumption data and name and address will not be transmitted.
Any information sent wirelessly is encrypted, meeting North American and international standards.
We will own the network, and all information collected and stored will remain in Canada at all times.
Third-party security audits will also be regularly conducted.
Customers' personal information is protected under the British Columbia Personal Information Protection Act.
We're surveying our natural gas meter sets
To prepare for the proposed upgrade to our natural gas meters, FortisBC contractors will be visually inspecting and taking photos of our in-service gas meter sets in the months ahead.
What you need to know
This survey will be similar to our regular meter-reading program:
Customers will not need to be home or take any action.

Contractors will carry ID cards identifying them as FortisBC representatives.
Work started on October 19, 2020, and we anticipate it will take about six months to complete.
Survey work will take place simultaneously throughout the communities we serve over this time.
The survey will help us smoothly implement our Advanced Gas Meters project, if approved by the British Columbia Utilities Commission.
Feel free to contact us directly at 1-833-592-7937 or advancedgasmeters@fortisbc.com if you have questions or want to know more.
Want to know more about our Advanced Gas Meters project?
Have a question or need to talk to us about exchanging your existing meter?
Call: 1-888-593-8772