Respecting Indigenous cultures and communities

British Columbia has a vast array of Indigenous cultures. We are always looking for opportunities to learn, grow and better understand these cultures.
Can deeper community roots grow better partnerships?
Honouring community roots is far more than just giving a presentation on our company mandates. It's about encouraging awareness and participating in Indigenous celebrations and cultural events, which allows us to learn and connect. Read on for a few examples.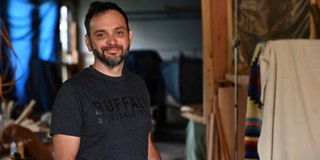 Honouring Coast Salish culture
Stz'uminus artist John Marston unveiled his 20-foot welcome figure at Ladysmith Secondary School in 2019. He carved the figure on school grounds so students could learn about Coast Salish culture while he worked. We were happy to support the project while our crews volunteered their time, equipment and a crane truck to transport the welcome figure as needed.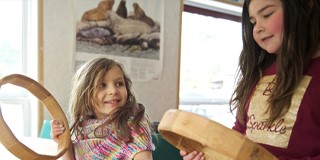 Learning the culture of ancestors
In the culture of Beecher Bay Nation, drums are alive and become a part of you and the Beecher Bay Youth Drum Group helps preserve these beliefs. In 2019, we were honoured to provide drum kits for a day of learning and drum-making. Rick Peter, a Beecher Bay Elder and FortisBC retiree, was also on hand sharing stories and youth songs.
Celebrating heritages and traditions
Every year we recognize and celebrate National Indigenous History Month. From cultural workshops and talks, to traditional foods and art fairs, employees participate in these educational events, hosted by Indigenous Elders and thought leaders, virtually or at our various locations across the province. Read our blog for more stories of celebration.
Let's get in touch
Have a cultural project or initiative in mind? Email us today and let's have a conversation.