Renewable Natural Gas for buildings and developments

Like many industries, BC builders and developers are under pressure to reduce emissions—approximately 10 per cent of all GHG emissions in BC come from homes and buildings. FortisBC is working with builders, the provincial government and municipalities to find the best way forward.
To reach the Province's emissions reduction targets, we're working to ensure that nearly three quarters of the gas moving through our system will be renewable and carbon-neutral by 2050. We're already making great strides in increasing our Renewable Natural Gas (RNG) supply: we project we'll have contracts for roughly five per cent of our total gas supply to be renewable by the end of 2021 and 10 per cent by 2025.
Using our current natural gas system as a delivery infrastructure, we can provide carbon-neutral RNG, reducing the amount of conventional natural gas needed. This means buildings can meet strict emissions guidelines without the homeowner/building owner having to incur the expense of going fully electric and relying on one single energy source.
Answering your questions
We're working closely with the building sector to understand your needs, and below you can find answers to some frequently asked questions by local builders and developers. Our energy solutions managers are also available to answer any questions you have and work with you directly on your next project.
What is RNG and how is it made?

When organic waste like rotting food or cow manure decomposes, it releases carbon dioxide (CO2) and methane, also known as biogas, into the atmosphere. That raw biogas can be captured and purified to create RNG, which can be used the same way as conventional natural gas. We deliver it through our natural gas system, and customers use it in their standard natural gas appliances. No special equipment or infrastructure is needed from builders or customers to take advantage of this carbon neutral energy source.
How is RNG carbon neutral?
Like conventional natural gas, using RNG still requires combustion. However, the full lifecycle of RNG makes it a carbon neutral fuel:
All organic waste naturally produces methane—a greenhouse gas—when the waste decomposes.
We capture, clean and use this methane that would otherwise be released directly into the atmosphere and have a greater negative environmental impact than CO2. So not only are we preventing methane from entering the atmosphere, we're using it to create affordable, carbon neutral energy that then offsets the use of traditional natural gas.
Because we're taking advantage of carbon already within our ecosystem by using waste-generated methane to create RNG, Offsetters has designated FortisBC's RNG as carbon neutral.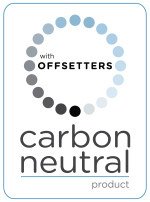 Certified carbon neutral
FortisBC's RNG has been designated as carbon neutral in BC by Offsetters
Learn more about the environmental benefits of RNG and how public sector organizations are using RNG to reduce their emissions.
How are we growing our RNG supply to meet future demand?
We're working harder than ever to meet the demand for this innovative, carbon neutral energy source. We currently have 11 active suppliers, and in 2020, we signed 13 new supply agreements that were approved by the British Columbia Utilities Commission. In 2020, we increased our available supply of RNG by 30 per cent compared to 2019 levels.
We're innovating beyond producing RNG from landfills and agricultural waste by becoming the first utility in North America to purchase RNG produced from wood waste – a potentially huge source of renewable gas. We've also recently entered into an agreement with Metro Vancouver to produce RNG from their wastewater facility and are looking for opportunities to replicate this with other municipalities.
Learn more about all the ways we're getting renewable energy from waste.
As our supply of RNG grows, less conventional gas will be used

Our goal is for the majority of our natural gas supply to be renewable by 2050, in line with provincial climate action targets. To meet this goal, we'll need to include other renewable gas options, in addition to increasing our RNG supply. For example, we're currently working with the University of British Columbia's Okanagan campus to study how to safely integrate hydrogen into our natural gas system.
Amendments to the Greenhouse Gas Reduction Regulation (GGRR) of the Clean Energy Act enables utilities, like FortisBC, to take a major role in establishing and growing the hydrogen sector in BC.
We're here to help
To learn more about RNG, connect with an energy solutions manager in your region.
1 Renewable Natural Gas is produced in a different manner than conventional natural gas. It's derived from biogas, which is produced from decomposing organic waste from landfills, agricultural waste and wastewater from treatment facilities. The biogas is captured and cleaned to create carbon neutral Renewable Natural Gas (also called biomethane).