Gas marketer complaints and contract disputes

We're here to provide information and to assist you with logging a dispute if you have a complaint that can't be resolved by contacting your gas marketer directly. However, FortisBC is not a party to your gas marketer dispute. Logged disputes are sent to the British Columbia Utilities Commission (BCUC) for mediation and adjudication.
The BCUC will investigate complaints about the business practices of gas marketers as outlined in the Rules for Marketers and Code of Conduct for Gas Marketers.
Complaints about gas marketer business practices
If you don't have a contract with a gas marketer but wish to log a complaint about a gas marketer's business practices, you can do so at the BCUC website.
Disputing your contract with a gas marketer
If you have a concern or problem, you should first attempt to resolve it by contacting your gas marketer directly.
If would like to dispute the validity of your gas marketer's contract, you can log a dispute—see directions below.
Overview of dispute process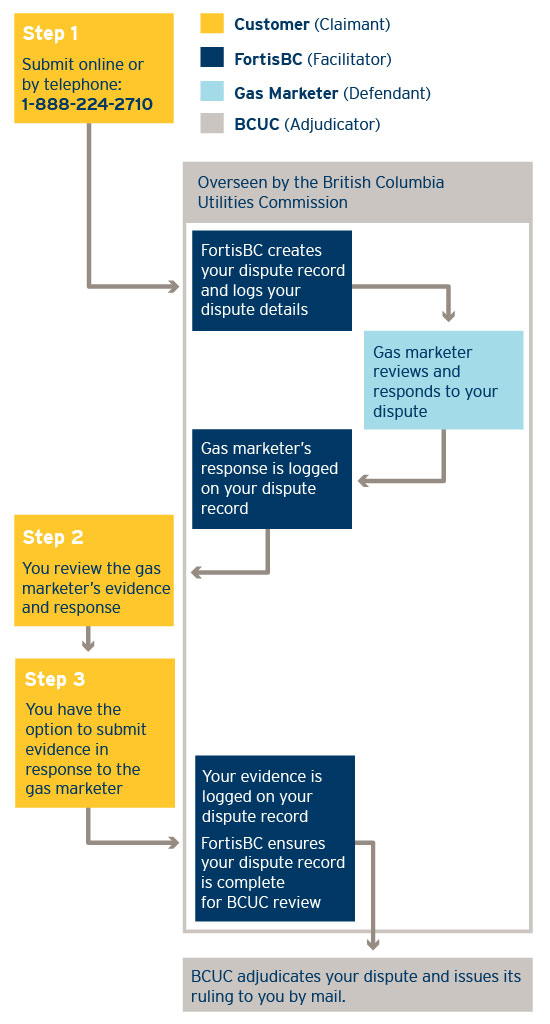 Logging a dispute online
Please read the Detailed guide to logging an online contract dispute
You can also log a dispute by calling 1-888-224-2710, Monday-Friday 7 a.m. to 8 p.m.
If you have an open dispute, you can:
Submit your supporting or rebuttal evidence by: