Training, education and careers

Developing the skills and talent for the future of BC's energy industry is important to us. We've developed training programs and engaged with industry partners to help Indigenous people gain access to employment opportunities in skilled trades and technical careers with FortisBC.
Skills development partnerships
Residential Energy Efficiency Works (REnEW)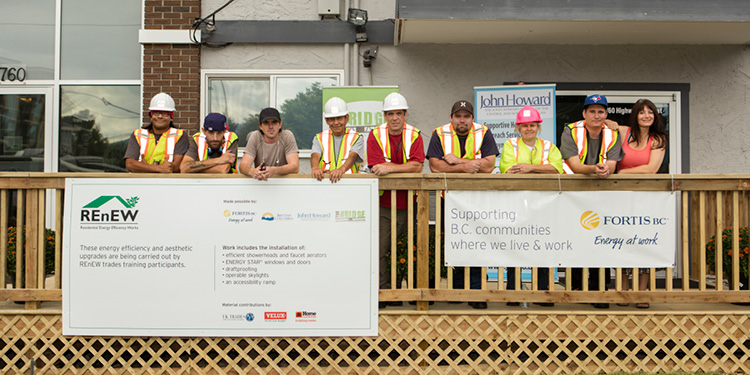 REnEW works with community groups such as ACCESS and BladeRunners to train people with barriers to employment to work in the growing field of energy-efficiency retrofitting.
Industry Training Authority
We are a member of the Aboriginal Advisory Council of the Industry Training Authority. In this role we provide advice to shape the vision for training and opportunities for Indigenous people in trades across the province.
Pathways to electrical careers
We participate in the Electrical Joint Training Committee Society working group that puts together the "Pathways to Electrical Careers" program, which is designed for Indigenous students interested in a career as an electrician.
PLATO Testing
Every year we welcome interns from PLATO Testing and its parent company, PQA Testing. These organizations provide training for Indigenous people, with a focus on developing and leveraging a network of Indigenous software testers across Canada. PLATO Testing provides outsourced testing solutions to clients throughout North America, emphasizing projects that were previously sent offshore, and addresses the technology talent shortage in Canada by bringing meaningful training and employment to Indigenous people.
Careers at FortisBC
We take part in Indigenous career fairs throughout the province to encourage qualified candidates to join our team. You can visit our booth and talk with our Indigenous employment advisors about starting a career at FortisBC. We offer a competitive salary and benefits, opportunities for challenging work and ongoing training, and an environment that supports your growth and success, as well as giving back to your community.
How to apply
We post career opportunities at FortisBC on our careers page and on LinkedIn. To apply for a job, start by creating a career profile.
We're here to help
For more information on careers, training and education opportunities, email us at [email protected].