Training, education and careers

We're working with Indigenous communities and industry partners to develop education, training and employment opportunities across FortisBC, on our projects and within our network.
Education and training partnerships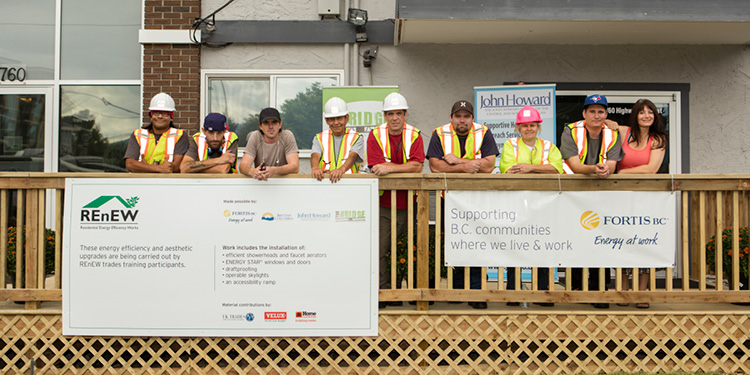 Residential Energy Efficiency Works (REnEW)

REnEW works with community groups such as ACCESS and the Okanagan Training Development Council, and with communities such as Westbank First Nation to train people with barriers to employment to work in the growing field of energy-efficiency retrofitting.
Indigenous Intern Leadership Program
Professional Aboriginal Training Organization (PLATO) Testing
Every year we welcome interns from PLATO Testing and its parent company, PQA Testing. These organizations provide training for Indigenous people, with a focus on developing and leveraging a network of Indigenous software testers across Canada. PLATO Testing provides outsourced testing solutions to clients throughout North America, emphasizing projects that were previously sent offshore, and addresses the technology talent shortage in Canada by bringing meaningful training and employment to Indigenous people.
Prince George Nechako Aboriginal Employment and Training Association (PGNAETA)
PGNAETA is dedicated to providing full cycle employment support for Indigenous Peoples. Based in Prince George, it works with people from 18 Indigenous communities across Northern BC. We partner with PGNAETA to support its training programs, including its Customer Care Program and Piping Foundations Program, through experiential learning opportunities.
Industry Training Authority
In 2008, we became a founding member of the Indigenous Advisory Council of the Industry Training Authority.

Scholarships and educational grants
To help bring greater diversity into the trades and build relationships with talented students who may consider a future career with us, FortisBC agreed to fund six new scholarships, three at Okanagan College and three at Thompson Rivers University, all targeting either women or Indigenous students.
Careers at FortisBC
We're always willing to participate in career fairs with Indigenous communities across the province to encourage qualified candidates to join our team. We offer a competitive salary and benefits, opportunities for challenging work, ongoing training and an environment that supports your growth and success. We have a variety of clubs, committees and teams that provide opportunities to connect with fellow colleagues, including the Indigenous Employee Circle.
How to apply
We post career opportunities at FortisBC on our careers site and on LinkedIn.
We're here to help
We're always looking to develop new education and training partnerships with Indigenous communities and organizations. To partner with us, or for more information about careers, training and education opportunities, email us at [email protected].