What if LNG was the marine fuel of the future?


Marine shipping is a source of significant global greenhouse gas (GHG) emissions. The good news is we're rethinking how we can lower GHG emissions by choosing how we fuel our marine vessels. With liquefied natural gas (LNG), GHG emissions from ship exhaust can be reduced by up to 21 per cent over the ship's life cycle compared to traditional marine petroleum fuels.
Beyond higher GHG emissions, traditional marine fuels often have additional impacts on the environment. Burning them can release hazardous particulate matter (tiny drops of solids in the air) and harmful gases that contribute to smog and poor local air quality. Compared to other marine fuels, LNG can reduce sulphur oxides to almost zero and particulate matter by up to 99 per cent.
More marine vessel operators are replacing traditional marine vessel fuels—such as marine diesel fuel and marine gas oil—with lower-carbon-emitting LNG, and this welcome transition is putting BC and FortisBC on the map for lower carbon initiatives. Imagine if more marine vessels around the world switched to LNG? We didn't just imagine it—we're already doing it today.
Making waves with LNG exports
Because greenhouse gas emissions don't recognize borders, it's important that we also play a role in lowering emissions gllobally. As the first Canadian supplier of LNG to China — and among the first suppliers in North America to Asia — we helped Canada's LNG export industry reach a major milestone. Currently, we supply the only LNG export deal in Canada to the Asian market, helping to displace the use of coal and diesel in China with our "made-in-BC" LNG. As demand for LNG continues to grow around the world, our global outlook is expanding to serve other export markets.
Leading amongst the cleanest LNG facilities in the world
For nearly 50 years, our Tilbury LNG facility in Delta, BC, has been providing additional natural gas supply to our local customers on the coldest days of the year when demand is higher than average. Throughout Tilbury's history, including the first expansion completed in 2018, we've continued to meet increasing LNG energy demand. Because we use renewable hydroelectricity to produce our LNG, it's 30 per cent less carbon intensive than other global producers on average. No wonder Tilbury is highly regarded among the cleanest LNG facilities in the world.
We're also proposing to add more LNG storage capacity to strengthen BC's natural gas system. And this is only the beginning for opportunities to promote the use of this alternative fuel source, connecting industry partners with potential LNG customers.
Port of Vancouver: a global LNG fuelling hub
Given the low GHG profile of FortisBC's LNG from Tilbury, and the opportunity to lower global marine air contaminant emissions by switching from traditional marine petroleum fuels to LNG, we have an opportunity to create a global LNG fuelling hub right here in the Port of Vancouver. The practice of fuelling a marine vessel is known as "bunkering", and we've already developed a world leading method of bunkering LNG using specially-designed tankers right on board a vessel, with our partners BC Ferries and Seaspan Ferry Corporation. Creating an LNG bunkering hub right here at home would not only reduce emissions around the world, it creates a powerful economic opportunity for the province and for British Columbians.
Our LNG storage facilities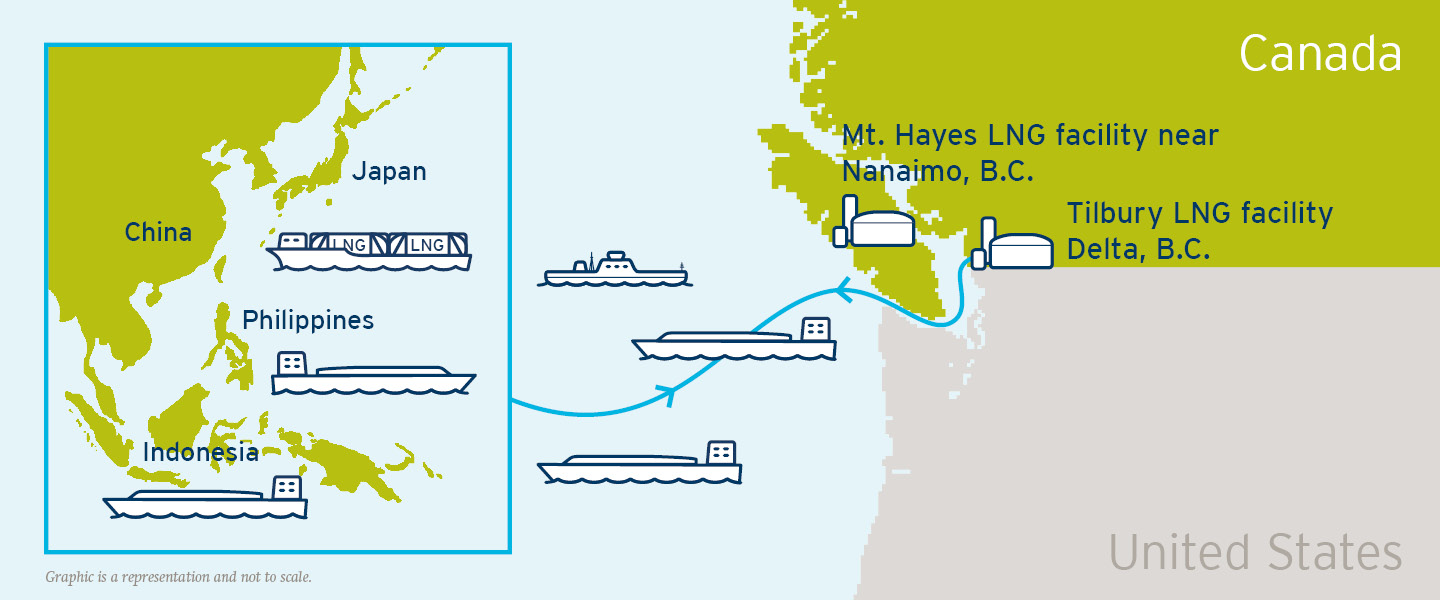 Our high-capacity LNG plants are the only LNG facilities operating along the North American West Coast.
Ensuring LNG is as safe as it can be
LNG is made from the same natural gas we use every day in our homes. For easier transport by truck or ship, LNG is cooled to a liquid form at -162 degrees Celsius, and stored in reinforced, insulated containers at -162 Celsius. In the unlikely event of a LNG leak or spill, it will not remain in the water like traditional fuels, posing no danger to marine ecosystems. LNG will warm up, revert to natural gas and dissipate, eliminating the need for cleaning and removal activities. For those reasons and more, it's considered among the safest fuel sources available in the world.
Contact our project team
Find out if LNG is right for your business.