How far are we from a low emission transportation sector?


We're getting closer, but we still have a way to go. That's why we're rethinking how we get there by working with government and our industry partners to meet growing demand for lower emission transportation solutions. Currently, FortisBC fuels more than 850 lower-carbon, medium- and heavy-duty vehicles using compressed natural gas (CNG) and liquefied natural gas (LNG).
In addition to providing lower-carbon alternatives to diesel fuel for commercial vehicle use, FortisBC is planning to meet growing electric vehicle demand—from the 10 per cent of new light-duty, battery electric powered vehicles purchased in BC,—by adding more charging stations.
Installing more charging stations across BC
Charging at home or at a public Level 2 station is a great option most of the time. But how about when you need a fast charge? Currently, we operate over two dozen direct current fast charging (DCFC) EV stations at numerous locations across the southern Interior of the province. And by the end of 2021, we plan to have at least 40 chargers in service across 23 communities.
Affordable and costing users $0.30 per minute to charge—the same rate as many other stations throughout the province—DCFC stations can provide more than 100 km of driving range in 20 - 30 minutes. Partnering with communities and all levels of government to build more EV charging stations is another way we're meeting the challenge to reduce our customers' greenhouse gas (GHG) emissions by 30 per cent by 2030.
Learn more about electric vehicles and rebates for home and business
We're helping our customers plug in to cleaner energy choices for transportation.
Finding lower carbon commercial solutions
At 41 per cent of provincial greenhouse gas emissions (GHG), transportation accounts for the largest emissions footprint in BC. Think about all those truck fleets, long haul semis, city buses and more powered by diesel and you start to get a clearer picture of the opportunity for lowering emissions. Together with industry and government, we have a plan as part of our Clean Growth Pathway to 2050 vision, to address this issue. And our 30BY30 target will be how we measure our progress.
GHG emissions by sector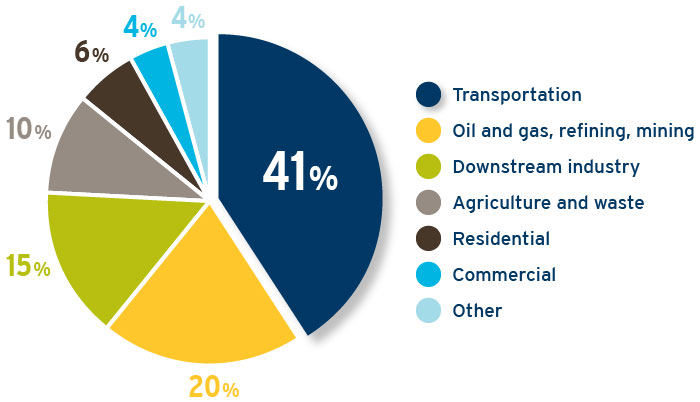 Transportation has the largest emissions footprint in BC, producing 41 per cent of all GHG emissions.
We see a future where personal vehicles can be 100 per cent zero-emissions by gradually adopting battery-electric and fuel cell technology—and we have a solution for medium and heavy-duty vehicles too. Currently, FortisBC fuels more than 850 low-carbon medium- and heavy-duty vehicles using compressed natural gas (CNG) and liquefied natural gas (LNG), reducing GHG and air contaminant emissions right here, right now. In addition, we'll continue to help our customers with medium- and heavy-duty truck transitions to a variety of lower-carbon fuel alternatives. These fuel options include CNG, LNG, Renewable Natural Gas (RNG), battery electric vehicles (BEV), and hydrogen-powered vehicles when they become available.
Partnering with companies and industry
Powerful partnerships get us to bigger GHG emissions reduction numbers faster. Since we began our partnership in 2018, TransLink has been a leading example for transit authorities and fleet operators making the switch to lower-carbon fuels. Today, CNG vehicles make up roughly a fifth of TransLink's bus fleet. In GHG terms that adds up to around 21 per cent fewer emissions per bus with a 50 per cent reduction in fuel costs versus diesel.
With RNG, a carbon-neutral fuel, the partnership gets even better, reducing GHG emissions by close to 90 per cent versus diesel. TransLink was the first public transportation authority in Canada to use RNG to help fuel its natural gas-powered buses. Through our five-year RNG-supply contract, we'll provide up to 500,000 gigajoules (GJs) annually within that period, which is expected to fuel the existing TransLink natural gas bus fleet with 100 per cent RNG. The transition to RNG will reduce TransLink's GHG emissions by 50,000 tons per year—the equivalent of taking 10,000 cars off the road for one year—and the company has a goal of using 100 per cent renewable energy by 2050, which further supports our 30BY30 progress.
10,000 cars off the road/year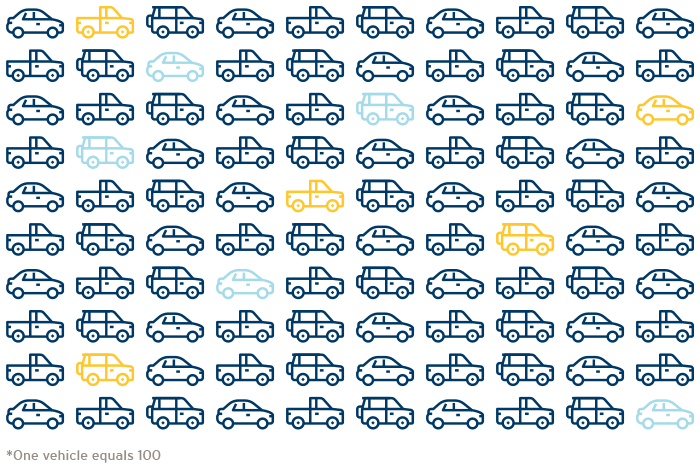 ** Estimated GHG emissions reduction from TransLink's natural gas bus fleet, fuelled with 100 per cent RNG.
Find out about commercial incentive programs
More companies are decarbonizing their transportation networks by switching to LNG, CNG and RNG. See how yours can make positive impact on the environment.
Contact our project team
Let us help you get started with finding the right alternative fuel option for your business.