Stories

5 reasons we're investing in our gas system to support BC's lower-carbon future
November 15, 2021
There's a lot of important conversations taking place these days about the urgency of reducing greenhouse gas (GHG) emissions, and it might lead you to wonder why we're continuing to invest in our natural gas system. As BC's largest energy provider, we know we have an important role to play in helping our province meet its emission reduction goals.
Evolving our complex energy systems won't happen overnight—it's important that we work with government and industry to ensure affordable and reliable energy is available to all corners of the province at all times.
Here's five reasons why we're investing in our gas system to support a lower-carbon future:
1. By 2050, our goal is for 75 per cent of the gas in our system to be renewable gases
Our gas lines are already delivering more than just natural gas. Since 2011, we've been offering customers the option to use low-carbon Renewable Natural Gas (RNG) instead. We team up with local farms, landfills, green energy companies and municipalities to capture and purify the methane to create RNG. This methane would otherwise escape into the atmosphere as a GHG. Instead, we're repurposing it as a low-carbon fuel to displace natural gas. RNG is a big part of how we'll reduce emissions over the next 30 years.
We're currently expanding our RNG supply, with the goal of RNG making up at least 15 per cent of our total gas supply by 2030 (enough to meet the needs of more than 333,000 homes), which is part of our 30BY30 target. We're on track to meet or exceed this target—we've tripled the amount of RNG in our system over the last calendar year and according to our projections, we'll triple it again by the end of 2022.
Over the longer term, our goal is for more than 75 per cent of the energy our system delivers to be renewable by 2050. Alongside RNG, we're also investing in other renewable gases such as hydrogen and syngas, which will be able to further decarbonize our system. All of these renewable gases can be injected into our existing gas system, and our customers can use them in their homes and businesses without needing to purchase new equipment or appliances, because renewable gases work the same way as conventional natural gas.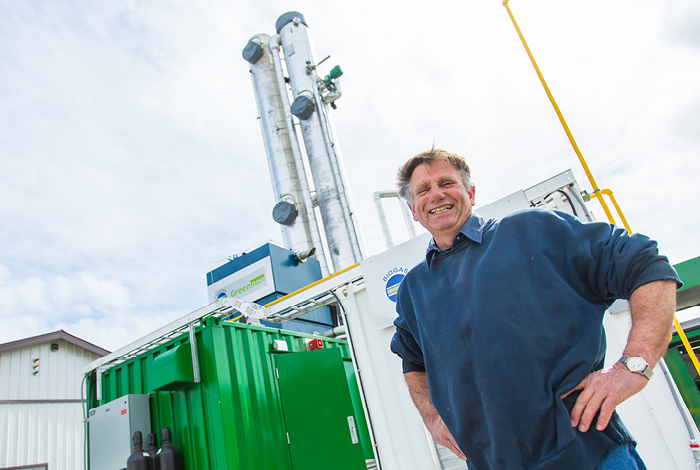 2. A diversified energy system means reliable, safe and affordable energy

We can support the Clean BC Roadmap to 2030 and BC's other climate action targets, while creating a more resilient and flexible energy system. Having two high performing systems—gas and electric—naturally improves our province's flexibility, reliability and resiliency when it comes to solving the energy problems of tomorrow.
For example, hydropower could be used in the future to produce green hydrogen from electricity overnight when demand is low. This hydrogen could be cost-effectively stored as carbon-free energy within the gas system and then used during peak periods. This would remove the need to create a much larger electrical system that can meet our substantial peak energy requirements during winter's coldest days as British Columbians heat their homes and workplaces.
We believe the lower-carbon system of the future combines the strengths of BC's gas and electric systems to optimize GHG reductions, reliability and affordability.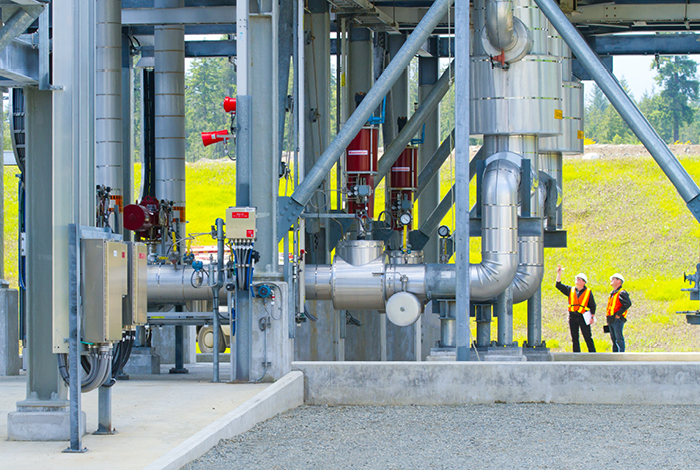 3. Investing in our gas infrastructure could save BC $100 billion over the next 30 years
Significant investment in energy infrastructure will be required to meet the province's 2050 climate goals – no matter how we decide to pursue them. Research by global energy consultancy Guidehouse shows that BC can save in excess of $100 billion by using both our gas and electricity systems, as opposed to electrification alone.
There are three primary ways a diversified approach to climate change saves BC money:
If BC attempted to reach its 2050 climate goals by pursuing solely an electrification pathway, it would need to build an estimated eight additional dams the size of Site C to supply almost 9,000 megawatts (MW) to meet growing demand for energy as well as taking over the energy load delivered by gas, particularly during peak demand on BC's coldest days when additional load is needed for heating. (A diversified approach would only require an estimated four additional dams the size of Site C.)
A diversified energy system could allow large amounts of energy to be stored more affordably. Gas storage, such as what we currently have at Aitken Creek in northern BC, costs approximately $1 per gigajoule compared to electric storage costs that range from $50-$90 per gigajoule. Even with technological advances, we believe it could be challenging to close that gap.
Taking a diversified approach allows us to leverage existing gas infrastructure already largely paid for and at work in BC. When the cost of the diversified and electrification pathways are projected out over the next 30 years, both pathways cost roughly the same until the mid-2030s. Around this time, the cost of the electrification pathway becomes much higher than the diversified pathway, primarily due to the need for new large-scale capacity and infrastructure needed to support the electrification pathway.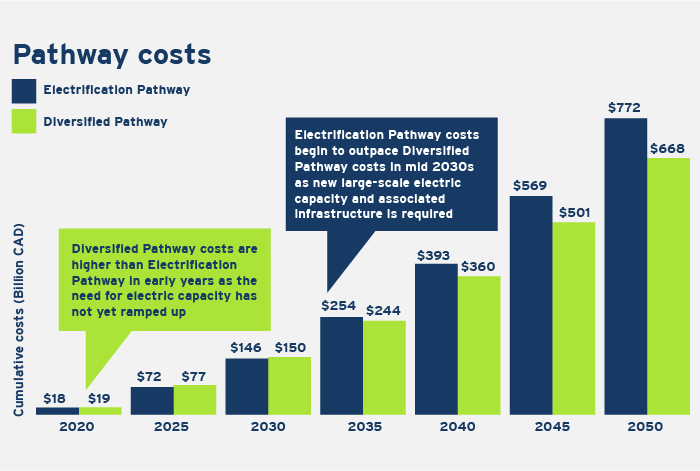 Source: Guidehouse Analysis
4. Reducing emissions by using natural gas for transportation
Transportation represents a huge portion of the world's GHG emissions and in BC it accounts for about 40 per cent of our total provincial GHG emissions. Switching medium and heavy-duty vehicles, as well as marine vessels from heavy carbon fuels like diesel or bunker oil to natural gas is a practical and effective way to reduce GHG emissions.
Using compressed natural gas (CNG) can reduce GHG emissions by up to 30 per cent compared to gasoline or diesel. We help local fleet operators reduce their emissions and fuel costs by partnering with them to transition their medium and heavy duty vehicles to CNG or liquefied natural gas (LNG). Today, there are more than 1,000 natural gas vehicles on BC roads.
We're also developing LNG as a cleaner fuel for domestic and international marine vessels. Our Tilbury facility in Delta, BC is unique among global LNG facilities operating today because it's powered almost entirely by renewable hydroelectricity. A 2020 analysis found that ships switching from petroleum-based fuels to Tilbury's LNG could reduce their GHG emissions by up to 27 per cent depending on the engine type used. We already supply some BC Ferries and Seaspan vessels with LNG as a cleaner energy source and hope to make Vancouver a hub for fuelling marine vehicles with cleaner fuel, creating jobs and bolstering the local economy.
We believe that by 2050, as the energy delivered through our gas lines becomes predominantly renewable and lower-carbon, there will be significant additional GHG emission reductions on top of those already made by switching away from heavy fuel oil and diesel.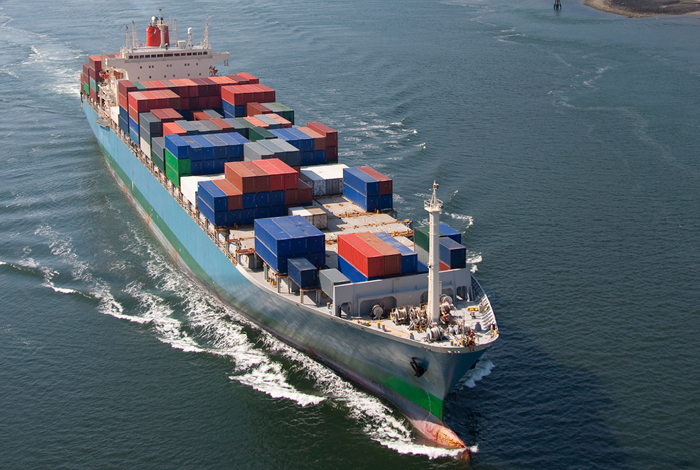 5. Meeting BC's energy needs on our coldest days
We need to consider BC's climate when planning a system that will achieve the province's climate targets while meeting its energy needs. While the majority of the province's population lives in the more temperate Lower Mainland, there are colder periods that cause a peak in energy use across the province – and this is when natural gas does the heavy lifting. During previous cold spells when temperatures dip below common lows FortisBC's gas system has delivered 60 per cent more energy than the electricity system – highlighting the central role that gas can play when it comes to heating our buildings.
BC's gas system is able to handle these peak loads by accessing affordably-stored energy, meaning it can deliver the energy customers rely on when they need it most.
Dealing with these periods of peak energy demand represents a significant challenge for tomorrow's energy system. If BC moved all space heating to the electric system, there would be a need for almost 9,000 MW of new clean generating capacity, which would require expanding the electric system by about two-thirds.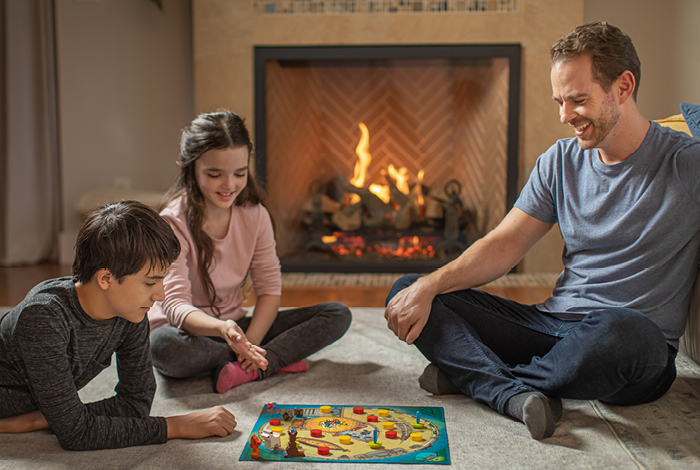 Learn more about our 30BY30 target and our Clean Growth Pathway to 2050
Our 30BY30 target and Clean Growth Pathway to 2050 outline the role we'll play in helping BC achieve its climate action targets over the next 30 years, demonstrating how our gas system will be a fundamental part of a lower-carbon energy future. A diversified approach to climate action will allow BC to use its existing gas and electric infrastructure in tandem to reduce emissions and meet its climate targets while maintaining a safe, reliable and affordable energy system.
Related stories
More about