Supporting our customers

Our more than 1.2 million customers are central to the sustainability of our organization. Their evolving energy needs drive us to continuously improve our energy systems to keep energy flowing, while always looking for innovative ways to support and connect with them. From offering conservation programs, helping our customers save energy and money while reducing their greenhouse gas (GHG) emissions to proactive infrastructure upgrades to maintain the safety, reliability and resiliency of our energy systems, we strive to provide as much value to them as they bring to us.
Providing support during the COVID-19 pandemic
None of us could have anticipated the challenges brought by the COVID-19 pandemic. While unexpected, we made our customers' concerns a priority and found the best way forward together.
The combined efforts of our emergency operations team made it possible for us to deliver the safe and reliable energy our customers needed in their homes and businesses. The team worked to ensure our employees had safe work environments to perform their jobs, which included enhanced safety measures for employees who were required or who chose to work at our offices and our employees working in the field. From performing regular maintenance with physical distancing measures to repairing third-party damages to our system with enhanced safety measures to protect our customers, the work our field employees did throughout this time was an integral part of how we kept energy flowing to British Columbians.
Financial support to help customers
In an uncertain time for many of our customers, it was important to find ways to support them. Many residential and small business customers across the province were facing financial challenges due to the pandemic and needed help, so, in April 2020, we introduced the Customer Recovery Fund. Customers who signed up for the program had their bill payments deferred until July. This program provided the immediate relief our customers needed while giving flexible payment options for the coming months. To support our industrial customers who were facing financial difficulties, we took a one-on-one approach. We encouraged these customers to reach out to their key account managers who would work with them to find the best options to meet their specific needs.
Our Customer Recovery Fund will help our customers in the short term and will provide the flexibility for customers when they start on the road to recovery. Taking this approach will allow us to provide effective support to those who need it most and minimize the rate impacts on all of our customers.
Roger Dall'Antonia, president and CEO of FortisBC on the need to provide financial support to customers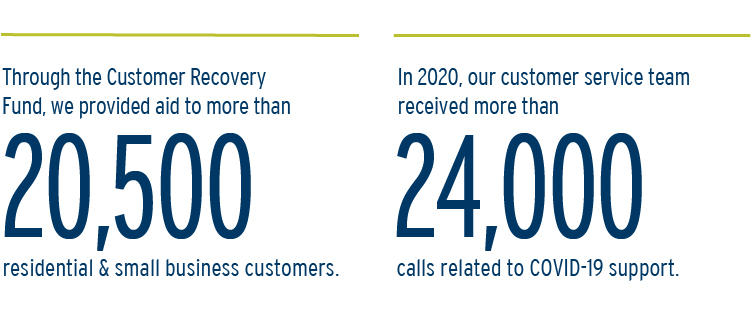 Just as our field crews kept energy flowing across the province, our customer service support also remained consistent. Our customer service teams were there for our customers to recommend support measures such as the COVID-19 Customer Recovery Fund and tailored payment arrangements that considered the unique financial needs of each customer. To provide another way for customers to reach us, we also introduced a new chat function on the FortisBC website where customers could communicate with a customer service representative online in real time.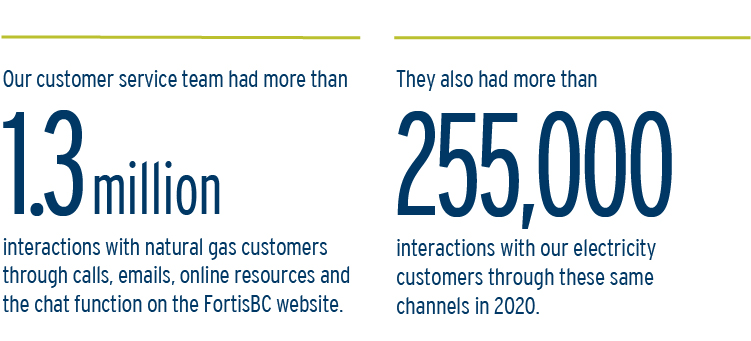 Extended support measures
One of the biggest impacts to many of our customers due to the pandemic was the province-wide school closures after spring break. This presented an opportunity to help teachers and parents with at-home learning materials through our Energy Leaders program–an educational program to teach students about energy conservation and safety developed with BC teachers based on the province's current curriculum. For parents who were looking for educational materials and resources for distance learning, we adapted many of our natural gas and electricity lesson plans and extended the program for home use with their children. This also gave teachers from kindergarten to Grade 12 additional lessons and resources as they transitioned to online classes. Additionally in 2020, we translated all lessons up to Grade 10 into French.
As the province started adjusting to the new restrictions, more British Columbians were staying home and some took on home renovations. To help our customers with their energy-efficiency upgrades and to assist the province in its economic recovery, we partnered with CleanBC and BC Hydro to offer double rebates to residential customers. For a limited time, customers could receive higher incentive amounts for select high-efficiency natural gas and electric appliances and equipment.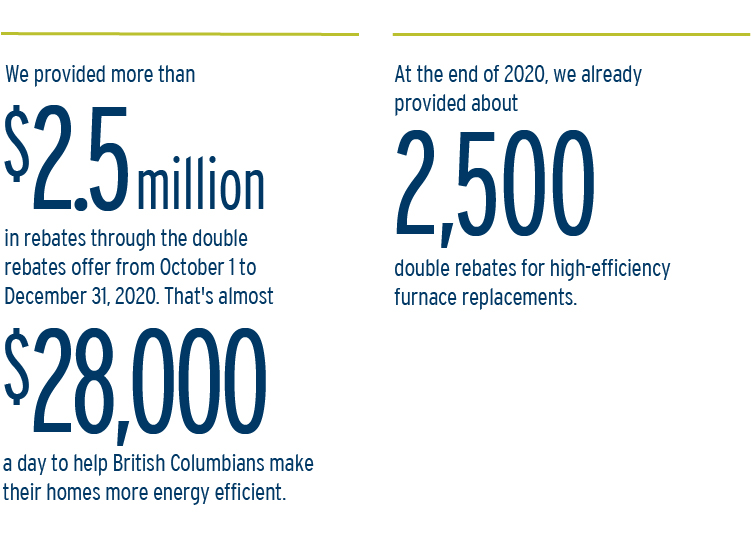 With less physical traffic coming into storefronts, some businesses were looking to learn how to cut operating costs by making their operations more energy efficient and we provided support to these customers. For our commercial customers looking to increase energy efficiency in their businesses, they could take advantage of bigger rebates on select high-efficiency equipment and products such as boilers, furnaces and LED lighting. We're offering most of these bigger rebates until December 31, 2021,1 helping these customers reduce operating costs while they recover from the COVID-19 pandemic.
Continuing to increase energy efficiency in BC
We're always looking for ways to help our customers save energy and money as well as lower GHG emissions. Our investment in conservation and energy management programs continued to grow to help more customers reach their energy efficiency goals. In 2020, we invested more than $75 million in our natural gas efficiency programs and more than $10 million in our electricity efficiency programs–a 15 per cent total increase from 2019. Our investment in these programs in 2021 is projected to increase to almost $89 million for natural gas programs and around $11 million for electricity programs–breaking the $100 million mark for the first time.
2020 rebate highlights
With this significant investment and our double rebate offers, more British Columbians took advantage of our rebate programs. Approximately 80,000 natural gas rebates were provided to customers, helping them improve the energy efficiency of their homes and businesses. We also provided more than 40,000 electricity rebates to our customers for energy-efficient products such as appliances and lighting.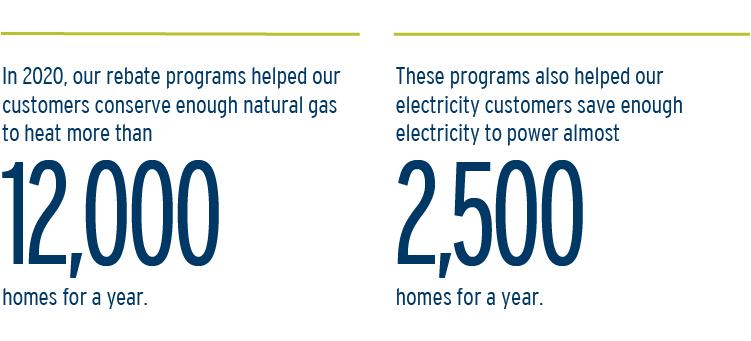 Along with our rebate programs, we continuously look for ways to help our customers understand their home energy use and provide tools to help them manage it. This is why in the fall of 2020 we launched a new feature within Account Online– My energy use. Through this feature, natural gas customers can complete a home assessment and receive customized energy-saving tips and rebate suggestions based on the answers provided. Customers can also earn reward points for completing specific actions that will help them make their homes more energy efficient and these points can be redeemed for bill credits on their FortisBC bill. We expect this feature to be available for our electricity customers later in 2021.

Helping businesses reach their energy conservation goals
Working with businesses, large or small, to provide them with direct and customized support to meet their specific needs is a way we're helping make energy efficiency accessible for our customers.
We continued our annual partnership with GreenStep Solutions, a leading sustainability consultant, to help almost 600 small and medium sized businesses with free basic energy assessments, identifying energy and cost saving opportunities. Due to physical distancing measures, GreenStep offered advice via telephone calls, video conferences and through a limited amount of in-person visits that followed proper safety protocols.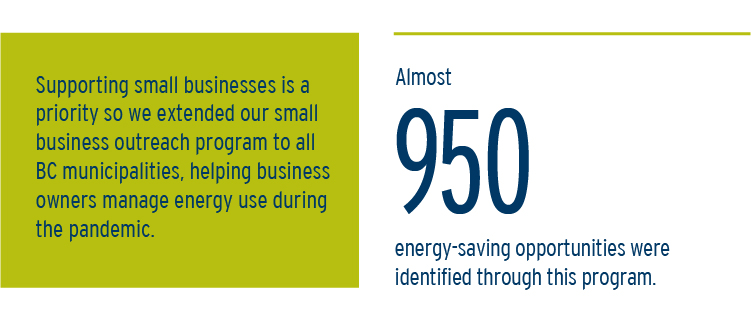 Among the organizations most committed to energy efficiency, the winners of our 2020 Efficiency in Action Awardsdemonstrated some of the positive work being done in the province. We held the annual award ceremony virtually this year to recognize the eight winners who were chosen not only for the energy savings they achieved through their projects, but the leadership and innovation they've shown to improve energy efficiency and reduce GHG emissions.
Award winners included the Richmond School District that received our inaugural Innovation award for significantly reducing their GHG emissions by installing natural gas absorption heat pumps at McMath Secondary School. The winner of our Public Sector–Provincial award went to Interior Health for their significant investment in energy-efficiency upgrades in multiple hospitals in the Okanagan. They received approximately $386,000 in natural gas and electricity rebates for upgrades to the Penticton Hospital alone. We're proud to support organizations across the province to help them achieve their energy and emissions reduction goals.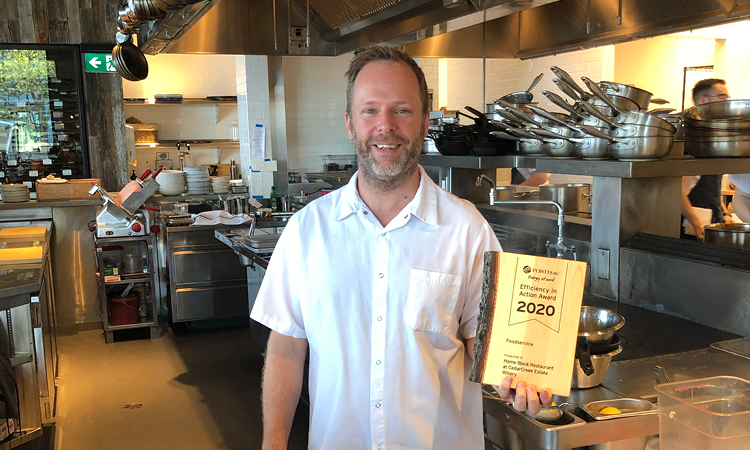 The winner of our Foodservice award was Home Block Restaurant at Cedar Creek Estate Winery and Ron Shaw, Chef de Cuisine, was part of the team who took a comprehensive approach to making energy-efficiency upgrades by applying for high-efficiency boiler, water heater, kitchen equipment and lighting rebates.
Advancing cutting edge technologies in BC
We're continuing to test the next generation of ultra-efficient natural gas technology. Before our rebate programs are available to customers, we test the technology in select homes and businesses to gather customer feedback on the technology, test its effectiveness and determine if a rebate program should support the roll-out of the technology.
For example, the results of our gas absorption heat pump pilot were released in 2020. We installed 14 natural gas heat pump units across seven commercial sites with each unit providing both space and water heating and we saw impressive results. These units performed at more than 100 per cent efficiency and contractors were impressed by how seamless they were to install into existing systems. In 2021, we're expanding this program to test other ways we can get to even higher efficiencies with these units, such as installing them in tandem with high-efficiency tankless water heaters to see how the two units perform together. If we continue to see positive results, we expect to offer a new rebate for these systems in the near future.
As this pilot program wrapped up, our innovative technologies team turned their focus to testing natural gas heat pumps for residential homes. Since in-person site assessments weren't possible, the team completed more than 30 virtual site assessments with potential participants using Google Street View and photos of their existing space and water heating systems. The team selected 15 residential properties across the Lower Mainland that will have the Thermolift natural gas heat pump for space and water heating installed. We expect to install these units early in 2021 and they will be monitored for one year.
Customer safety is always a priority
The safety of our customers and employees is always our top priority. From being available 24/7 to respond to natural gas or electricity emergencies to talking with customers about power line safety and safe digging practices, it's our responsibility to help British Columbians stay safe around natural gas and electricity.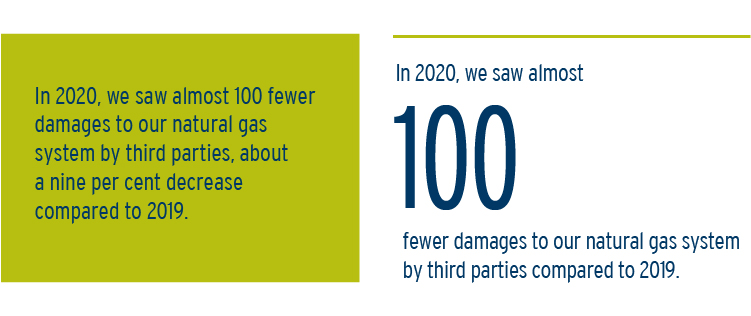 Two organizations received recognition for demonstrating their continued commitment to safe digging practices. LJE Underground Inc. and BC Plant Health Care Inc. were acknowledged for the number of BC 1 Call tickets they submitted with zero damages to our natural gas system.
Damaging a natural gas line when digging can create unsafe situations and also seriously delay work schedules. Both of these companies have excellent track records of working safely around our infrastructure and have set an example for others to follow.
Ian Turnbull, damage prevention and emergency services manager at FortisBC
Michelle Petrusevich (left) and Ron Field (right) from FortisBC present our annual safe digging award to Dennis Tuokko (middle left) and Nermin Mujic (middle right) from LJE Underground Inc. They submitted 1,430 BC 1 Call tickets with no natural gas line damages.
Investing in infrastructure upgrades to meet our customers' needs
Natural gas line upgrades
In January 2020, the British Columbia Utilities Commission (BCUC) approved our Inland Gas Upgrades project, which involves upgrading 29 natural gas lines across 18 communities in the North, Thompson-Okanagan, Cariboo and Kootenay regions of BC. This project to modernize our inspection equipment technology will improve our ability to perform proactive maintenance and will strengthen the reliability and resiliency of our natural gas system, which underscores our unwavering commitment to safety.
As with all of our infrastructure projects, it's important for us to connect with our customers in the communities where this work will take place. In July, we started our public outreach to speak with customers about this project and allow local residents to ask questions about our work. Additionally, we formed new partnerships with local and Indigenous contractors to carry out the construction work for the project. In 2021, we plan to start working in several communities including Kimberley, Skookumchuck and Prince George. We anticipate the overall project to be completed in 2024.
In the Lower Mainland, we continued to work on a new route for our natural gas line attached to the Pattullo Bridge. This vital part of our system serves more than 35,000 homes and businesses in New Westminster, Burnaby and Coquitlam. The bridge is being replaced in the coming years and new design standards don't allow for a natural gas line on the new bridge, so we're proposing to build a new natural gas line to connect our system in Burnaby to our system in New Westminster. In 2020, we started discussions with local residents and stakeholders about the proposed route and applied to our regulator to receive approval on the project. We expect to have a decision from the BCUC in 2021.
Electricity infrastructure upgrades
Replacing older infrastructure is key to ensuring the reliability of our system. To support our electricity customers in the Kootenays, we installed a new transformer at our Grand Forks substation. The new transformer–a unit that brings in high voltage electricity and lowers the voltage for residential and commercial use–helps us improve the reliability of power in and around Grand Forks today and for years to come.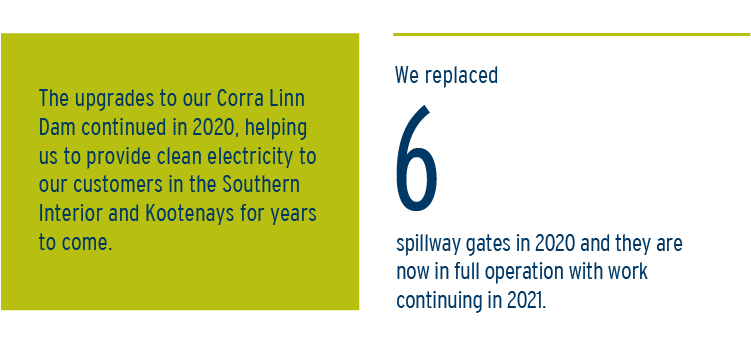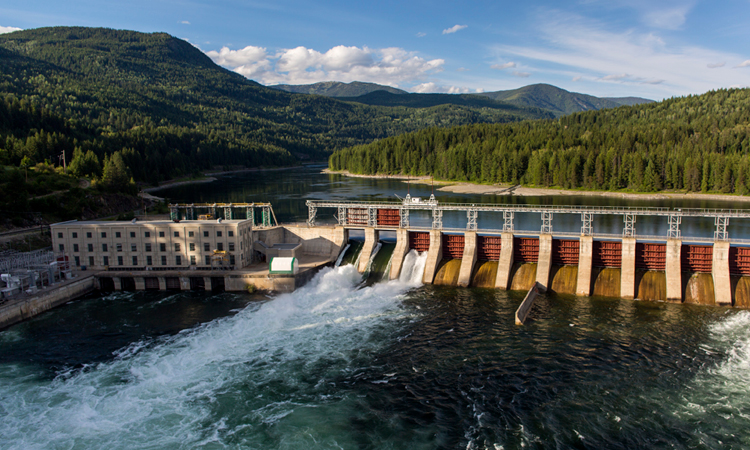 Initially built in 1932, the Corra Linn Dam is one of the hydroelectric generating plants we own and operate on Kootenay River. We continue to upgrade aging infrastructure at this facility so we can support the needs of our growing customer base.
We're also modernizing our electricity system in the Okanagan to accommodate the significant growth in the region. Over the summer, we applied to the BCUC to build a new power transformer at our Lee substation in Kelowna. We received approval in December 2020 to move forward with this project that will ensure we can continue to deliver electricity reliably to our growing customer base. Construction for this project will start in 2021 and we look to complete this work by the end of 2022.
Delivering energy to our customers when they need it
While much of the work on our system is extensively planned, there are times when our crews have to make emergency repairs so we can continue to deliver energy to our customers.
On February 1, 2020, extreme weather on the Sunshine Coast washed out a section of asphalt in Roberts Creek, exposing and damaging two natural gas lines and a large water main. Our crews quickly worked to install temporary beams to support the two natural gas lines, helping prevent further damage to our system. With extensive repairs needed, we brought in additional crews from Vancouver Island and received help from our contracting partner Canadian Utilities Limited. Without our quick action, there would have been a significant impact on the community and we made sure to communicate regularly with the Sunshine Coast Regional District and the Ministry of Transportation and Infrastructure with updates and project timelines. The repairs took about four weeks to complete but the collaboration from all team members meant we were able to consistently deliver natural gas to our customers on the Sunshine Coast.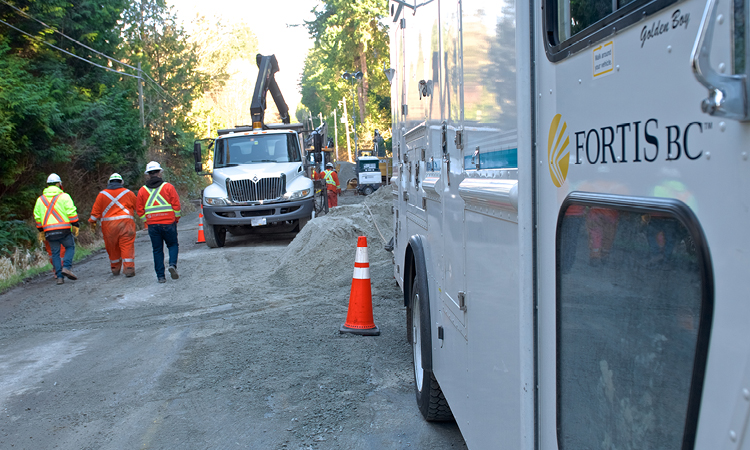 Ben McCarthy, one of our operations supervisors, reflected on how it takes a team to effectively respond to emergency situations: "I was humbled by the collaboration and cooperation. It takes a team effort to deliver energy and this proved it. From our crews in operations, engineering and planning to Canadian Utilities, the Ministry of Transportation and Infrastructure, the Sunshine Coast Regional District and all the individual contractors, we all partnered together to do what made sense and did it safely."
Photo taken before COVID-19 physical distancing restrictions.
Extreme weather can also impact our electricity system and when a major windstorm blew through the Kootenays on September 7, it caused multiple trees to break and fall onto our electricity infrastructure, damaging several poles and bringing down power lines. More than 6,000 of our electricity customers in Slocan Valley, Creston and the east side of Kootenay Lake lost power but, even on a long weekend, our crews were out in the field immediately to start making the repairs and safely restore power to our customers. Over the span of four long days, our power line technicians did a tremendous job removing debris, reconnecting power lines and replacing severely damaged poles caused by the windstorm.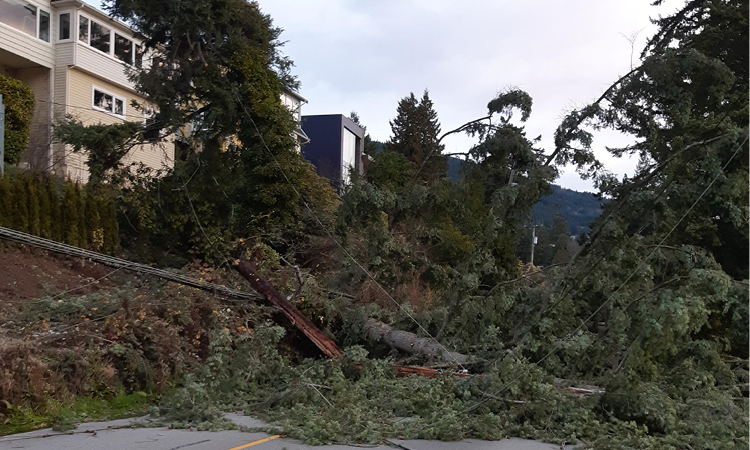 Our power line technicians braved the extreme weather to make significant repairs to our electricity system due to a windstorm that knocked down trees and power lines.
Extreme weather also led to system challenges in the Lower Mainland when temperatures dropped to around -10 degrees Celsius in Vancouver and snowfall warnings were in effect, resulting in our system delivering record amounts of natural gas to our customers on January 14. Even during times of immediate need, our natural gas system was able to handle this peak load by accessing stored natural gas so we could deliver the energy our customers relied on–no matter the weather.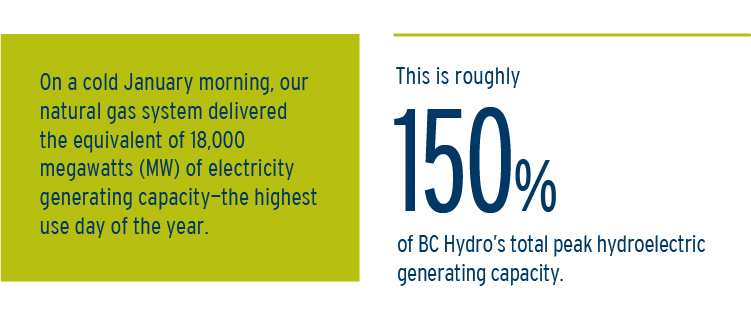 As we work towards the province's climate action goals, this shows the need to utilize the existing natural gas infrastructure so the energy needs of all British Columbians can be met affordably.
Working to support our customers today and tomorrow
We found new and creative ways to support our customers last year due to the impacts of the global COVID-19 pandemic but we also continued to advance new projects that will support our customers for years to come.
One of these projects is the replacement of existing natural gas meters with advanced gas meters, which will modernize our system and allow us to add enhanced safety features as well as new customer benefits. The natural gas meters we have today use technology that hasn't fundamentally changed in more than 100 years. Advanced meters send natural gas use readings over a wireless network, meaning customers can access daily updates on their energy use and use that information to help them manage their use and monthly bills. The project will also allow us to add enhanced safety features to our system, such as the ability to remotely detect and respond to natural gas leaks, upholding our commitment to our customers' safety. In October 2020, we started to visually inspect and take photos of our existing natural gas meters to help inform an application to the BCUC in spring 2021 to move forward with the project. If approved, this project will see more than one million natural gas meters upgraded across the province between 2023 and 2025.
We also heard the concerns of our propane customers in Revelstoke as their energy costs were higher because challenging geography has prevented their community from attaching to our natural gas system. We understand energy costs are an important consideration for British Columbians and we strive to ensure we can provide stable rates for all of our customers. To address these concerns, we applied to the BCUC with a solution and, in 2020, we received approval to allow propane customers to pay the same commodity rate as the rest of our natural gas customers, outside of Fort Nelson. This approval means lower rates and fewer price fluctuations for our Revelstoke customers.
1 For eligibility requirements and program details please see the full terms and conditions within each rebate program.