Stories

FortisBC's Climate Action Partners: Meet Wasel Rahman
October 6, 2021
Our Climate Action Partners program works with local governments and organizations throughout BC to help them achieve their climate action goals using our suite of lower carbon and renewable energy solutions.
We work collaboratively with our partners to hire a senior energy specialist who will help their new employer reach their climate action goals, whether that's reducing emissions, improving energy efficiency and/or fostering green energy solutions in their community.
Here's how Wasel Rahman, senior energy specialist with the City of Abbotsford, is taking climate action for his community.
Why did you get involved with the Climate Action Partners program at FortisBC?
I'm originally from Bangladesh and spent some time in Edmonton before coming to Abbotsford. I immigrated into this country and Canada has given me many incredible opportunities. As a result, I want to give back and help drive my community towards a better future. Nothing happens without collaboration and, through the Climate Action Partners program, I have an opportunity to collaborate with influential organizations to do meaningful work in climate action.
I'm very passionate about the environment. I received my Bachelor's degree in mechanical engineering in Bangladesh and I did a lot of research focused on renewable energy generation in cropland, as Bangladesh is a crop-based nation influenced heavily by tropical weather and climate. This got me interested in learning how to utilize croplands to generate renewable energy. My pursuit to understand other avenues of renewable energy, such as solar energy, wind energy, and biofuels continued through my Master's degree in Engineering Management at the University of Alberta. I wanted to learn more about what was not just technically feasible, but what was also economically viable.
During my Master's, I was the president of the University's energy club, and a 'Sustainability Scholar' for a municipality in Alberta. That is when I learned I could make noteworthy impacts by working with a municipality moving forward.
This all makes me who I am today and why I joined the Climate Action Partners program. This program is an opportunity to bring all my passions together.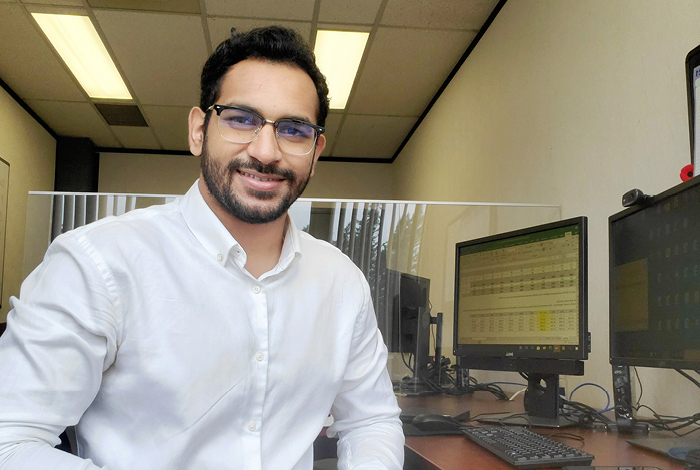 Can you share more about the work as a senior energy specialist?
My work is dedicated to accelerating and achieving environmental stewardship in the community. The City of Abbotsford has set greenhouse gas reduction targets in an effort to mitigate climate change, and I'm proud to work on helping the City achieve these goals.
As a society, I feel we don't speak enough about energy efficiency, but it's crucial to achieving climate change goals. A big part of my role is creating and managing relationships with builders and developers, and sharing how we can all work together to make buildings more energy efficient. We want builders and developers to be equipped with the knowledge and expertise they need to integrate climate action with their work – something they get to own. We want them to be involved and know they are an important part of the solution.
I'm also putting my education and experience to use by helping advance the Renewable Natural Gas portfolio within the city. We know that FortisBC repurposes methane for renewable energy, and agricultural waste produces a lot of methane. Abbotsford is big player in agriculture as BC's agriculture capital, so there are many opportunities to produce Renewable Natural Gas. I believe we can make Abbotsford a Renewable Natural Gas hub, which is really exciting. While I've only been in this position for one year, I'm proud of the work we're doing.
What are the benefits of this work to the residents and community of Abbotsford?
At the City, we're all working together to make Abbotsford a leader in climate action. By building stronger rapport with builders and developers while providing them unique training opportunities on BC Energy Step Code, we're better communicating about energy challenges and how to address them safely and economically. Abbotsford residents will definitely benefit from work underway to promote high-performance buildings, which are not only energy-efficient, but also improve comfort, health and safety, and building durability. Also through Renewable Natural Gas, this community can utilize existing resources and be proud to produce renewable energy. Best of all, we can mitigate and prepare for future challenges by taking a more holistic approach to energy efficiency. By doing this, we are trying to reduce the adverse impacts and costs of climate change and create a more resilient city.
Anything else you'd like to share?
I just want to say that I recognize that complex problems have complex solutions. Solutions have to be safe, feasible, affordable and sustainable in the long term. Renewable Natural Gas is a solution that uses the existing natural gas system to deliver renewable energy. Discovering renewable sources might be one feather in the cap of climate change mitigation, but we also need to optimize and efficiently use the resources we currently have at our disposal. Energy efficiency doesn't always capture headlines, but over 22 per cent of our emissions in the City of Abbotsford comes from the building sector. Everyone has a part to play, including the City of Abbotsford, FortisBC, builders, developers and so many others. We're all working together and doing everything we can.
Connect with us to learn more about being a Climate Action Partner
Our Climate Action Partners are part of a large community of like-minded organizations that are working to advance a lower carbon future. We encourage any local governments and organizations who share these values to connect with our Climate Action Partners team to discuss how we can tackle climate action together.
FortisBC's Climate Action Partners program is an important part in helping our organization achieve our 30BY30 target, an ambitious goal to reduce our customers' greenhouse gas emissions by 30 per cent by 2030.
Related stories
More about