Stories

BC food distributor uses natural gas to lower truck fleet emissions by 1,945 tonnes
July 28, 2021
Many of us are concerned about greenhouse gas (GHG) emissions these days, and wondering how we can be part of the solution. The provincial government has set ambitious 2050 emission reduction targets that require innovation and cooperation. One area with lots of potential is transportation, as it accounts for 41 per cent of GHG emissions in BC—that's the largest emissions footprint of any sector in the province.1 With the many truck fleets, long haul semis, city buses and more powered by diesel, we can see massive opportunity for lowering transportation emissions.
Helping truck fleets make the switch to natural gas fuel is one way we're partnering with local businesses to achieve our 30BY30 target, to reduce customers' emissions by 30 per cent by 2030. Natural gas fuel can reduce GHG emissions from trucks by up to 30 per cent compared to diesel and gasoline.
BC truck fleet paves the way to lower emissions
ColdStar Solutions Inc., a food distributor based in Victoria, BC, has been pioneering the use of compressed natural gas (CNG) fuel since 2014. That's when they started researching cost-effective fuelling options to replace diesel, and CNG emerged as the clear winner.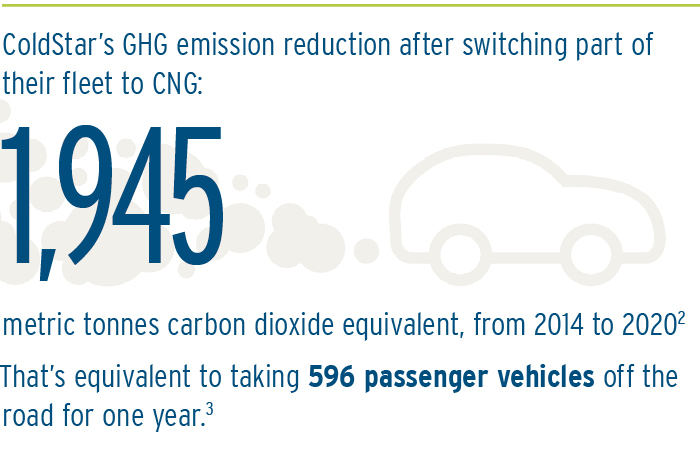 I'm surprised how slow the adoption of CNG has been by other carriers. Just make sure the trucks will meet the application they're intended for, and if they will, then what are you waiting for?
Kelly Hawes, ColdStar CEO
Today, more than 800 commercial trucks in BC are using FortisBC's CNG or liquefied natural gas (LNG) fuel, and more are coming on board each year, to reduce their emissions and take advantage of fuel cost savings.
Another bonus for CNG-fuelled fleets: carbon credits
Because natural gas is a lower carbon fuel than diesel, ColdStar generates carbon credits from the BC government which they can sell. With the increasing number of CNG-fuelled trucks in ColdStar's fleet, and the carbon credit market becoming steadily more lucrative, ColdStar has been getting more money for their carbon credits each year. In 2020, the company sold their carbon credits for $175,770. Clearly, it pays to reduce your carbon footprint.


Why residents and drivers prefer CNG-fuelled trucks
For BC residents, aside from appreciating the GHG emission reduction, other benefits of truck fleets using natural gas fuel include quieter engines, and no diesel odour. Hawes has received letters from customers who appreciate the quieter trucks driving through their communities. His drivers like the CNG trucks too:
"Because of the FortisBC incentives and the cost savings of CNG fuel, we've been able to replace our diesel trucks with new CNG trucks at a faster rate, making our drivers happier which helps with employee retention."
Going all the way with CNG
Since 2014, ColdStar's CNG fleet has grown from 10 to 25 trucks. "We continue to expand our CNG fleet because the cost-savings and performance of the trucks is better than expected," Hawes says. "Our goal is to not have any of our company-owned trucks running on diesel by the end of 2022, and we only have six diesel trucks left to replace."
Other ways we're moving to a lower carbon transportation future
Using FortisBC's Renewable Natural Gas (RNG) fuel is another way fleets can reduce their footprint even further. TransLink was the first public transportation authority in Canada to use RNG to help fuel its natural gas-powered buses. This will reduce TransLink's GHG emissions by 50,000 tons per year, the equivalent of taking 10,000 cars off the road for one year.
We're also helping customers who want to transition to electric vehicles. Currently, we operate more than two dozen direct current fast charging electric vehicle stations at numerous locations across BC's Southern Interior. By the end of 2021, we plan to have at least 40 chargers in service across 23 communities.
The big picture
Providing lower carbon transportation solutions is just one of the ways we're working to help reduce our customers' emissions. We're bringing on additional suppliers to produce more Renewable Natural Gas, and providing education and incentives for customers to increase the energy efficiency of their homes and businesses. Learn more about our 30BY30 target.
Related stories
More about