Environmental benefits of LNG or CNG-fuelled truck fleets


FortisBC is working towards a target we call 30BY30: reducing our customers' greenhouse gas (GHG) emissions by 30 per cent by 2030. And one of the ways we're doing it is by helping customers transition to lower-carbon fuel options like compressed natural gas (CNG) or liquefied natural gas (LNG).
BC's GHG emissions by sector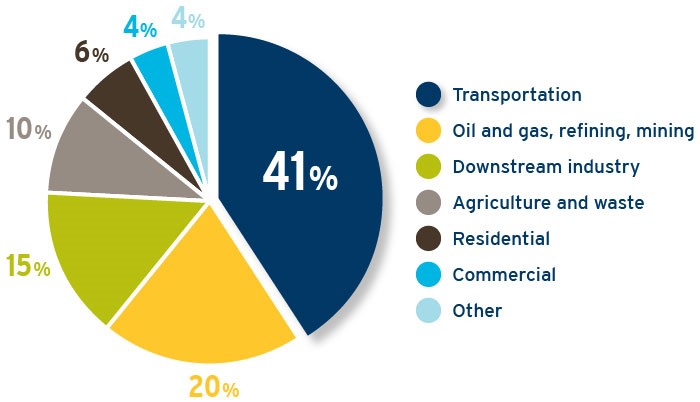 At 41 per cent of provincial GHG emissions, transportation accounts for the largest emissions footprint in BC.1 With so much room for improvement, we're excited to be offering cost-effective solutions to help lower emissions. Learn all the ways we're working towards a low emission transportation sector.
Emission reductions: fuelling with LNG or CNG compared with diesel or gasoline2
GHG emissions: Natural gas vehicles emit up to 30 per cent less GHG emissions.
Nitrogen oxides (NOx): Natural gas vehicles emit up to 95 per cent less NOx. These gases can be harmful to human health and the environment, and are one of the primary contributors to the formation of ground-level ozone.3
Particulate matter: natural gas vehicles emit virtually no particulate matter, the harmful microscopic component of air pollution that penetrates deeply into the lungs.
Looking forward: fuelling with renewable gases
We're investing in future solutions for our customers, for even greater emission reductions:
Renewable Natural Gas (RNG) - We've been making RNG from decomposing organic waste for years, and it's in high demand today. We're busy creating more RNG supply partnerships so commercial truck fleets can take advantage of this carbon neutral fuel.
Hydrogen blending - We're investing $500,000 to study how we can further reduce emissions from our natural gas supply by delivering hydrogen, a carbon free energy, through our extensive distribution network. The School of Engineering at the University of British Columbia's Okanagan campus will use these funds to study how to blend hydrogen, safely and reliably, with natural gas. The study began in 2020 and is ongoing.
BC carbon credits and carbon tax
Carbon credits
Because natural gas is a lower carbon fuel than gasoline or diesel, making the switch from those fuels to natural gas means you could be eligible for carbon credits, which you can sell. How does this process work?
We send you an annual report of your natural gas fuel usage for the year. You submit this information to the BC Ministry of Energy, Mines and Low Carbon Innovation.
The Ministry determines whether or not to validate your credits.
If validated, you can sell those credits via the credit market, or via a broker.
Learn more about the BC government's Renewable & Low Carbon Fuel Requirements Regulation.
Carbon tax
Like gasoline or diesel, natural gas for transportation is subject to the BC carbon tax. But since natural gas is a lower carbon fuel, it's taxed at a lower rate than gasoline or diesel.
The current carbon tax rate is $40/tonne, which must be translated based on the type of fuel used.3
Learn more about the BC Motor fuel tax and carbon tax.