Stories

Want to learn more about Indigenous culture? Start with music and art.
June 10, 2021
As we honour National Indigenous History Month and National Indigenous Peoples Day on June 21, we also acknowledge the recent, painful confirmation of the Survivors' stories. Now more than ever, it's time to listen to, acknowledge and hold space for Indigenous Peoples.
FortisBC employees will have the opportunity to do just this, by attending—virtually, of course—workshops facilitated by Indigenous artists. As stated in our Statement of Indigenous Principles, we want our employees to continue to achieve a better understanding and appreciation of Indigenous culture, values and beliefs, especially in the communities where we work and serve. And singer/songwriter and drummer Kym Gouchie and cedar weaver Shona Lee Sparrow are going to help us do that. In May, we spoke to them both to learn more about their art and what motivates them to share it with others.
Bringing heart to Indigenous art and music
When talking about the tools of their respective arts, both Kym and Shona come from a place of incredible reverence for all living things—flora and fauna. Whether it be the hide of a deer to make a drum, or fibre from a cedar tree to weave bracelets and hats, they don't consider the finished products inanimate objects, but rather living beings possessing spirit and heart. And it's that heart that Kym and Shona teach and perform from.
Weaving with an open mind and an open heart
Cedar weaver Shona Lee Sparrow
Shona is from the Syilx Okanagan Nation and she married into the Musqueam community. She's motivated to share both her cultures and what she's learned from her elders.
"It's important to me to pass on our teachings to the next generations of both Indigenous and non-Indigenous people to let them know who we are, what we represent and that we're still here," said Shona.
In her weaving workshops, Shona tells participants about the history of cedar, the protocols involved in gathering it and how Indigenous People have used it for centuries for shelter, clothing, medicine and teas. Cedar boughs are also used for brushing, a purifying ritual in which you use them to brush yourself off with water from a stream or other body of water. Shona gathers her cedar in Squamish, but only by invitation from the local Nation, in late spring to early summer before the sap is running.
You come to the table with a good heart and a good mind. A lot of what I do is no blame, no shame.
Shona Lee Sparrow
Shona also spoke about having a good heart, a good mind and good intention with no blame, no shame when she teaches cedar weaving. "I like to bring everybody together as we're all one people of the world. I want to open people's heart and open people's mind. I'm teaching with the heart and the feelings," said Shona.
All plants have their own legend
Shona went on to share how in Indigenous culture every plant has its own story or legend. "In my territory we have a plant called spitlum (a.k.a. bitter root) and one day my auntie asked me to gather some, telling me she'd show me how to prepare it. When I brought it back I told my auntie I thought it must be really good medicine because I found it with its roots intertwined with sage, and sage is a good healing medicine. The spitlum looked like little dancing people, I told my auntie, and she said: "yes Shona, that's the legend. When the sun goes down and the moon comes out, they're dancing. In the plant is a little red bud and that's what makes it a good medicine for the heart."
The healing power of the drum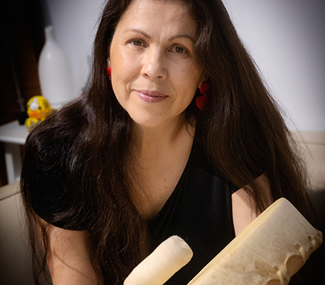 Kym Gouchie uses a traditional hand drum for teaching and in her performances. Photo: Simon Sees Photography
Celebrated singer/songwriter Kym Gouchie, who hails from the Lheidli T'enneh Nation—Prince George's traditional territory—didn't learn drumming as part of her upbringing. "It was something I sought out as I wanted culture in my life," she said.
It was through her healing journey where Kym learnt about the healing power of the drum. Today, when she's not performing, Kym teaches novice and aspiring drummers not only about playing the drum, but also how it's made and its importance to Indigenous culture.
The beat of a drum is synonymous with a beating heart
"In my drum workshop I talk about the source materials and why it's important for us to respect our drum. Drums have been a very important part of cultures for centuries all over the world. There's so much metaphor in the drum in terms of the circular shape of it and even how it's strung together on the back and being in four quadrants. I talk about how we strive for that balance of spiritual, emotional, physical and mental well-being. And I talk about the heartbeat. We all resonate with the sound of a drum because it's our heart. We are a drum. We have that rhythm," said Kym.
All you have to do is pick up your drum, take some deep breaths, quiet yourself and create that rhythm.
Kym Gouchie
Like Shona, Kym believes the spirits of animals and plants still live in the objects we create from them. "Whether it be a moose, elk, deer, caribou or buffalo, they surrendered their life to provide food, clothing and instruments such as a drum. Be aware that the skin/rawhide was once a living, breathing creature walking the planet and they have been here on this land for centuries. I hope they feel that energy of that animal. And in the frame of the drum, there was a tree that gave its life, so hold space for it."
Feeling the connection to creation
Kym believes that anyone who owns a drum needs to be aware of its sacredness. "As soon as I start drumming there's an instant shift in the energy in the room as I call on the ancestors who show up in spirit, in mind and in memory. There's also the vibration of the drum that synchronizes with our body. The drum will always ground you and bring you back into your body. Then when you add singing, such as a chant, it builds from the ground right up in your body into the drum. It's considered a form of prayer and being one with the creator and connecting," adds Kym.
So, the next time you walk through a cedar forest, take in the aroma, feel the bark of a tree and brush your body against a bough. Or the next time you hear the beat of a traditional hand drum, take a moment to honour its spirit and listen to your heart. Do you feel more reverence for them? I know I will.
Related stories
More about