Stories

The best whole-home cooling options
July 16, 2019
Remember when you couldn't wait for summer to begin? When you couldn't take another minute of the bleak winter chill, or the endless spring rain?
Now that summer is here and the sun is baking our homes, are you missing that cool weather at all? Maybe just at night, when your bedroom feels like a sauna, and all you can do is set up fans to blow warm air around your room while you wilt and pray for sleep to relieve you of your heat-induced misery…
Ahem. Or maybe that's just me.
Every summer, many of us who don't yet have a central cooling system in our homes, start thinking seriously about our options. There are two ways to go for effective whole-home cooling: a central air conditioning unit, or a heat pump.
What's the difference between an air conditioning unit and a heat pump?
In a nutshell, it comes down to this: a heat pump can be used to heat and cool your home, while an air conditioning unit just cools your home. But they both cool your home in a similar way—by extracting heat from your home and putting it outdoors.
Get an air conditioner if…
If you already use natural gas to heat your home, adding a central air conditioning unit to your existing natural gas furnace system is your most affordable option for whole home cooling and heating.
Get a heat pump if…
If natural gas isn't available in your area, a heat pump is likely the most affordable option for home heating, compared with electric baseboards, heating oil or other options.
One thing to think about is installation, maintenance, repair and replacement costs, which are typically higher with heat pumps, which tend to have more parts and run year round:
How long will it last?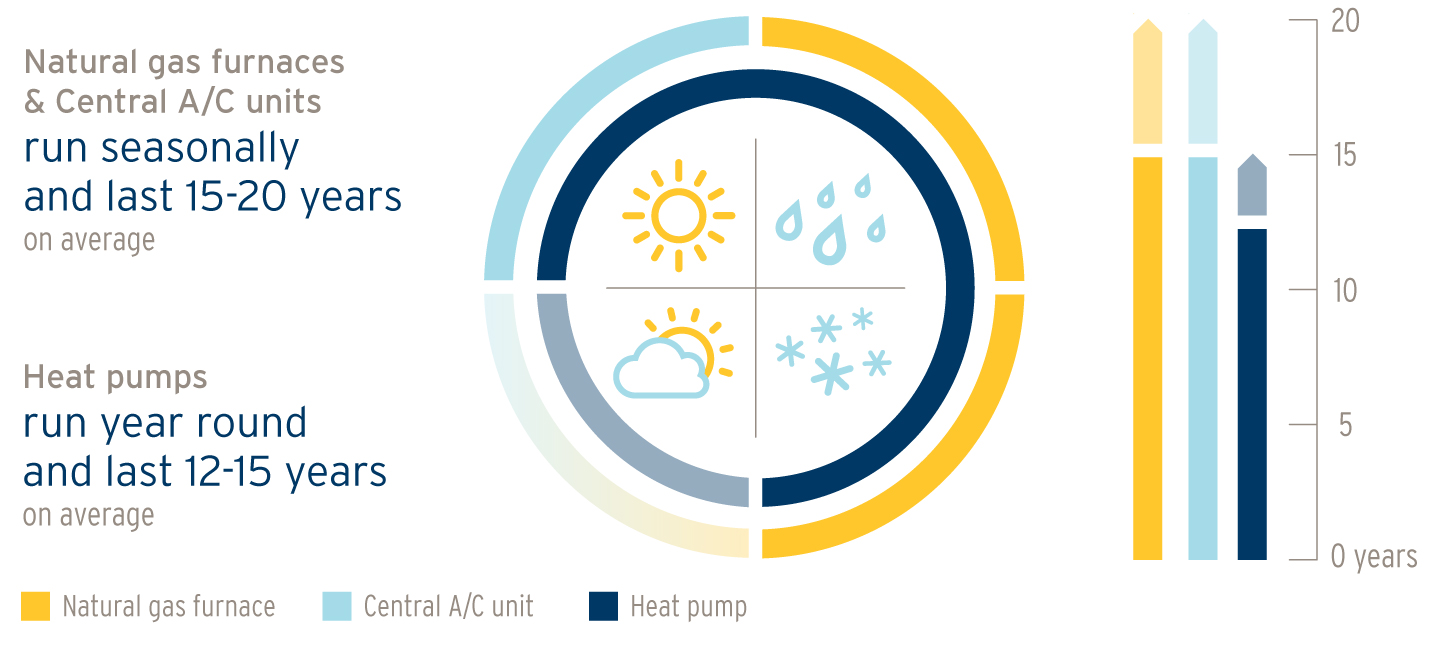 Of course, there are other factors to consider—including cost. Natural gas is about one-third the cost of electricity and heating oil. Based on current gas rates, a single family home with average energy use can expect to save up to $540 per year in energy costs1 by choosing to cool with a natural gas furnace/air-conditioning combination, compared with a heat pump.
Annual energy cost – space heating and cooling2
Vancouver Island and Sunshine Coast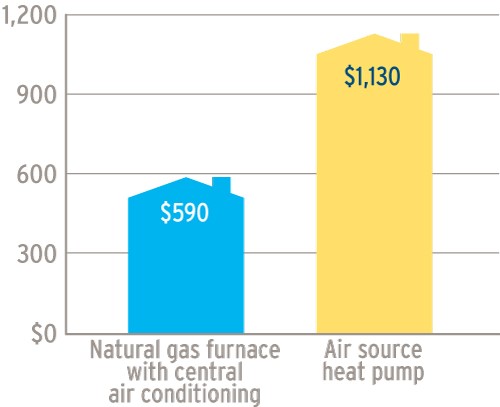 Learn more about the benefits of a natural gas furnace plus air conditioner.
Related stories
More about