Stories

How FortisBC rebates helped chicken aficionado gain his wings
November 8, 2021
When Surrey's Kanwaljeet (Lucky) Randhawa was looking for a new business opportunity he wanted something that would ignite a passion in him. "I thought about opening a retail clothing store, but it didn't feel right for me. If you don't know how to swim, don't go in the water," he chuckled.
Soon Lucky realized the answer was right in front of him. One evening, while hosting a dinner party, his guests were complimenting him and his wife for their delicious poultry creations and suggested they open a restaurant. "We thought they were joking, but my wife and I both love cooking and we love chicken so we thought, why not!" said Lucky. From there the idea for Chic Chic Chicken, a take out restaurant, was hatched.
With their business plan complete, Lucky and his wife purchased a vacant restaurant in Surrey. "The location already had cooking equipment, but it was old and very basic and we didn't feel using it would result in the best quality product," said Lucky.
Doing his (high-efficiency) homework
While shopping for new commercial kitchen cooking equipment, Lucky talked to similar businesses, did some research and also met with a few suppliers. "Many people told me what they felt was the best and explained to me how spending more upfront would save me money in the long run. I knew that if I bought cheaper appliances I might regret it in a few months," said Lucky. Even better, once Lucky settled on a supplier and was ready to make his purchase he found out about FortisBC's rebates on high-efficiency natural gas vat fryers and combination ovens.
Applying for rebates wasn't a headache
Lucky had to wait several months for the delivery and installation of the equipment—two large vat fryers and two combination ovens—so by the time he was able to apply for his rebates, his business was up and running and he was extremely busy. "This was my first time doing something like this and I didn't even know how to fill in the application," said Lucky. "I was very happy when Tiago Pereira, an energy solutions manager from FortisBC, got back in touch with me and walked me through the whole process. He was very patient with me, as for one, I'm so busy and two, I'm lazy with this sort of thing. Tiago helped me every step of the way, even keeping me updated on when I'd receive my rebate cheque," said Lucky.
"Lucky is a prime example of the small- and medium-sized businesses that we can help to access our energy-efficiency rebates," said Tiago. "Since they don't have a designated account manager (like our large commercial and industrial clients do) we're here to work directly with these smaller customers to make the process as smooth as possible. And yes, we'll even help them with all the required documents and complete the application for them if needed," he added.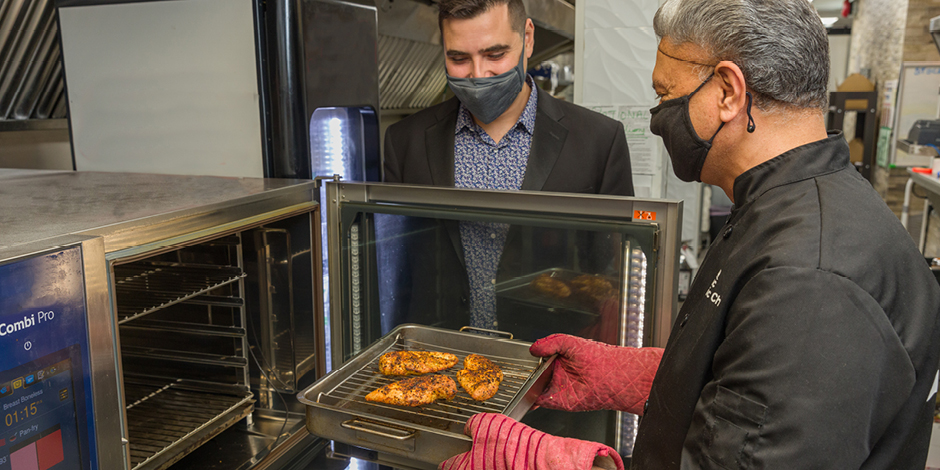 Tiago Pereira, FortisBC energy solutions manager, looks on as Lucky removes chicken from his new combination oven.
Money and energy saved from commercial kitchen rebates
Lucky was so happy when he received his rebate cheque for $14,000 for installing the high-efficiency natural gas cooking equipment and he knew exactly how to use it. "The money went directly to payroll for my staff," he said.
In addition, Lucky says his natural gas bill is now quite low. It's estimated that he'll save about 540 gigajoules of natural gas annually from replacing the old equipment with new high-efficiency models, equaling about $6,180* a year in savings.
Benefits that go beyond
Lucky says that there have been more benefits than the rebate and the energy savings from choosing the high-efficiency models. "The quality of the food is much better as you can control the temperature and the food cooks faster," he said. As a result, Lucky says the fries and deep-fried chicken are tastier and crispier when compared to the old fryers. "Plus we don't have to watch them and the ovens constantly as they tell us when the food is ready. This means my staff and I can do other things while the food is cooking," he added.
Lucky's business has been so successful he's planning to expand. (It's no surprise after tasting his crispy deep-fried chicken cooked to perfection!) He's already found a second location in Vancouver and it's scheduled to open in early 2022. Why two stores? "Once I open in Vancouver, then I can start to fly, as a bird can't fly with one wing and now I'll have two!" said Lucky. And yes, he plans to install the same high-efficiency equipment at his Vancouver location.
The quality of the food is much better as you can control the temperature and the food cooks faster.
Lucky Randhawa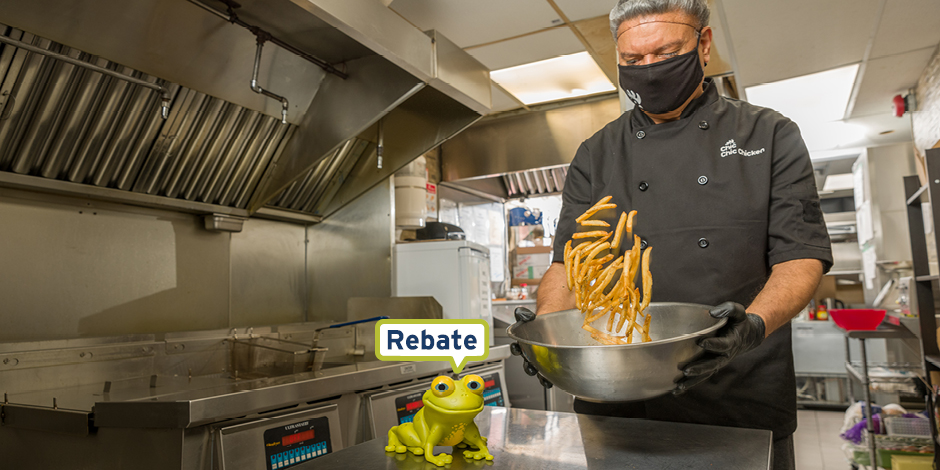 Lucky installed two high-efficiency vat fryers for cooking not only chicken, but also fries.
Committed to reducing emissions
At FortisBC, we're committed to supporting BC's climate action goals to reduce greenhouse gas (GHG) emissions. In fact, we set an ambitious target to reduce our customers' GHG emissions by 30 per cent** by the year 2030. It's called 30BY30. Our work with Chic Chic Chicken and other small businesses is a win-win for both us and our customers and will help create a cleaner tomorrow for all British Columbians.
We're here to help
Our team can help you find creative ways to save energy and money. And when you're ready, check out our rebates for small- and medium-sized commercial customers, or contact a FortisBC energy solutions manager directly.
Related stories
More about