Stories

How a typical day turned into a life-saving rescue
September 6, 2023
Keeping our employees and customers safe is at the core of everything we do. On a seemingly typical day, Lloyd Jones, customer service technician with FortisBC was out in Powell River conducting gas maintenance surveys to check for any potential hazards. He soon found himself in the right place at the right time to ultimately save a customer's life.
Keeping our communities safe
As a customer service technician, Lloyd is out in the community on a regular basis. His day-to-day work varies quite a bit, including everything from routine maintenance work, installing gas services for homeowners, completing meter exchanges, visiting construction sites and responding to gas emergencies.
Having lived in Powell River for the past 15 years, Lloyd takes pride in keeping his community safe, both in and outside of his role. With years of experience working with FortisBC and past experience as a volunteer fire fighter, Lloyd is no stranger to understanding safety requirements. However, when a seemingly typical day turned into something more, we're grateful that Lloyd was nearby to jump into action.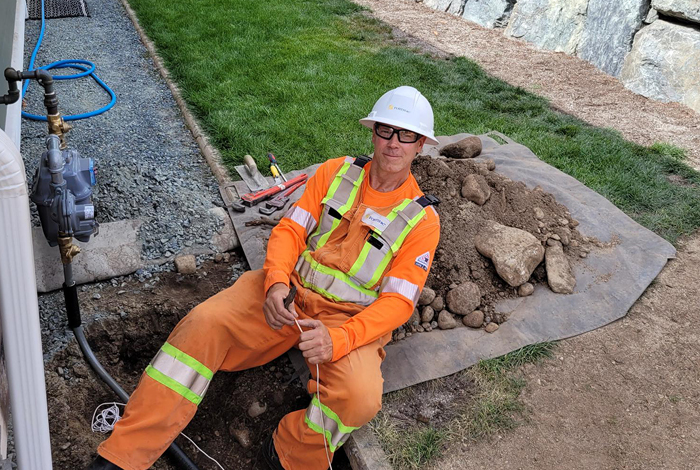 Lloyd Jones, customer service technician with FortisBC
Springing into action
"When checking a meter, I heard someone yelling and a dog barking. In my role, I see and hear a lot of different things, so I didn't want to jump to any conclusions and interject in something that wasn't my business," explains Lloyd.
I started driving away in my truck, something told me to go back to make sure all was OK.
Lloyd Jones, customer service technician, FortisBC
It turns out, everything wasn't OK. A local resident and customer had fallen and badly injured herself in her home, where she lives alone. In a letter to our customer service team, she explains that she lives in a newly built neighbourhood with only a few residents, and her home is at the back of a rarely used cul-de-sac with no neighbours for approximately 200 to 300 meters.
The customer recounts that she was unable to stand, reach the door or phone, and was alone and stuck on the floor all night. After nearly 24 hours, she became increasingly concerned that no one would come to help. She eventually heard a vehicle driving on the gravel road and used her remaining energy to yell for help. To her surprise, someone heard her and came to the door.
The customer managed to unlock her front door with a broomstick, allowing Lloyd, to enter the home. Lloyd found her face down on the floor and in a lot of pain. She had been laying there for hours.
"I did what anyone would do. I called 911 immediately, checked her vitals, found a blanket to cover her with, gave her some ice as she hadn't had anything to drink in 24 hours, connected her cell phone to a charger, and called her friend to advise of the situation," shares Lloyd. "It was important that I stayed until the ambulance arrived to try and calm and comfort her; no one should be alone in an already stressful and scary situation like that."
Fortunately, the ambulance arrived quickly, and the customer was taken to hospital with a broken wrist and hip. A week later, Lloyd was back in the same area as part of his job and stopped by to check in. The customer explained that she was doing much better, but that she'd had no unplanned visitors since, highlighting the fact that the situation truly could have ended much differently.
In recognition of his heroic efforts, Lloyd was honoured with St. John's Ambulance Life Saving Award this summer.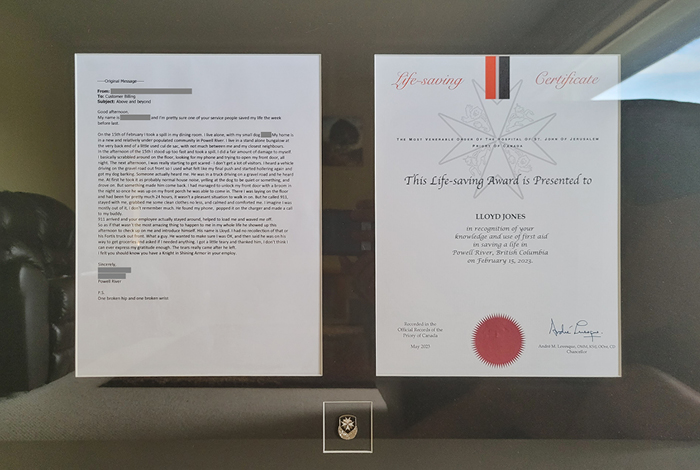 Lloyd was recognized for his heroic actions with a St. John's Amulance Life Saving Award
Lessons learned
"When I talked to Lloyd about the situation, he said he was 'just doing his job and that anyone would have done the same'," says Dave McColm, operations manager, FortisBC. "But it's beyond that, in my opinion. He was paying attention to his surroundings and actioned something that didn't seem quite right."
The main lesson I've taken from this situation is to listen to that voice in your head or your gut. We can sometimes get laser-focused on our tasks or caught up in our to-do list that we miss or choose to ignore something. I'm not sure what made me go back and check, but I'm so grateful I did. I encourage everyone to trust their instincts. If you think you should do something, do it. You never know who you could be helping.
Lloyd Jones, customer service technician, FortisBC
The thankful customer shared: "I felt you should know you have a knight in shining armor in your employee."
We couldn't agree more. Thank you, Lloyd, for trusting your instincts and training, and doing your part to help keep our communities safe.
Related stories
More about