Stories

5 ways to lead the way in energy efficiency
October 30, 2019
For the passionate people working behind the scenes, saving energy is about more than saving money. For Jeson Mak, energy manager, Fraser Health Authority, it's an opportunity to meet growing community needs and improve patient and staff experience.
He is one of the many people helping their organizations make continuous improvements to reduce energy use and is one of eight organizations recognized at the 2019 Efficiency in Action Awards. These organizations represent some of the province's most critical sectors like healthcare and education.
We reached out to people at each of these organizations to find out what was driving their tremendous success. They shared advice to others who are taking critical steps to increase energy efficiency within their organizations.
1. Setting goals
As project engineer for Environment and Climate Change Canada, Nikolas Fehr understands the importance of knowing how your building is operating in order to create goals for your project.
"Our first step was to establish a baseline of energy used in building," said Nikolas. "From there, we set a goal to reduce greenhouse gas emissions and chose the right high-efficiency equipment to achieve that goal."
2. Leading with people in mind
People may not understand the new and innovative ways you're improving building spaces, but they do notice the direct impacts these improvements have on their day-to-day activities, such as better lighting or a warmer, more comfortable space.
"Creating the best possible learning environment for our students is the guiding principal for everything we do," explained Josh Munro, energy specialist, Burnaby School District. "By doing our job to make sure our buildings are safe and operating as efficiently as possible, we're helping the community as a whole."
"The completed upgrades for us shows our continued commitment to provide world class laboratories and buildings for scientists and researchers," said Nikolas. "We can perform the same lab analysis and research but at lower operating costs."
3. Collaborating is key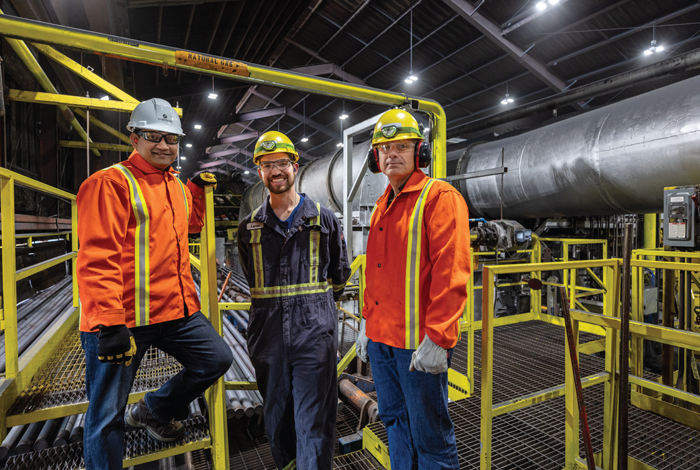 "Our goal is to continuously improve our operations. By taking a collaborative approach, our FortisBC key account manager helps us identify and fund energy-efficiency opportunities," Mike Gregson, senior engineer, Molycop Canada.
From left to right: Rajoo Jagtap, Lukas Fleming, Mike Gregson
The best ideas require input from various members of an organization. For example, the energy and sustainability team at Fraser Health Authority finds that collaborating with other teams helps move projects forward and ensures everyone is included in these changes.
"We work closely with the facility operations and maintenance site teams," said Jeson. "This helps us incorporate energy-savings as part of planned upgrades to equipment or know when we can introduce new technology to improve performance."
Internal collaboration is key, but according to the Burnaby School District, it's also important to include external organizations who can help you through the process.
"There is so much opportunity to work with individuals in the energy industry who are all ready and willing to help explain how the incentive programs work and help you along the way," said Josh. "Our advice is to engage with FortisBC and other industry partners at the beginning of your projects to make the most of funding and expertise."
4. Continually look for opportunities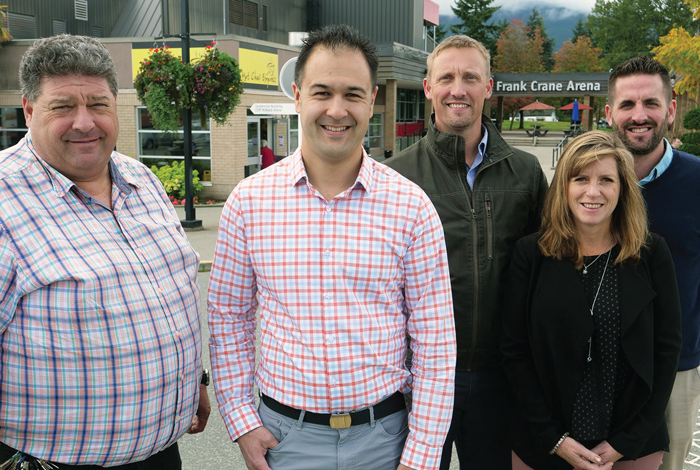 "Energy management is a real focus for the City of Nanaimo as we continually seek new ways to lower our energy consumption and greenhouse gas emissions," Emil Bock, acting manager, infrastructure planning and energy, City of Nanaimo.
From left to right: Mark Demecha, Emil Bock, Art Groot, Darcie Osborne, Damon Johnston
Having an ongoing focus on energy efficient projects, helps organizations reduce greenhouse gas emissions and work toward their climate goals. Incentives are available to help organizations cover the costs of these high-efficient upgrades, giving them more opportunities to reduce their environmental impact.
With the cost savings from incentives and the lower operational costs for organizations, there is potential for re-investment into other projects. The Presbyterian Senior Citizens' Housing Society will invest the $18,000 reduction in their annual operational costs in other energy saving upgrades. Not only are they new creating opportunities for their organization, they are helping their tenants feel more comfortable within their homes.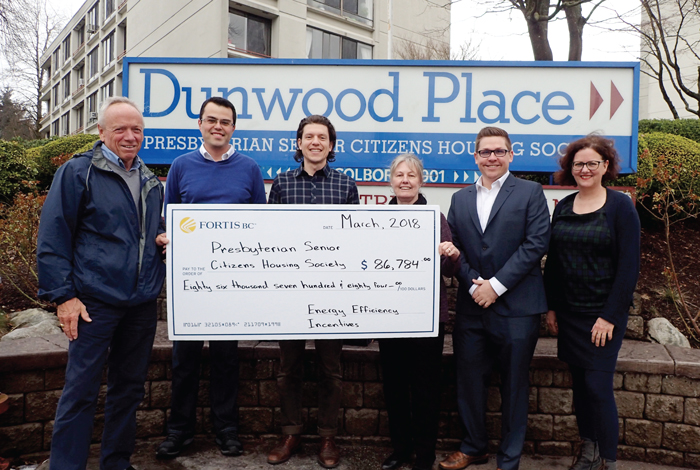 Now that we have high-efficiency boilers, our maintenance costs are minimal and these savings will support our other projects. We also suggest looking for incentives to help reduce the cost of your high-efficiency upgrade projects and meet your goal of reducing emissions," Linda Bilinski, The Presbyterian Senior Citizens' Housing Society.
From left to right: Ron Zapp, Fabian Navarro, Ben Mills, Linda Bilinski, Chris Alionis, Cathy MacDonald
5. Saving energy through innovation
Finding innovative and progressive ways to reach your goals can position you as an industry leader. We have an opportunity to find new ways to save energy that work across various organizations.
"We are continually looking for innovative technology and industry best practices," said Josh. "Looking forward, we are seeking out more complex and holistic projects which address the entire building to save even more energy."
"We challenge our engineering and design partners to implement new or improved systems and materials within upcoming projects," said Mike Jones, project coordinator, Cressey Development Group. "This allows us to meet and exceed municipal energy requirements and the level of energy efficiency within these buildings, providing sustainable and comfortable spaces for homeowners."
Pizza Hut makes it a priority to choose the most efficient technology for their 52 locations.
"We consistently look to replace older kitchen equipment within our restaurants. By choosing high-efficiency equivalents, we are able to qualify for FortisBC rebates which not only helps cover costs but lets us to continue with other energy efficient upgrades," said Lucy Wu, accountant, Pizza Hut.
This is only the beginning
We were inspired by the people at these leading organizations who share our passion for pushing the boundaries of energy efficiency. For all of them, saving money and decreasing emissions was important, but the biggest driver was making their spaces better for the people and community they serve.
This was a great opportunity to support our customers on new innovative projects that help achieve an energy efficient future. We look forward to partnering with other organizations in the future to help them achieve their energy goals.
You might also be interested in:
Programs to help organizations save energy and money
Contact someone who can help your organization
Get involved with innovative pilot programs and learn about new technology
Related stories
More about