Stories

5 climate action steps we took in 2021 to reduce greenhouse gas emissions
December 22, 2021
As the year draws to a close, we're looking back on the exciting progress we've made with our customers, industry and government partners towards reducing greenhouse gas (GHG) emissions in BC. We're well on our way to meeting our 30BY30 target that aims to reduce our customers' GHG emissions by 30 per cent by 2030, and supports the CleanBC Roadmap to 2030.
Here are a few achievements that have kept us on track to reach our climate action targets:
1. Growing our supply of low-carbon, Renewable Natural Gas
Renewable Natural Gas (RNG) is not new to FortisBC, as we've been working with our partners for over a decade to make this low-carbon energy from agricultural waste, landfill waste, food scraps, wood waste and wastewater. But 2021 was a particularly exciting year, as we celebrated some significant milestones:
Bringing several new RNG suppliers on board: We secured a number of new, diverse RNG supply projects and agreements with partners like EverGen, Faromor CNG, Lethbridge Biogas, REN Energy, Metro Vancouver and the City of Vancouver. The majority of our suppliers are in BC, but we're welcoming a few out-of-province partners as well to keep up with the demand for this renewable energy.
Using wastewater to create RNG: The Lulu Island Renewable Gas Facility in Richmond, BC started up earlier this year. It's the first wastewater RNG plant in BC and the second of its kind in Canada. Owned by Metro Vancouver, it has created a model for more wastewater RNG plants in the future.
Rapidly growing our RNG supply: By the end of this year we'll have tripled our RNG supply, and expect to triple it again by the end of 2022. We're on track to meet our goal to have our gas supply be at least 15 per cent renewable gases by 2030.
Increasing the amount of renewable gas in our system has always been a cornerstone of our vision for transforming BC's energy future. A lower-carbon gas system allows a broader variety of low-carbon energy options, greater reliability and resiliency for our provincial energy system and provides British Columbian homes and businesses the choice of what energy works best for them – economically and environmentally.
Roger Dall'Antonia, President and CEO, FortisBC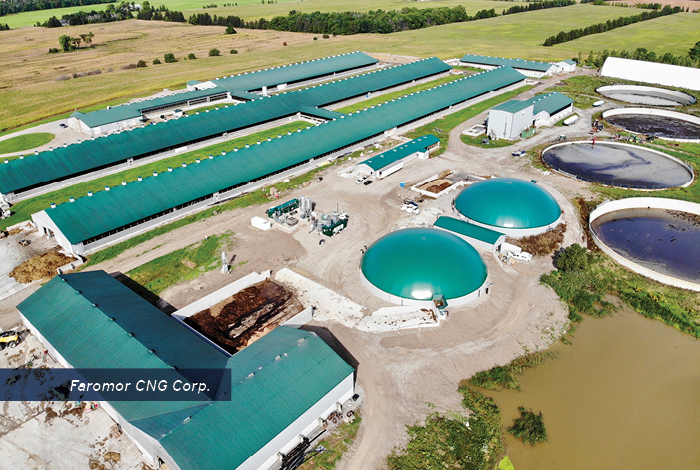 Faromor CNG Corp. is one of the new RNG suppliers we've brought on board this year.
2. Conserving energy and reducing GHG emissions through innovation and rebate programs
Our customers are reducing their carbon footprint with innovative technology and rebates on energy-efficient upgrades that allow them to reduce their utility bills as well as their GHG emissions:
Testing natural gas heat pumps—the first pilot project of this kind in North America: Working with ThermoLift Inc, we began real-world field tests of residential fuel-flexible heat pumps for single family homes. ThermoLift's groundbreaking Thermal Compression Climate Control (TC3) unit, a single appliance for space and water heating for residential and commercial settings, is being tested in a cross-section of different residential properties to evaluate its effectiveness in BC's diverse weather conditions.

Natural gas heat pumps have the potential to replace both furnaces and hot water systems plus provide space cooling, all while using up to half the energy. In lab tests, the TC3 heat pump reduced GHG emissions and associated energy costs by up to 50 per cent. These heat pumps can also be powered by RNG, supporting net zero homes and reducing emissions even further.
Reducing more than 700 tonnes of CO2 in the first half of the year, through energy-efficiency upgrades by BC businesses: The investments made by restaurant owners alone through equipment rebates from January to August 2021 collectively saved more than 11,000 gigajoules of natural gas,1 approximately the amount of energy used to heat about 130 homes for one year.2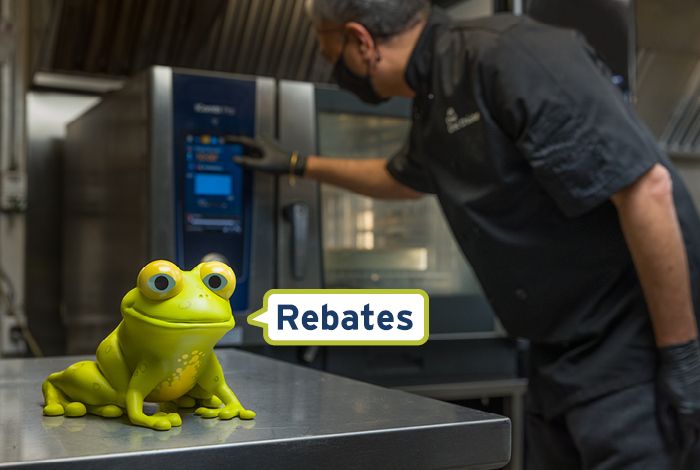 3. Expanding BC's network of electric vehicle charging stations
Transportation accounts for almost 40 per cent of overall GHG emissions in BC. We're investing in electric vehicle (EV) charging stations so more people can drive EVs and reduce their carbon footprint:
Seeing more demand than ever for charging stations: Since charging our first EV in 2018, our EV direct current fast charge (DCFC) network passed its 10,000th charge this year. We expect the number of public charges will surpass 20,000 charges by next December.
Building more EV stations to serve more communities: To support customers who are transitioning to EVs, we're continuing to work with the provincial government to provide rebates for charging stations at homes, multi-unit residential buildings and workplaces. By the end of 2021, we plan to be operating as many as 40 fast charging EV stations across 23 communities—including new 100 kW stations that can charge vehicles even faster.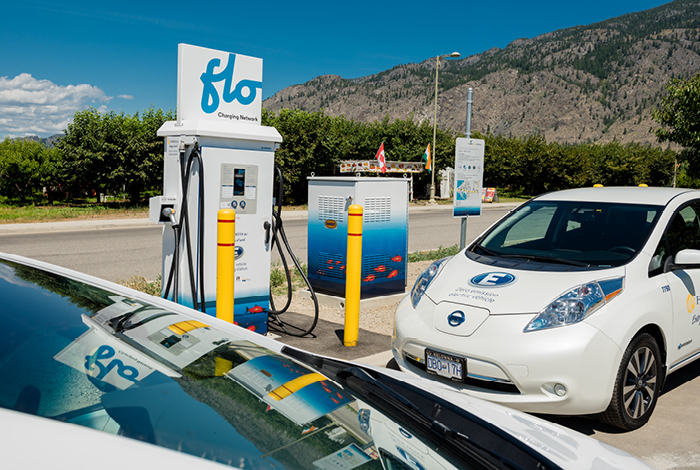 4. Helping commercial transportation customers create a lower carbon future
We're eager to support our transportation customers in reducing emissions affordably, with cleaner fuel options:
Reducing BC Ferries' GHG emissions: We help BC Ferries fuel five of their vessels with liquefied natural gas (LNG), reducing their emissions by about 21,500 metric tonnes of CO2 emissions per year—the equivalent of about 4,400 passenger vehicles from BC's roads annually.2
Using RNG to further reduce marine emissions: Seaspan recently became the first Canadian marine company to pilot the use of low-carbon RNG to reduce GHG emissions produced by its liquefied natural gas-powered marine fleet, after RNG was approved for inclusion in BC's Low Carbon Fuel Standard for transportation.
Reducing on-road emissions of more than 1,000 fleet vehicles: For companies like UPS Canada and TransLink, with vehicles ranging from delivery fleets and long-haul trucks to city buses—we're providing lower-carbon compressed natural gas (CNG) and LNG that can reduce GHG emissions by close to a third versus gasoline or diesel.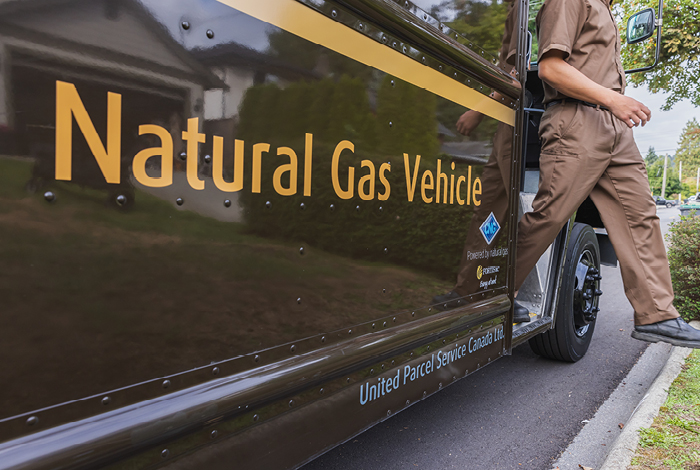 5. Forging new partnerships to collaborate on climate action
Through our Climate Action Partners program, we continue to work with governments and organizations such as the City of Abbotsford, the Musqueam Indian Band and the City of Kelowna to advance community climate goals. Through helping make buildings more energy efficient and advancing renewable gases, we're helping municipalities reduce greenhouse gas emissions and energy costs.
We now have 20 Climate Action Partners—here's a couple who came on board this past year:
Regional District of Okanagan-Similkameen: We're working with the Regional District of Okanagan-Similkameen to educate and train staff and the building community on the BC Energy Step Code. We're also evaluating opportunities within the District to produce Renewable Natural Gas.
City of Delta: We're working with the City of Delta to identify and implement ways to reduce emissions and costs within buildings owned by the City, and find ways to be more efficient with how they use energy.

Senior energy specialist Wasel Rahman is working to, among other initiatives, advance renewable gas production within the City of Abbotsford. Read more about his story.
Looking forward to 2030 and beyond
30BY30 is a milestone, not a finish line, and it's pushing us forward as we rethink energy to help advance a lower-carbon future. One of our goals is to have 75 per cent of the gases in our system be renewable by 2050.
There's a lot more good news to come—follow our 30BY30 progress and stay tuned for further innovations, and our plans beyond 2030!
Related stories
More about