Stories

Year in review: progress made to 30BY30 and reducing greenhouse gas emissions
December 17, 2020
Last year we announced one of the most ambitious emissions reduction targets in the Canadian utility sector. Our 30BY30 target aims to reduce our customers' greenhouse gas (GHG) emissions by 30 per cent by 2030.
So how are we going to get there?
In our Clean Growth Pathway to 2050, we outlined four key areas on how we plan to support BC's plan to reduce its GHG emissions and these initiatives are how we're making 30BY30 a reality.
We're committed to helping our customers reduce their GHG emissions but we're certainly not doing it alone. Through partnerships with industry leaders, organizations, Indigenous communities and local governments, we're working together to find innovative ways to lower GHG emissions. So let's take a look at what's been done this year to help us work toward this ambitious target.
Bringing on more Renewable Natural Gas supply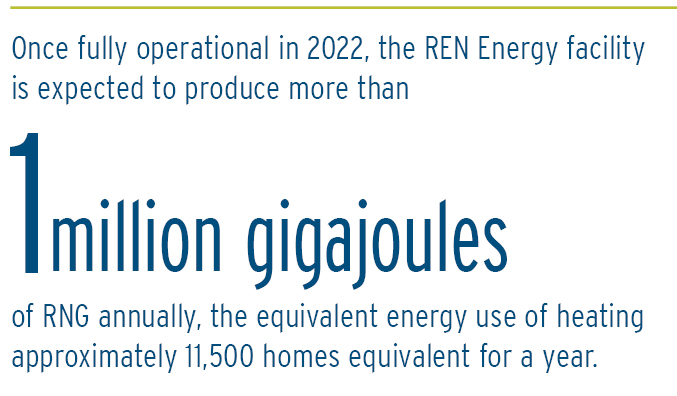 We hit the gas this year and received regulatory approval on 13 new contracts to bring on more Renewable Natural Gas (RNG) suppliers. Most notably, we received approval for a contract with REN Energy to purchase RNG made from wood waste created by forestry operations and sawmills. Located in Fruitvale, BC, it will be the first facility in North America to use this specific technology, creating new opportunities to reduce GHG emissions in BC's forestry sector.
In total, we've signed and received approval for 20 new supply contracts to purchase RNG at various locations across the province and, for the first time, we're now able to purchase RNG from suppliers out of province. This will allow us to continue to work towards our 30BY30 target while supporting the production of RNG in other provinces as well as in BC.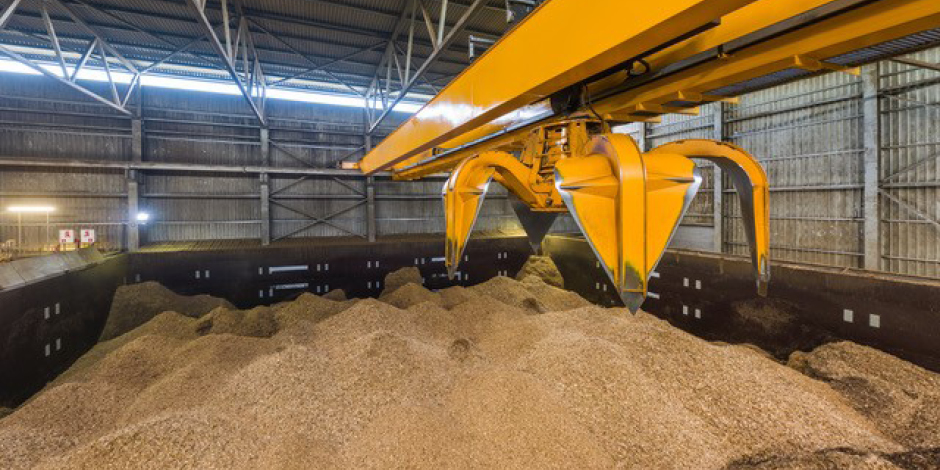 RNG is a carbon-neutral energy source made from food scraps or wood waste. REN Energy will take wood waste, capture the methane produced – that would otherwise go into the atmosphere – and turn it into renewable energy, which blends seamlessly into our natural gas system.
Planning is underway for a new RNG facility located at the Vancouver Landfill in Delta and is expected to be complete in late 2022. In late 2019, we received approval from the British Columbia Utilities Commission to produce RNG at this landfill, taking methane produced by the garbage at the facility and turning it into RNG. This facility is expected to produce about 250,000 gigajoules of carbon-neutral RNG a year once operational. The expected annual emissions reduction from this project would be up to 12,500 tonnes of carbon dioxide (CO2), which translates to taking approximately 2,600 cars off the road each year.
RNG is one type of renewable gas that can be used to reduce GHG emissions and hydrogen is another. This year we invested $500,000 to study how we can utilize hydrogen, a carbon free energy, in our natural gas supply and distribution network. Hydrogen is among the abundant elements on Earth and does not create any CO2 emissions when burned. We partnered with the School of Engineering from the University of British Columbia's Okanagan (UBCO) campus to conduct this research to help us better understand this promising energy and how it blends into our system.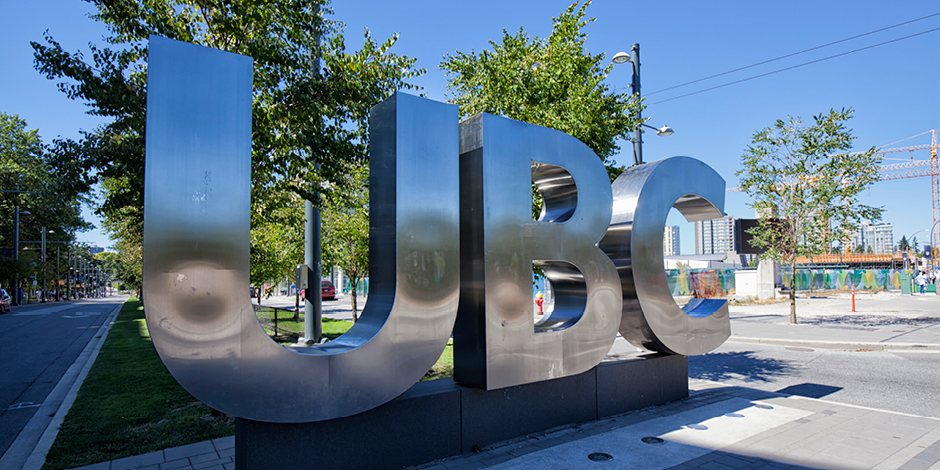 We're looking forward to working with the team at UBCO over the course of this study as we continue to look for ways to work with local organizations to reduce GHG emissions in BC.
The funding for this study came from another significant achievement this year as we received approval to implement a Clean Growth Innovation Fund, allowing us to advance projects to help us decarbonize our natural gas supply. This work will be incredibly important as we look for innovative ways to reduce GHG emissions on our path to 30BY30.
Driving forward with low and no emission vehicles
The transportation industry is responsible for about 40 per cent of the GHG emissions in BC and we're finding ways to help reduce these emissions. We opened 12 new electric vehicle (EV) charging stations in 2020 across the Southern Interior and Kootenays. As we see more and more people choosing to drive electric vehicles, we need to make sure there are stations in place for drivers to charge up.
In partnership with the Osoyoos Indian Band, we officially opened the first two publicly available electric vehicle fast charging sites in an Indigenous community in BC. Both sites are located on reserve land with one being located in Oliver and the other in Osoyoos. The stations are strategically placed to give EV drivers a place to charge while travelling through the region, reducing range anxiety and building out a charging network to encourage more British Columbians to make the switch to an EV.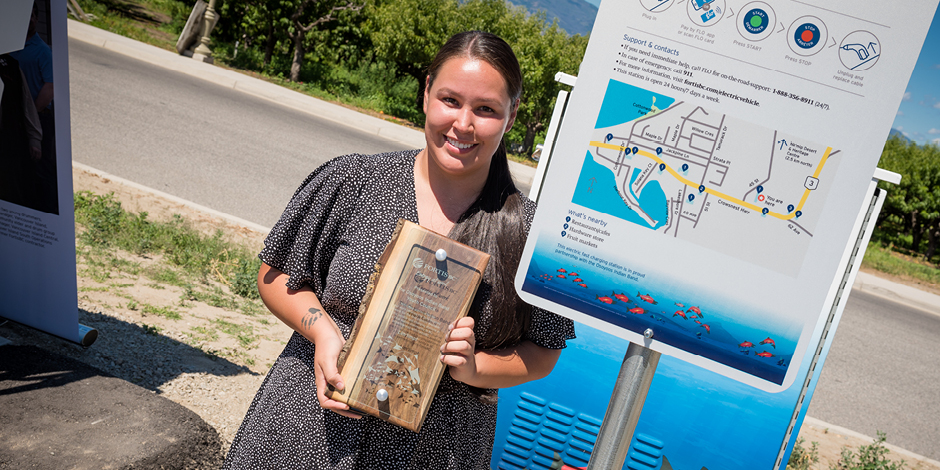 The artwork on the EV stations was designed by Taylor Baptiste, Osoyoos Indian Band Youth Council member and she was recognized for her work at our event, following COVID-19 guidelines, in July.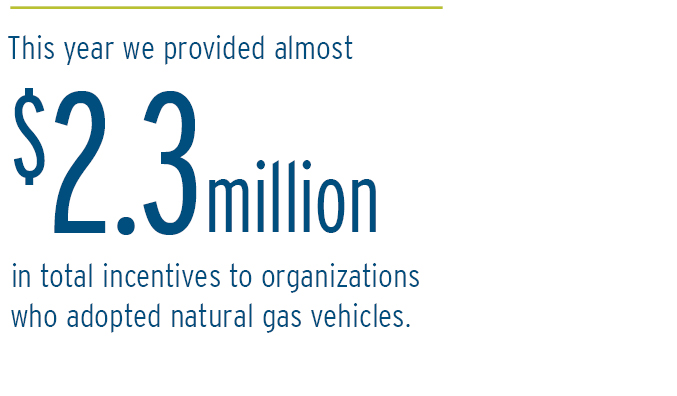 2020 saw great strides in moving more heavy and medium duty vehicles from diesel to compressed natural gas. In total, 13 organizations brought on 144 vehicles to use natural gas instead of gasoline or diesel. This will reduce more than 2,000 tonnes of CO2 emissions annually, which is about the equivalent energy use to removing 430 gasoline-fuelled passenger vehicles off BC roads each year.
Investing in energy efficiency
While we can build new homes to higher building and efficiency standards, it's also important to find opportunities to use energy more efficiently in existing homes and buildings, to help reduce GHG emissions.
Although we're not quite at the end of the year, we've seen a significant increase in customers applying for and receiving energy-efficiency rebates. For example, we've already seen a 41 per cent increase in participation compared to last year for rebates on space and water heating equipment through our income-qualified programs.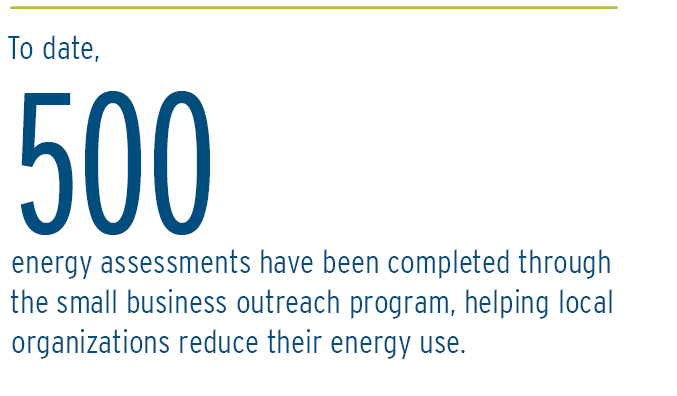 We support our commercial customers with energy-efficiency programs and, with even more emphasis this year on supporting small local businesses, we continued to help them reduce energy costs where possible. We worked with GreenStep Solutions to offer retailers, restaurants and offices free customized energy advice through telephone and videoconferencing calls.
As COVID-19 restrictions limited the amount of physical traffic into stores, business owners were provided with tips to manage their energy use during these times as well as given low-cost and no-cost ways to reduce energy use.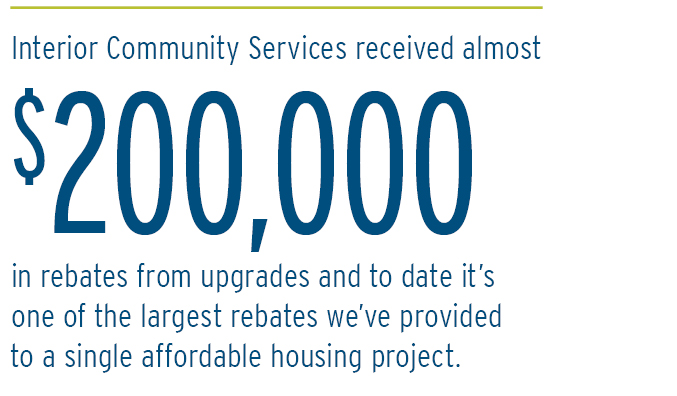 As we adapted to the COVID-19 pandemic, we hosted our first virtual event – our annual Efficiency in Action Awards. We recognized eight organizations for their continued dedication and innovative practices to increase energy efficiency in their buildings and significantly reduce GHG emissions. Among the winners was Interior Community Services who won the Small Commercial Customer award after installing 46 condensing furnaces, 46 connected ENERGY STAR® thermostats and 21 condensing tankless water heaters for an affordable housing building.


Our Efficiency in Action Awards present the opportunity to highlight organizations who have gone above and beyond to find more affordable ways to lower their energy use and reduce GHG emissions.
Additionally, the inaugural winner of our Innovation award was the Richmond School District. They installed natural gas absorption heat pumps at McMath Secondary School, which significantly reduced their GHG emissions. The Richmond School District was a participant in our pilot program to test these new ultra-efficient natural gas heat pumps, which cover about 75 per cent of the domestic hot water load in commercial buildings. Initial results from this pilot program have showed that these heat pumps performed at over 100 per cent efficiency, even in -8 degree Celsius weather.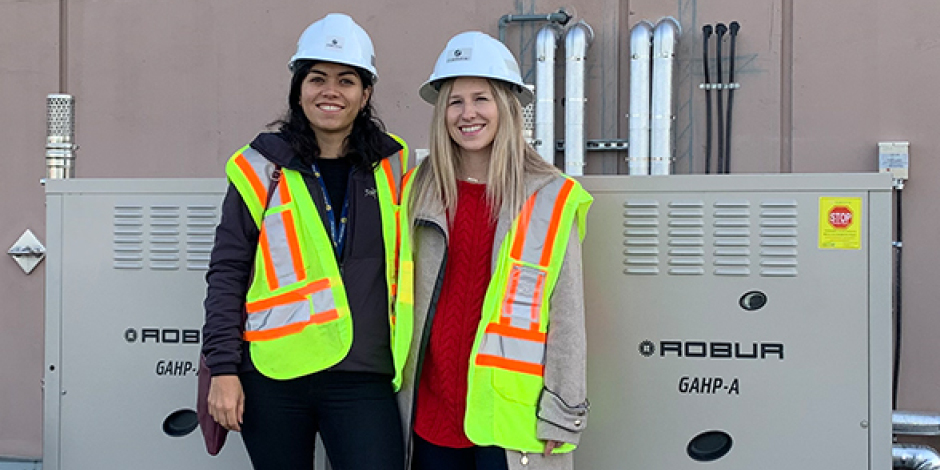 Marysol Escamilla (left) and Mila Barbour (right) are two FortisBC team members excited about the possibilities these natural gas fired heat pumps can bring to BC. Photo was taken prior to COVID-19 restrictions.
As we wrapped up this pilot for commercial heat pumps, we started recruiting participants for a new pilot program to test ThermoLift natural gas heat pumps in residential and small commercial buildings. These units were tested in lab environments and shown to reduce energy costs by 30 to 50 per cent even when temperatures dropped to -25 degrees Celsius.
The units are scheduled to be installed in pilot participant properties at the beginning of 2021 and we're waiting in anticipation for the results. If successful, these units would help our customers significantly lower their GHG emissions and their monthly energy bills.
Lowering GHG emissions with liquefied natural gas
The Tilbury LNG facility has provided British Columbians with energy for nearly 50 years and we're investing in ways to ensure we can keep the energy flowing to our customers, even on the coldest days, as well as finding ways to advance our 30BY30 target.


Our Tilbury LNG facility located in Delta, BC is powered by renewable hydroelectricity, meaning our LNG has among the lowest carbon intensity in the world on a lifecycle basis.
Beyond providing natural gas locally, the Tilbury facility also produces LNG for marine customers and customers overseas. With increasingly strict emissions guidelines in the marine sector, many shipping organizations are exploring LNG as a preferred option instead of more traditional marine fuels. Switching to LNG from traditional marine fuel reduces lifecycle GHG emissions by up to 27 per cent1 and fuelling costs by more than half.2
Earlier this year, we announced the Tilbury Phase 2 LNG Expansion project. We're continuing to engage with the public, Indigenous groups and stakeholders on the future of Tilbury and advance this proposed project through a number of regulatory processes including a provincial environmental assessment and federal impact assessment.
If approved, the expansion project may involve constructing a new tank that could triple the site's storage capacity and constructing additional liquefaction equipment to produce LNG for marine bunkering or export.
As we work toward our 30BY30 target, expanding our LNG capacity can help us reduce GHG emissions in BC and globally.
Planning for the next decade
Together with our partners, we've made great progress towards our 30BY30 target but there is still much more to be done. We're looking forward to working with customers across BC to help them lower their GHG emissions and create a lower carbon energy future for all of us.
You can keep up with our 30BY30 progress throughout the year to see what we're working on and take a look at where we're going.
Related stories
More about