Stories

Why is FortisBC asking me to use less energy?
October 27, 2020
Our employees have worked their fair share of home shows and community events and one of the most popular conversations they have is around our rebates for tankless water heaters.
When we say that FortisBC offers rebates on high-efficiency appliances that actually lower natural gas use many people respond with, "But you're the energy company, don't you want us to use more natural gas?" Our response is, "No, we only want you to use the energy you need, and use it as efficiently as possible so we're here to help with our conservation and energy efficiency programs where we're able to offer rebates."
Responding to climate change is a priority for us and many British Columbians, which is why we're working with local organizations, municipalities and customers to help them reduce their energy use in a more affordable way. We're working to increase energy efficiency across BC by continuing to assess and pilot new opportunities and technologies so we can bring forward the next generation of energy-efficient appliances, equipment and products to our customers. We offer rebates on the technologies that show successful results so we can support our residential, commercial and industrial customers to take their next step and make their homes and businesses more energy efficient ultimately leading to lower greenhouse gas (GHG) emissions.
Why we offer rebates on high-efficiency appliances
The short answer is that high-efficiency appliances use less energy. These appliances use energy more efficiently when they operate, which means you're not only producing fewer GHG emissions but you're lowering your monthly energy bills in the process.
We offer rebates to help customers cover the costs of upgrading to higher-efficiency appliances. Typically high-efficiency appliances are more expensive than standard efficiency ones, so our rebate programs help our customers bridge this cost difference and encourage them to make the switch to a high-efficiency model. For us, we often look for ways to help our customers lower their energy bills as well as reduce GHG emissions and our rebate programs for high-efficiency appliances are proving to help:
The energy savings and GHG emissions reduced from our rebate programs in 2019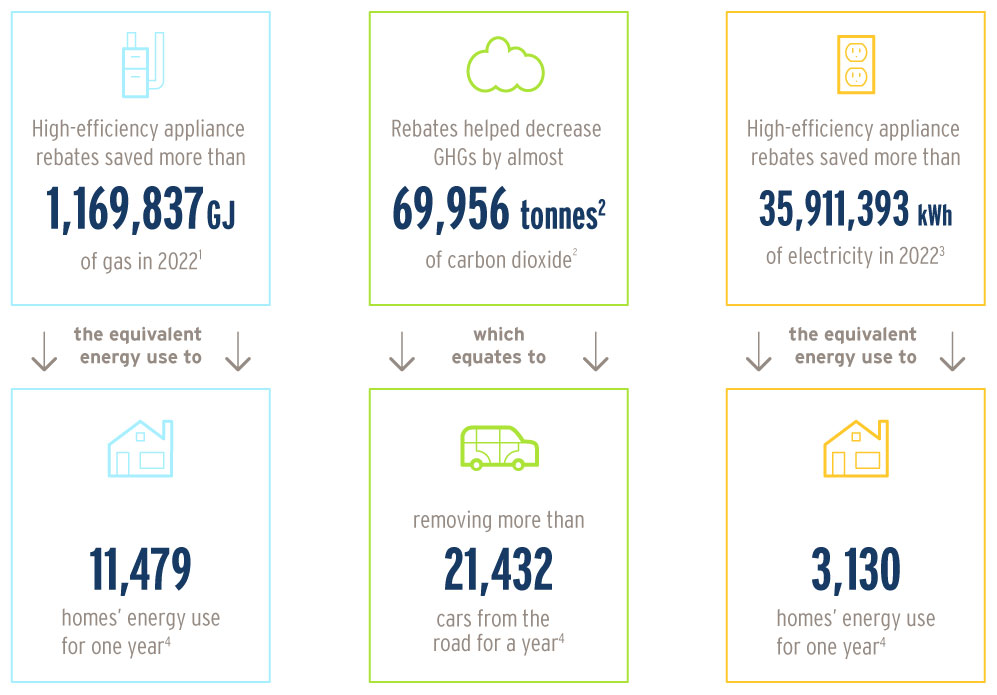 We've offered rebates to our customers for more than 20 years and we will continue to offer and even expand programs like these. In 2019, we received approval from the British Columbia Utilities Commission to drastically increase spending in our conservation and energy management rebate programs through to 2022. From 2019 to 2022 we plan to invest more than $368 million in these programs.
This significant investment is anticipated to help support British Columbians in reducing their household emissions while also lowering their monthly energy bills, helping us get closer to our 30BY30 target. We set this target to reduce our customers' emissions by 30 per cent by the year 2030. We're committed to working with the province to meet climate action goals and we will continue to support our customers as we all work toward a lower carbon energy future for all of us.
Energy efficiency rebates: a win-win
As customers continue to find ways to lower their energy use, emissions from homes and businesses will decrease accordingly. Here is how upgrading to a high-efficiency appliance can be a win-win situation.
An older furnace can be around 60 per cent efficient and a mid-efficiency furnace can be about 80 per cent efficient. These furnaces are only capable of turning 60 to 80 per cent of the energy they use into heat for your home. This leaves 20 to 40 per cent of the energy you work hard to pay for not being converted into heat.
If you upgrade to a 98 per cent efficient furnace, 98 per cent of the energy it uses converts into heat for your home. This means only two per cent of the energy isn't being converted into heat. With a high-efficiency appliance, 18 to 38 per cent more energy is being converted into usable heat for your home so your furnace does not have to run as long, which is saving you money. Not only that, by using less energy fewer GHG emissions are produced so it's a win-win.
Another way to improve energy efficiency is by looking at how drafty your home is or how tight the building envelope is because any heat loss is money loss. If you have a high-efficiency furnace but older insulation in the walls, it could mean that cooler air is getting into your home and your furnace has to run more often.
Say you have a furnace that is more than 15 years old, with average insulation in a 2,000 square foot home, it could cost you about $560 a year to operate. Now take a furnace that is less than five years old in a well-insulated home, it could cost less than $330 a year to operate.4 You want to be able to realize those energy savings and reduce GHG emissions so we offer rebates on home insulation that will help keep the heat inside your home and prevent your furnace from working too often. Another way to manage your heating costs is by installing a connected thermostat. You can set it to a lower temperature when you're away and slightly increase the temperature when you're at home.
We're all becoming more mindful of how much waste we're producing, from limiting plastic straws to using reusable cups, so let's rethink how we minimize wasted energy by increasing energy efficiency. By increasing energy efficiency in your home or business and taking advantage of our rebates, it's a win-win for your wallet and the environment.
BC's favourite energy efficiency rebates
There were countless times at events when customers would ask our employees about when our Appliance Maintenance Program and our furnace replacement rebates would be available. So it's no surprise that these two programs are two of the most popular residential rebates to date. Now our furnace rebate program is available year round just like rebates for water heaters, which also continue to be a customer favourite.
Here are the numbers on our top rebate programs in 2019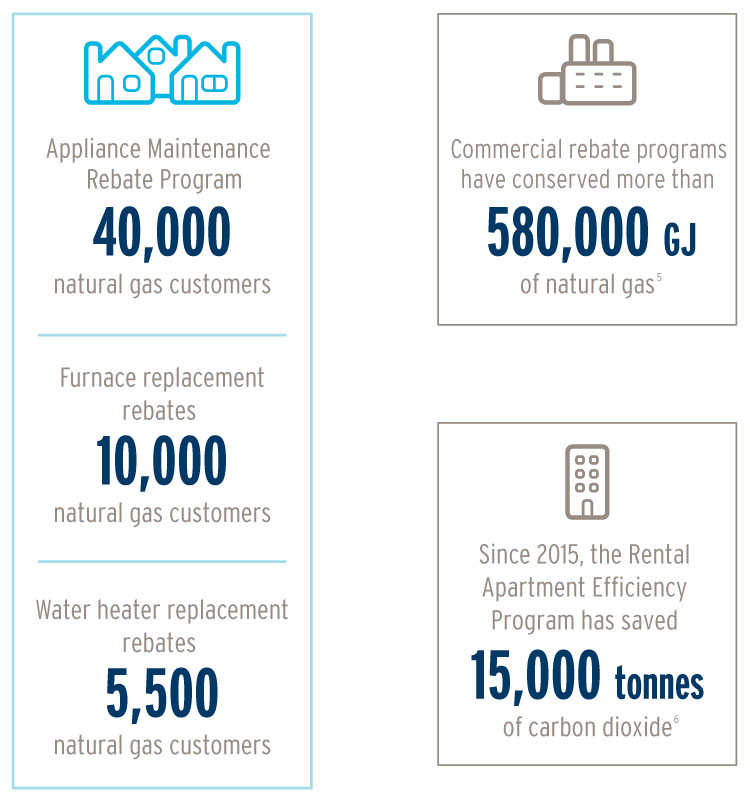 We work closely with municipalities and organizations to help them reduce energy costs and lower emissions in their buildings. Through our Rental Apartment Efficiency Program, we have provided upgrades to more than 800 buildings making these spaces more energy efficient and comfortable for tenants—at no cost.
We have a program available to organizations looking to hire a dedicated energy specialist who will help them develop and implement energy-saving upgrades. In 2019, we worked closely with 27 local organizations that took the initiative to find a way to increase energy efficiency in their organization through this program. We also worked with eight municipalities and regional districts last year to help them fund a community energy specialist in their region.
With many of our rebate programs, we partner with BC Hydro and CleanBC to ensure these rebates are available to as many people as possible. We're all working toward the same goals of reducing emissions and creating a culture of energy conservation, one rebate at a time.
Looking to save money and energy?
If you're looking to make energy-efficiency upgrades to your home, check out what residential rebate offers you may be eligible for. Organizations and municipalities can learn more about the commercial rebates they may be eligible for that can help them meet their energy efficiency goals and help us work toward our 30BY30 target.7
And if you're not sure where to start, we also have low-cost and no-cost ways to improve energy efficiency in your home or business that may work for you.
Related stories
More about