Stories

Is your commercial kitchen equipment costing more than it has to?
November 24, 2021
When owners in the food service industry are faced with the decision to upgrade their commercial kitchen equipment, the easy answer is to swap out the old model with a new, similar model. However, that doesn't take into account the possible cost savings and incentives available when upgrading to high-efficiency natural gas kitchen equipment.
Here are some ways that running old commercial kitchen equipment could be costing you more than you know and how high-efficiency equipment can help improve your bottom line.
The cost of running old equipment
While it may not be top of mind for owners to think about, simply running older equipment may be a drain on your operating budget.
Older equipment is often less efficient than what is available today and can also become less efficient over time which means you're paying for energy that is not actually being converted into the heat you need to prepare meals and clean your dishes. It can be money down the drain.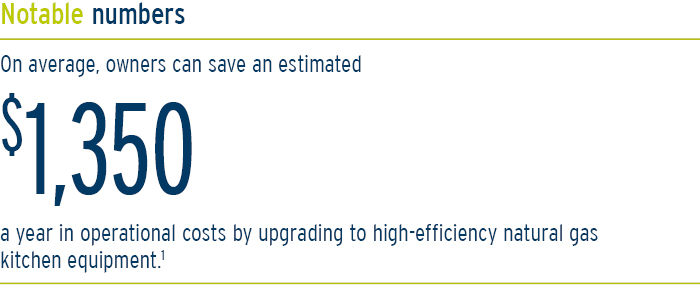 In contrast, the restaurants that took advantage of our rebates to offset the cost of upgrading to high-efficiency natural gas appliances are already seeing payback in energy savings. So far, between January and August 2021, we've seen more than 70 customers take part in these programs and each restaurant is saving an average of $1,350 a year in operational costs.1 These year-over-year savings add up fast which means an upgrade can not only bring some shine to your kitchen but also leave some money in the bank.
If you don't know where to start when it comes to choosing high-efficiency appliances, looking for models that are ENERGY STAR® certified is a great starting point. Equipment with this designation means it meets strict energy efficiency standards that help customers save energy and money.
The cost of choosing standard efficiency equipment
You may already know your equipment is in need of replacing and are tempted to shave a few dollars off the front-end cost investment by choosing standard efficiency equipment. At first, the standard efficiency unit may appear cost-effective, but choosing this route doesn't account for the year-over-year cost that will come with running it as compared to high-efficiency equipment.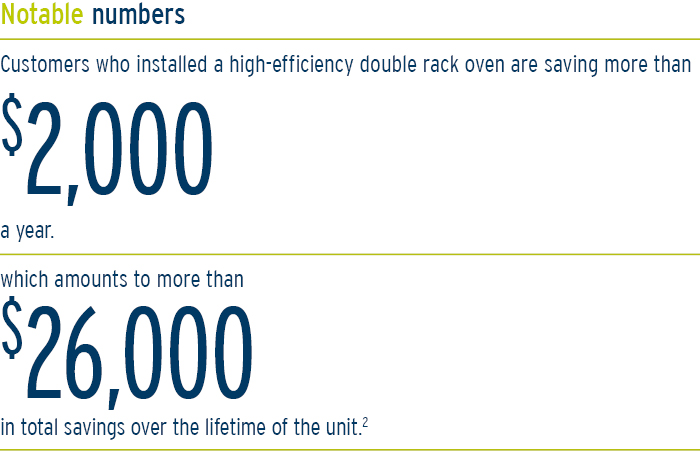 For example, customers who upgraded to a higher efficiency double rack oven are saving about 214 gigajoules (GJ) a year, compared to a standard efficiency unit, and many can see more than $2,000 a year in cost savings, which amounts to more than $26,000 in total savings over the lifetime of the unit.2 This means every year, restaurant owners can put money back into their business to help cover additional operational costs or invest in other energy efficiency upgrades to help them save even more energy and money.
One customer recently realized the benefits of choosing high-efficiency natural gas cooking equipment in his restaurant Chic Chic Chicken. Kanwaljeet (Lucky) Randhawa installed two large vat fryers and two combination ovens in his newly built restaurant and is already seeing annual natural gas and cost savings. He's even noticed that the quality of the food is much better as you can control the temperature and the food cooks faster with high-efficiency units. At the end, he even received $14,000 back in FortisBC rebates!
The cost of missing out on rebates
While the upfront costs for high-efficiency equipment may be more than standard efficiency units, there are rebates available to help restaurant owners cover a portion of these costs.
Lucky, for example, received a rebate for the high-efficiency equipment he installed and this money went directly to payroll for his staff.
On average, customers who have participated in our commercial kitchen equipment rebates received a rebate of about $3,500 per project3 and with our current rebate offers, the payback period for most of the high-efficiency units is less than a year.4 So businesses can affordably upgrade to high-efficiency natural gas kitchen equipment which can pay itself off in about a year—that's a pretty sweet deal.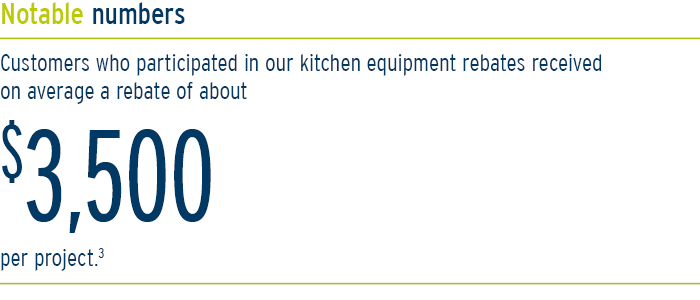 To qualify for rebates, natural gas combination ovens, convection ovens, fryers, rack oven and steam cookers, must hold an ENERGY STAR® certification and for conveyor ovens and griddles the model must be on the approved list.5
Reducing energy and emissions through energy efficiency
Beyond cost savings, you can feel good about the positive impact you are having on reducing energy use and greenhouse gas (GHG) emissions. In total, the combined estimated savings for the customers who've taken part in our rebate programs for high-efficiency commercial kitchen equipment is almost 11,200 GJ, the energy equivalent to heating about 130 homes for a year.6 In addition, the estimated GHG emissions reduced is more than 570 tonnes of carbon dioxide, the equivalent to removing 175 cars from the road for a year.7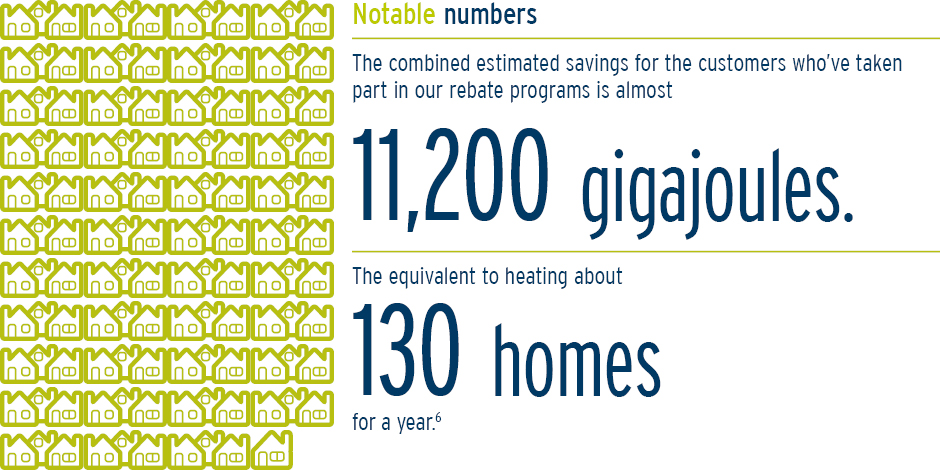 Reducing our customers' energy use and GHG emissions through energy efficiency improvements is one of the ways we're working towards a cleaner energy future for British Columbia and our 30BY30 target — our goal to reduce our customers' GHG emissions by 30 per cent by 2030.8
We're here to help
We have a suite of energy efficiency rebates to help small and medium sized businesses upgrade their equipment. You can also reach out to our team of energy solutions managers who can help you every step of the way.
Related stories
More about