Stories

Innovative builders exceed minimum BC Step Code requirements with natural gas heating
November 16, 2020
Sometimes to move forward, it takes a bold step. And a bold step is what the Province took when they introduced the BC Energy Step Code in 2017, and that's what we did in 2018 when we revamped our New Home Program to align with it. It's also what many builders have taken, by challenging themselves to build competitively priced homes that meet and even surpass the Step Code adopted by their local municipal governments.
The BC Energy Step Code is a long-term, graduated approach to meeting climate action targets. It sets higher requirements for energy efficiency in new construction than the base BC Building Code. It consists of a series of five levels or "Steps," each representing increasing levels of energy-efficiency performance. By adopting one or more steps over time, local governments can gradually increase the building performance requirements in their communities, eventually achieving net zero ready in new construction by 2032. By building to the higher tiers of Step Code, builders are increasing the comfort of new homes while substantially reducing the long-term energy use and greenhouse gas (GHG) emissions.
Taking a big step towards Step Code
Our New Home Program had long provided builders with rebates for building to above code standards. Builders could qualify through two streams—rebates for individual measures like high-efficiency water heating systems or whole home rebates when specific performance measures were achieved.
Aligning our New Home Program to the BC Energy Step Code supports builders who are working towards a made-in-BC performance standard that emphasizes a whole-home approach, which is the most effective way of achieving energy savings. This also advances our goal of reducing our customers' GHG emissions by 30 per cent by 2030. But the learning curve is steep, and many technologies are still in development.
"Aligning our New Home Program with the BC Energy Step Code was the right thing to do," said Tanya Rumak, residential program manager, conservation and energy management, FortisBC. "But we were hearing concerns from builders and industry insiders that they couldn't achieve higher Step Code levels with natural gas and still build a competitively priced, affordable home."
But BC builders stepped up. Innovative builders across BC are not only meeting the minimum Step Code requirements, but surpassing them. And they're doing this through a variety of practices such as improving the building envelope, installing high-efficiency space and water heating systems and working as a team with all the building professionals on the project to identify opportunities to save.
As a result, a number of builders from across the province have now qualified for our New Home Program rebates based on the Step Code stream. From the beginning of 2020 to August, we have approved more than 200 Step Code-based New Home Program applications from 53 different communities across BC. More than half of these new home projects were above the Step Code adopted by their municipality. In fact, many of these municipalities had not yet adopted Step Code. A large portion of these projects are in the Lower Mainland where the demand for affordable new homes is high, as is the desire to lower GHG emissions from buildings.
More than half of these new home projects were above the Step Code adopted by their municipality.
A step is no small feat
We're also seeing a steady increase in the number of builders achieving the higher tiers—no small feat when you consider what's required.
While Steps 1 through 3 can be met using techniques and products readily understood and available in today's market, homes built to Steps 4 and 5 are more ambitious and, at least for now, require more innovative thinking and specialized design skills to achieve.
In all cases, building to Step Code means builders must use energy software modelling and on-site testing to demonstrate that both their design and the constructed building meet the requirements of the standard. We've revised our program to assist builders in working with energy advisors who can perform a pre-construction and post-construction evaluation. We've also introduced additional funding for building envelope and mechanical consultants.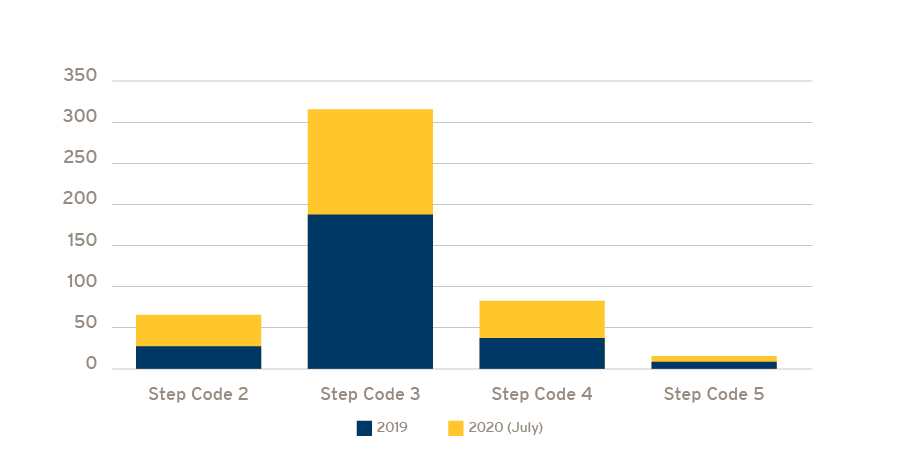 Step Code levels reached by New Home Program participants, Jan 2019 - July 2020. Source: FortisBC New Home Program participant database.
Stepping up to save
While the revamped program is still relatively new to the market, it's already making a difference in reducing long-term energy use and associated costs and emissions in new homes.
As compared to building these homes to the base BC Building Code, the estimated energy savings from the 2019 projects is 22,671 gigajoules (GJ) of natural gas. That equates to close to $200,000 per year1 in cost savings and GHG emissions reduction of 15,616 tCO2e.
And we're on track to double participation this year.
"It's been a steep learning curve, both for us and for builders," said Rumak. "But it's really paying off in the energy modeling we're seeing and it's beyond gratifying to partner with builders and energy advisors to contribute to a market transformation of this scale."
Stepping forward and pivoting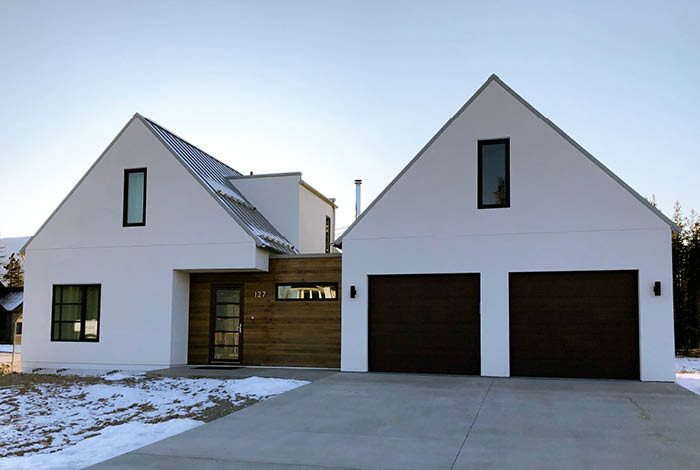 We continue to adapt our New Home Program to meet the needs of builders. We're also working closely with industry leaders and builders to develop case studies and tools that aim to assist more builders in meeting meet the higher Step Code levels.
In light of the economic impact of the COVID-19 pandemic, we recognize that it may be more difficult for builders and homeowners to invest in above BC Building Code energy-efficiency measures. For a limited time, we're increasing whole-home performance rebates so they now range from $3,000 to $10,000 based on the performance levels of the BC Energy Step Code. These enhanced incentives are applicable to New Home Program applications received between August 17, 2020 and December 31, 2021.
We've also introduced the Design Offer, a new incentive offered to builders who are pursuing Step 3, 4 or 5. It reimburses the cost of engaging with consultants that can help identify cost-effective opportunities and innovations to develop these high-performance homes.
These offers are available for new construction of detached homes (may include a secondary suite), attached homes (semi-detached, townhouses, duplexes, triplexes, row house or attached house with or without a secondary suite) and laneway homes that are built on a permanent foundation within our natural gas or electricity service areas.
Helping builders take these bold steps towards net-zero ready homes is just one of the ways we're advancing our goal to reduce our customers' GHG emissions by 30 per cent by 2030.
To access the New Home Program, builders should contact their FortisBC natural gas energy solutions manager before construction begins. Find out more about the New Home Program and increased incentives.
Related stories
More about