What if LNG was the marine fuel of the future?


We've been providing LNG fuel to local ferries for several years. Today, we're rethinking the future of energy by supporting the growth of liquefied natural gas (LNG) as a cleaner fuel for international ships. It's one of the most meaningful steps we can take to reduce greenhouse gas (GHG) emissions today.
Reducing marine emissions
International ships going to and from our BC ports emit more total GHG emissions than the entire province combined.1 Beyond higher GHG emissions, conventional marine fuels also contribute to smog and poor local air quality with air contaminants. But there's good news: if ships used LNG from our facilities, GHG emissions could be reduced by up to 27 per cent. In addition, particulate matter could be reduced by up to 99 per cent and sulphur oxides could be reduced by almost 100 per cent compared to the same conventional marine fuels.2, 3
A new generation of LNG-fuelled vessels is beginning to displace conventional marine fuel with lower-carbon LNG, and this welcome transition is putting BC and FortisBC on the map for lower carbon initiatives. Imagine if more marine vessels around the world switched to LNG? We didn't just imagine it—we're already making it happen today.
Port of Vancouver: a global LNG fuelling hub
Given the environmental advantages of LNG compared to conventional marine fuel, we have an opportunity to create a global LNG fuelling hub in the Port of Vancouver. The practice of fuelling a marine vessel is known as "bunkering" and we've created an innovative method of bunkering LNG that uses customized tanker trucks fuelling right on board a vessel. We developed this proprietary design by collaborating with BC Ferries, Seaspan Ferries and their shipbuilders. Creating an LNG bunkering hub in Vancouver would not only help reduce emissions around the world, it would create a powerful economic opportunity for the province and for British Columbians.
Fuelling with renewable energy
For nearly 50 years, our Tilbury LNG facility in Delta, BC, has been providing backup natural gas supply to our local customers on the coldest days of the year when demand is highest. Throughout Tilbury's history, including the first expansion completed in 2018, we've continued to meet increasing energy demand. Because we use renewable hydroelectricity to produce our LNG, it's 30 per cent less carbon intensive than other global producers on average. No wonder Tilbury is highly regarded among the cleanest LNG facilities in the world.4
We're also proposing to add more LNG storage and liquefaction capacity to strengthen BC's natural gas system and produce more LNG for marine and overseas customers. And this is only the beginning for opportunities to promote the use of this alternative fuel source, connecting industry partners with potential LNG customers.
Our LNG storage facilities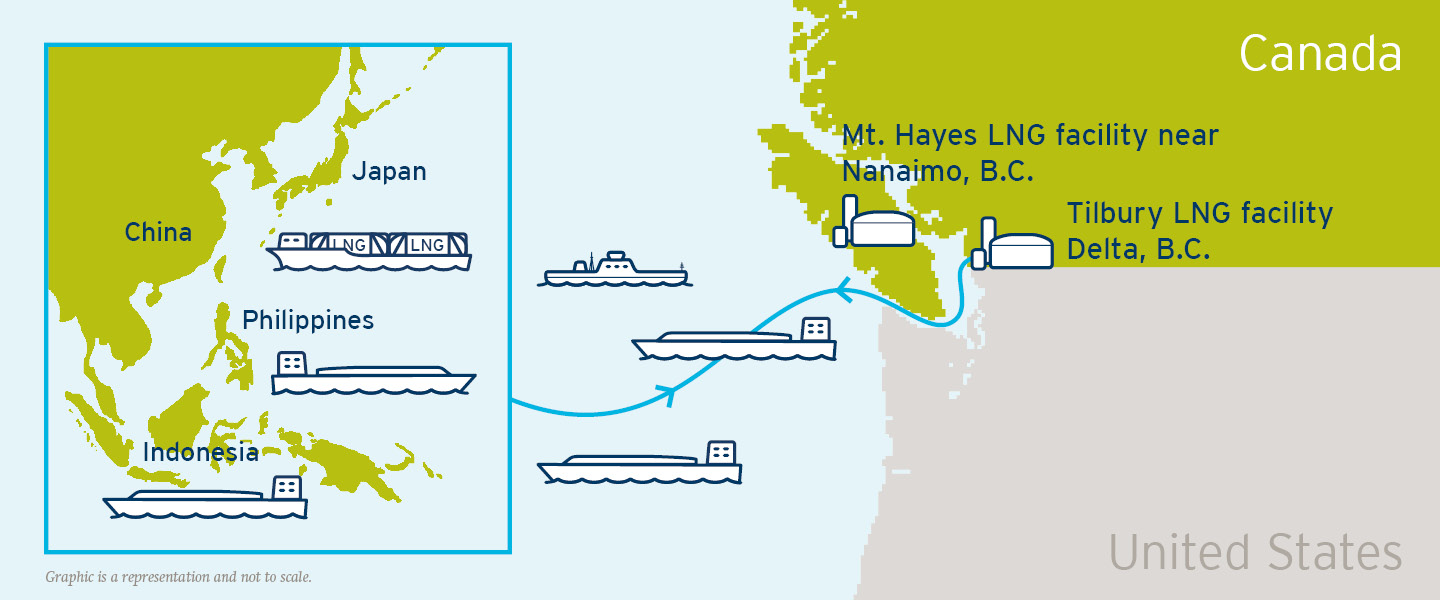 Our LNG facilities are located on international shipping routes, allowing LNG to be efficiently shipped to East Asia and along the west coast of North America.
Making waves with LNG exports
As the first Canadian supplier of LNG to China, we helped Canada's LNG export industry reach a major milestone. Currently, we supply the only LNG export deal in Canada to the Asian market, helping to displace the use of coal and diesel with our made-in-BC LNG. As demand for LNG continues to develop around the world, we're seeing growing interest from overseas customers interested in reducing their carbon emissions.
Ensuring LNG is as safe as it can be
LNG is made from the same natural gas we use every day in our homes. For easier transport by truck or ship, LNG is cooled to a liquid form at -162 degrees Celsius, and stored in reinforced, insulated containers. In the unlikely event of a spill or leak, once LNG is exposed to air, it will warm up, turn back into a gas, rise and dissipate quickly – leaving no residue. If spilled on water, LNG won't mix and will vaporize quickly. For those reasons and more, it's considered among the safest fuel sources available in the world.
Contact our project team
Find out if LNG is right for your business.
1 Pathways for British Columbia to achieve its GHG reduction goals; Guidehouse, 2020.

2 Depending on the engine type. Life Cycle GHG Emissions of the LNG Supply at the Port of Vancouver: 2nd Project Phase; thinkstep, 2020.

3 Life cycle GHG emission study on the use of LNG as marine fuel; Sphera, 2020.

4 Using emissions data from sources such as the Pembina Institute's B.C. Shale Scenario Tool (2015) and analysis of Adebola Kasumu, University of Calgary, 2019.