Cool comfort: natural gas furnace plus air conditioner

Losing sleep over summer heat? If you have a natural gas furnace, you can simply add an air conditioning unit to your central heating system and enjoy year-round climate control and comfort in your home. You don't need a heat pump to keep your home cool.
Heat pump or air conditioner—what's the difference?
A heat pump is an electrical appliance that extracts heat from one place and transfers it to another. To warm up your home, it heats air from outside and injects it into your home. To cool down your home, it moves heat from inside your home to outside.
An air conditioner works in much the same way to keep your home cool, but of course it doesn't heat your home.
While an electric air source heat pump can heat and cool your home, there are factors you'll need to consider:
The climate you live in - when temperatures get colder, heat pumps need to rely on a backup heating system, which will increase your heating costs.1 There are cold climate heat pumps which work better in colder temperatures, but these are more expensive.
In Canada, we need heating more than cooling - Because you'll be needing heat in your home for the majority of the year, it makes sense to consider your most affordable heating option first, and then think about your cooling needs.
Your existing heating system - If you have a natural gas furnace and you switch to a heat pump, your natural gas bill will go down, but your electricity bill will go up.1
Bottom line: if you have access to natural gas, it's still the most affordable option for home heating, compared with electricity. And if you already have a natural gas furnace, you just need to add an electric air conditioner to your central heating system to ensure year-round comfort and savings.
Natural gas furnace + air-conditioning unit = cool savings
Natural gas remains an affordable option when compared to other energy choices such as electricity. Based on current gas rates, a single family home with average energy use can expect to save up to $275 per year in energy costs1 by choosing to cool the home with a natural gas furnace/air-conditioning combination, compared with a heat pump.
Need a new furnace?
If your natural gas furnace is at least a decade old and you want to replace it with an eligible ENERGY STAR® model, you could qualify for a rebate of up to $1,000.
Get a furnace rebate
Annual energy cost – space heating and cooling2
Vancouver Island and Sunshine Coast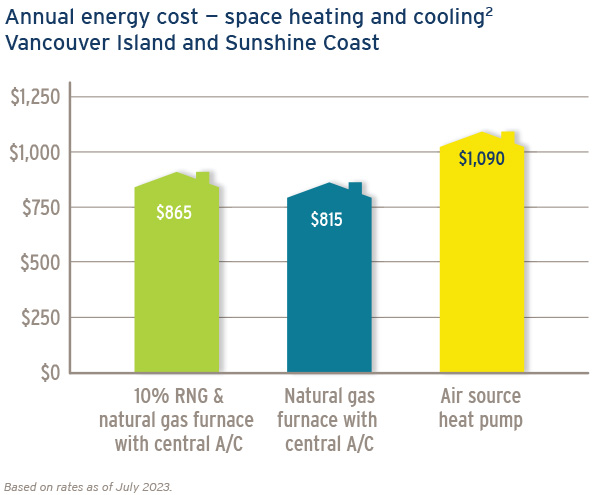 Calculate your savings
Want to know how much you can expect to save in fuel costs by pairing a natural gas furnace with an air-conditioning unit? Check out our handy home energy calculator.
Call a certified contractor
When deciding the best option for your home cooling and heating, we recommend asking a licensed professional who can give you objective advice based on your particular needs, and the type of home you have.
The FortisBC Trade Ally Network directory provides you with easy access to trained, certified gas contractors in your community.
Connect to gas
If you're not already connected to gas, the process is simple. Find out how you can get up to $3,700 in rebates, for a limited time when you replace your oil or propane primary space and water heating systems with eligible natural gas appliances.
If you're an existing natural gas customer, learn about our rebates and offers.