Stories

The costly truth about your old furnace
October 9, 2020
Heating likely accounts for half the energy you use in your home1, so what you don't know about your furnace could be costing you. A lot.
With winter just around the corner and people expected to spend more time at home to due to the COVID-19 pandemic, it's more important than ever to pay attention to the cost of heating your home and staying comfortable.
Many homes in BC still have older, inefficient furnaces and a good portion of homeowners are unaware. We conducted a survey of 6,000 residential customers in BC2 and found that more than 40 per cent of homes heated with a natural gas furnace were using a mid- or standard-efficiency model. A further 17 per cent of people didn't know the efficiency of their home's furnace.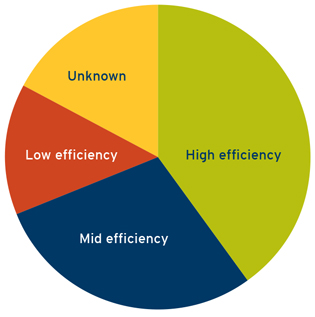 Efficiency of natural gas furnaces in homes of survey respondents.
Source: FortisBC's 2017 Residential End Use study.
So what does that mean exactly for your furnace?
Heating your home with an older furnace is costly, even if you're using natural gas which is the lowest-cost energy source for heating.
It's like buying a bag of 10 apples and then tossing out four, or paying for 10 and only getting six.
Many homes built before 1990 still have a standard-efficiency furnace. These are as little as 60 per cent efficient. That means, even if it was installed correctly and well-maintained, it will return only 60 units of heat for every unit of energy it uses. That also means 40 cents of every dollar spent heating your home may be lost through the exhaust. Crazy, right?
It's like buying a bag of 10 apples and then tossing out four of them (even more if the bag has a hole, but more on that later), or paying for 10 apples and only getting six.
Mid-efficiency natural gas furnaces are common in homes built between 1990 and 2010. These are significantly better at 78 to 82 per cent efficiency, but that still leaves at least two of your 10 good apples tossed into the compost heap.
In contrast, high-efficiency furnaces are 95 to 98 per cent efficient and now mandated for new construction and furnace replacements. Because we want to make sure you get the maximum amount of usable heat for every dollar you spend, we provide rebates only for the most energy-efficient furnaces available. And that's not even the final two cents on the matter.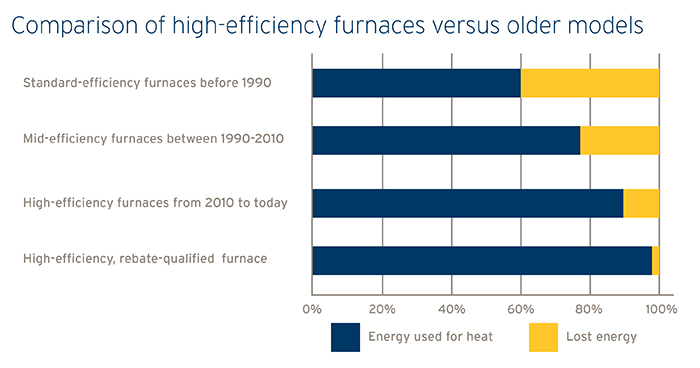 Natural gas heating systems of the future show tremendous promise in being even more efficient — greater than 100 per cent. In fact, we're testing innovative new heating systems like a natural gas heat pump that combines space and water heating in one system and is reported to offer efficiencies as high as 160 per cent. How do you like them apples?
But we're getting ahead of ourselves.
Rebates make it easier to replace your old furnace
The good news is that if you own one of these older, inefficient furnaces, we can help you stretch those renovation dollars towards a high-efficiency replacement with rebates on qualified, high-efficiency natural gas furnaces.
And remember that bag of apples? Let's make sure it's hole-free. Now is also a good time to invest upgrades that help keep heat inside your home, such as insulation and eligible windows and doors. If you install two or more eligible upgrades from the Home Renovation Rebate Program—such as a furnace and insulation—you could also get a $300 bonus.
You must also apply for your rebates within six months of the invoice date. Please check the full terms and conditions available here.
Did you know?
AFUE is an abbreviation for annual fuel utilization efficiency, which is a measure of how efficiently your furnace can use its fuel. The more efficient your furnace, the more heat you will get per unit of fuel. It's a good term to know when you're evaluating your furnace options and working with a natural gas contractor.
Related stories
More about