Scam alert

Suspicious phishing emails being sent to the public
Updated July 22, 2021 at 11:30 a.m.
On July 8, a member of the public notified us of suspicious phishing emails being sent regarding careers at FortisBC. To the email recipient, the emails appeared to have come from the [email protected] address. However FortisBC did not send those emails. This is an example of a scam involving email "spoofing" which is the creation of email messages with a forged sender address.
Members of the public should be vigilant of phishing emails from careers-fortisbc.com, jobs-fortisbc.online or any other variation of these domain names which are being directed to a spoofed website instead of the correct domain: careers.fortisbc.com. If you receive a suspicious email, the best option is to delete the email and do not respond, forward, click on links or open any attachments.
Sample of current email spoofing: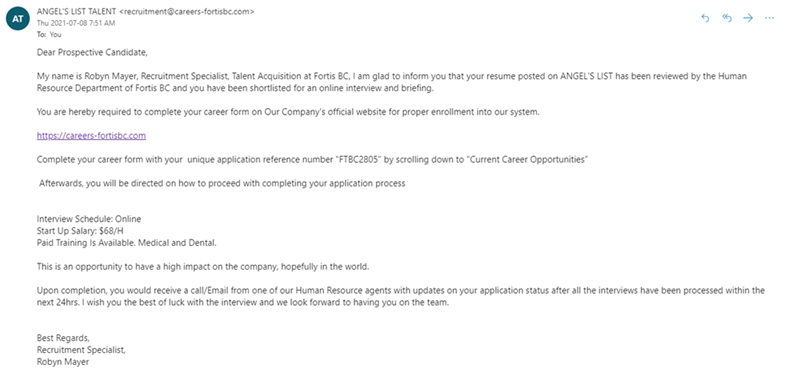 The 24 hour urgent deadline is an indicator that this is a suspicious email as well as the multiple grammar mistakes.
FortisBC does not seek out resumes through third party sources and all emails from the FortisBC's recruitment team will be sent through [email protected] or the email will come from a FortisBC employee's email account.
FortisBC takes the security and privacy of our company and customers very seriously. Our cyber security team is investigating the matter to prevent this from happening in the future. If you receive an email that appears to be from FortisBC that you are unsure about, please contact us immediately and we will confirm whether the email was from us or not. Individuals can be certain they are speaking to a legitimate FortisBC customer service representative if they contact FortisBC at 1-888-224-2710 or email [email protected].