Stories and news from FortisBC

Choosing rebate-eligible windows and doors
January 29, 2020
I bought the worst house in a not so great neighbourhood. My home inspector thought I was crazy. "You're a brave lady," he said. I wasn't brave, I just wanted a house and this was the best I could afford. Luckily, I was pretty handy.
Going deep into home renos
At least the wiring was adequate, the roof was OK and the structure was sound, but the house required, what we call in the energy-efficiency industry, a "deep retrofit." Because the furnace and leaky water heater were on their last legs, I had to upgrade those first. Then, little by little, I worked on the envelope of the house. This means the exterior walls and attic insulation, siding, windows and roof.
Think your windows are bad?
If there was an award for the worst windows, I'd have won. My little pre-war, unloved fixer had a motley mix of them from a variety of decades (none from this century). Whenever the dogs barked at the mailman, the thin single pane of my living room window would shimmy and shake. And at night? A light breeze would make the aluminum frame of my bedroom window rattle, jolting me and the pups from a deep sleep. And frankly, they were ugly. They made my house look like a dilapidated squatter house. Don't believe me? Have a look.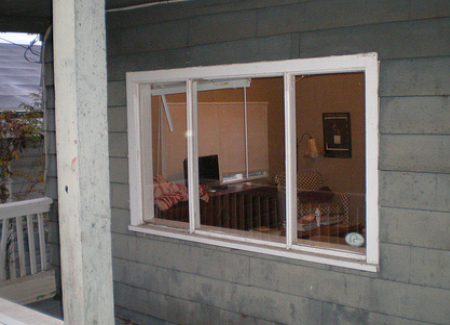 Living room window before. I was so worried the dogs would
break that single pane when the mailman came!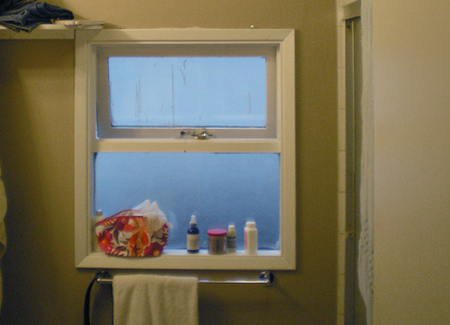 My very ugly bathroom, before the new window was installed
and a full renovation.
Rebates help, but not the only reason to upgrade
All of our rebates are designed to help you offset the extra cost between a standard item and an energy-efficient one. But let's be honest. You want to upgrade your windows and/or doors for more reasons than energy efficiency. I mean, who shows off their new blown-in attic insulation to the neighbours? My new windows? Folks who knew what my house looked like before—the eyesore on the street with undesirable tenants—would walk by and ogle them enviously. New windows have the same effect on your neighbours as a kitchen renovation, without having to invite them into your home to see them.
But as well as adding an incredible aesthetic appeal to both the interior and exterior of my house, the comfort was amazing. Even though I hadn't insulated yet, my home felt more solid and sound. The rattling was gone, the cold drafts stayed outside and my home was incredibly quiet. My neighbour's grunge band and the all night trains rumbling in the distance were now just audible memories with my high-end double-pane windows.
Maximize your investment
Windows are a HUGE investment. Possibly even more than a kitchen or bathroom renovation, depending on the number and size of the windows you're replacing. You're going to spend a lot, and regardless of the energy efficiency of the window itself, you still have to pay for labour. So I recommend you buy the most efficient ones possible. The investment will pay off year-after-year. I mean can you argue with these?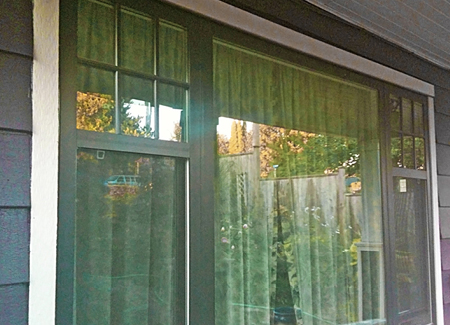 Living room window after. It's bigger and it's got panes
that open!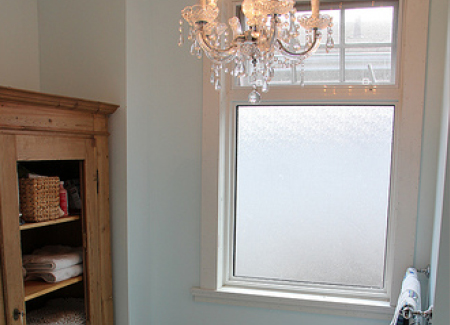 My now very gorgeous bathroom. Bigger window, better
light fixture.
Be clear on window (and door) rebates
Before you buy the first window you see, remember, not all windows and doors qualify for rebates. So how do you know which ones do? Well, we've got some tips to help you know what you're talking about when getting quotes from window companies.
Demystifying window and door terminology
Here's an explanation of some of the technical terms to help ensure the products you buy are rebate-eligible.
U-Factor: also known as U-Value, U-Factor measures a window or door's resistance to heat flow. The lower the number, the better its insulating properties. U-Factor can be expressed in metric or imperial units.
Metric vs. imperial: U-Factor requirements for our rebates are listed in metric units (W/m2-K). To convert imperial U-Factors to metric U-Factors, multiply the number by 5.678.
Tier 1 and Tier 2: to help you choose the most efficient windows and doors, we've broken it down into tiers. Tier 1 windows have U-Factors between 1.40 and 1.23 (W/m2-K). Tier 2 windows/doors have the lowest U-Factor (1.22 W/m2-K or lower) and are the most efficient, so the rebate is higher. Please note: if you live in Vancouver and install a Tier 1 window, you won't be eligible for our rebate, as that city requires new windows to be Tier 2.
Rebates
You could be eligible for a combined rebate of up to $3,000 by installing a combination of Tier 1 and Tier 2 windows and Tier 2 doors. Additional requirements to be eligible for our rebates are listed here.
Upgrade
Rebate
U-factor
Tier 1 - windows

$50 per (up to $1,000)

Note: effective April 1, 2020, Tier 1 doors are no longer eligible for rebates. Tier 1 doors with invoices dated from October 1, 2019 to March 31, 2020 are eligible for a $50 rebate

1.40 - 1.23 (W/m2-K)
Not eligible in the City of Vancouver.
Tier 2 - doors and windows

$100 per (up to $2,000)

1.22 (W/m2-K) or less

Now you're ready to apply for your rebate
Once you've selected your rebate-eligible windows and/or doors and had them installed by a licensed contractor, it's time to apply for your rebate (you have up to six months from your invoice date to apply). As well as the detailed invoice from the window manufacturer/installer, you'll also need to include a photo of at least one manufacturer's label from a window and/or door. Here are some samples:
Tier 1 manufacturer's label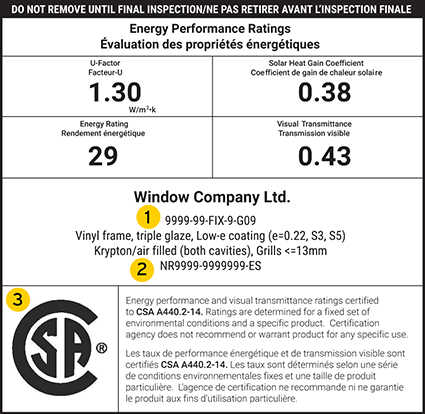 Tier 2 manufacturer's label
The label must have: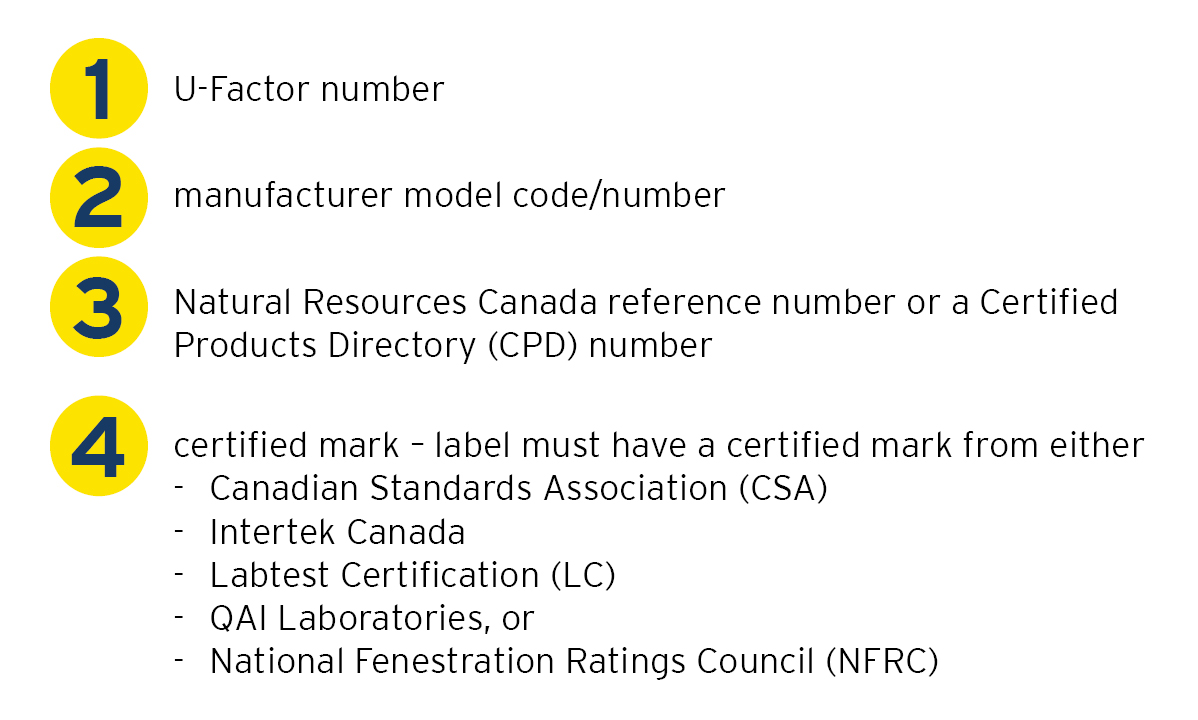 Related stories
Find more news
Subscribe to FortisBC news
Our newsletters provide energy-saving tips, project news, contests and more for residential and commercial customers.