Stories

New windows for 80s house make a difference inside and out
July 11, 2022
Updated January 13, 2023
With demolition complete and new support beams, subfloors and framing in place, it was time for the next big phase of Colleen and Shane's energy-efficiency retrofit of their forever home's building envelope—windows and doors. And not just any windows and doors! The home's 1980s single-pane relics were replaced with triple-pane beauties featuring European styling and proprietary locking mechanisms. "They're some of the most energy-efficient residential windows out there," said Colleen. "And they really elevated the look of the home, which was an added bonus as our focus was primarily on efficiency and functionality," she added.

We're following Kelowna couple Colleen and Shane as their home undergoes a major energy-efficiency renovation to the building envelope (aka deep energy retrofit). If you missed it, you can read our first blog about their pre-upgrade EnerGuide® home energy evaluation and DIY demolition here.
Taking advantage of natural light
Colleen and Shane both knew that natural light would have a huge positive impact on how they felt in their home. Plus, good natural light saves on lighting costs. Their first consideration when planning their window project was sun exposure. "The front of our house faces east so it gets lots of morning light and sunshine, and the back of the house gets it in the late afternoon," said Colleen. "Sun exposure was a huge consideration when planning our overall window design," added Shane.
On the south side of the house, in a portion of the living area that would eventually become their dining room, they removed a large window and filled it in. "The window, despite its size and being on the south side of the house, didn't provide much light as there's a large chestnut tree in the side yard that blocked most of it," said Colleen. But to make up for losing a window on that wall, they flanked their new fireplace with two smaller inoperable windows where the chestnut tree limbs don't reach.
Two French doors leading out to the front yard were removed as well for practical reasons. "We live on a fairly busy street, so we don't hang out in the front yard, like ever!" said Colleen. But they were replaced with a large window so not to lose the natural light that the French doors had brought in. "We also had muntins added [decorative trim giving the appearance of multiple panes of glass] to the new living room window to match the home's traditional style," said Shane.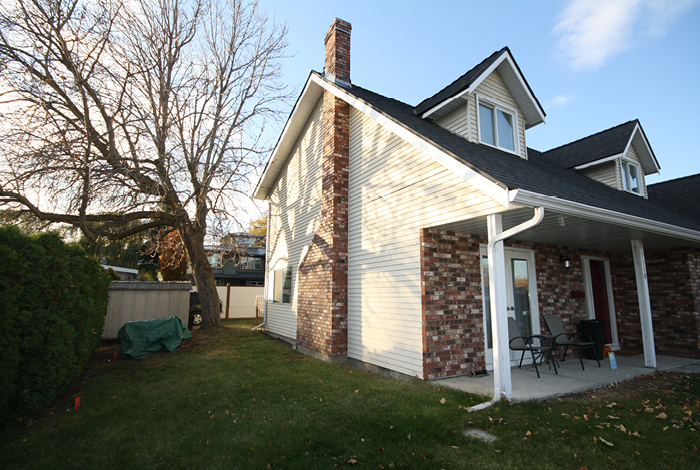 In this before photo, imagine this big chestnut tree in full bloom blocking the window left of the chimney. The window was removed and the French doors in the front yard were replaced with a window.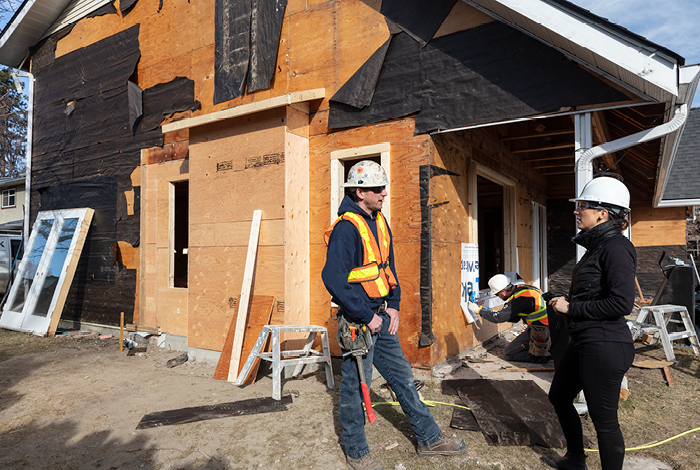 Here's the window installation in progress, with the window in the previous photo now removed. As Colleen and Shane were replacing the wood-burning fireplace with a gas insert, they also had the chimney removed (you can see the new bump out for the gas fireplace). On either side of the bump out are two new rough openings1 for windows that will flank the new gas fireplace insert. Finally, you can see a crew member preparing for the living room window (replacing the French doors) as Colleen chats with a crew member.

A quality installation helps ensure windows perform for years to come
If you've followed any of our energy-saving tips, you're probably aware that a lot of a home's heat loss can happen around windows. This is because in decades past, windows were often installed without a proper air and weather barrier. If you feel drafts by your window, this could be why. As well, a lack of a proper weather barrier can cause the windows to eventually leak, causing water to penetrate and damage the window frame and wall below.
The crew installing Colleen and Shane's windows took all the necessary steps to prevent leaking and keep them airtight to ensure the high-performance windows would function as intended for decades, regardless of the weather outside. This included wrapping the house wrap (the white plastic film visible in the photos) around the window frame, installing flashing tape on the sills overlapping the house wrap and finally, adding spray foam insulation around the window frames to seal out drafts. These steps help ensure the heat stays inside the home in winter, and outside in summer.


The crew prepares the rough opening for the new living room window that replaced the French doors. On the right, the installer checks his work. All the homes' new windows tilt and turn and can also open like a double-hinged door, a great feature for cleaning the outside pane and when you want to maximize fresh air when the outside temperature is just right.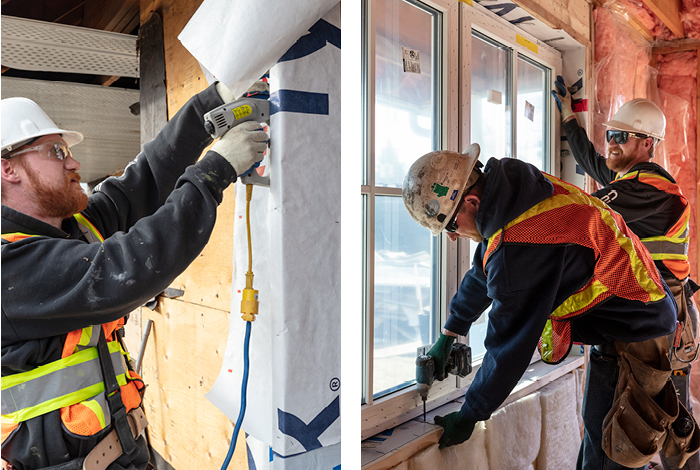 On the left, the installer is securing the house wrap around the rough window opening. On the right, once he ensured the window was level, the installer secures it to the frame using galvanized steel strapping anchors.
Not your typical patio slider
The biggest window change had to be the addition of a large triple-pane sliding door to the backyard from the new dining room. Weighing more than 500 pounds, the window manufacturer sent a special crew for the installation. But this was after Colleen and Shane's builder had an engineer design the rough opening to ensure safety and building code compliance. As a result, the home's foundation had to be reinforced to carry the weight of the new slider.
"The new slider is 11 feet long and eight feet high, so what used to be a drab, dark unusable space is now the hub of our home," said Colleen. "Plus, it was installed to sit flush with the floor; the track sits below the subfloor for a nice, clean look," added Shane.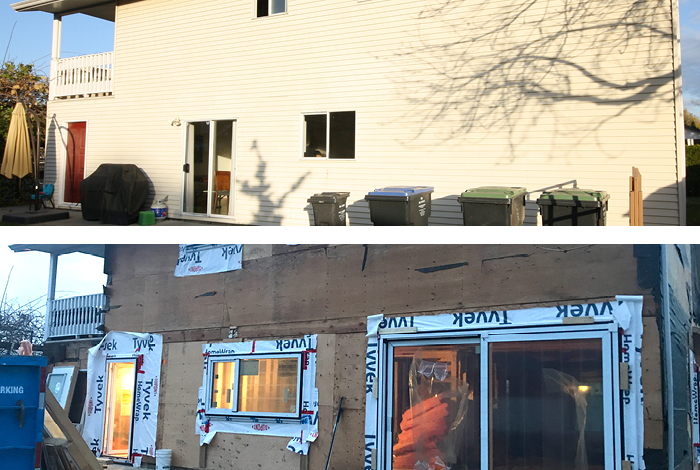 The top photo shows the back of the house prior to demolition. In the photo of the renovation in progress below you can see a new laundry room door and kitchen window replacing the small slider and old kitchen window, as well as the new 11-foot slider off the new dining room.
Three panes are better than two
FortisBC and CleanBC offer rebates2 on energy-efficient tier 2 windows. Window efficiency is measured by U-factor. You can read more about window terminology here. The windows installed in Colleen and Shane's house were high-performance triple pane and met tier 2 U-factor requirements for rebates. "More and more people are steering clear of minimum standard windows," said Shane. "With temperatures becoming more extreme, having these high-performance windows is one of the upgrades we undertook in this renovation that significantly helps minimize heat gain in summer and heat loss in winter," he added.
Balancing efficiency with function
As well as increasing the energy efficiency of their home and adding a huge aesthetic value, Colleen and Shane love how functional the windows are and how much the flow of the home has improved. "The new long kitchen window in front of the sink allows us to see all corners of the backyard," said Shane. "So I can keep my eyes on the kids when I'm at the sink!"
"l love the locking mechanism and of course, the multiple ways I can open the windows," said Colleen. "They open like double-hinged doors, making it easy to clean the outside glass, plus they can open by tilting in from the bottom," she added.
Colleen and Shane's advice for your window replacement project
Planning your own window project? Here are Colleen and Shane's tips so you can ensure your project goes smoothly.
Plan
Windows are a major investment, so it makes sense to plan ahead if you want to add, enlarge or remove windows. In Colleen and Shane's case, they were also replacing the brick siding on the house, so they had the opportunity to close up, add and change the size of windows. Colleen says she was fixated on figuring out exactly what existing windows could be removed because they provided little functional value (e.g., they closed up a window in the attached garage, as it looked directly into their neighbour's home) and where new ones could be added to optimize natural light and improve the function of their home.
Get permits and consult an engineer or specialized energy advisor if needed
While not all window upgrades will require permits and a consultation with a structural engineer or specialized energy advisor, it's best to check with your builder and/or window installer well in advance to ensure your planned window upgrade is code compliant. In Colleen and Shane's case, their window project was extensive, and since they were already using an engineer for other structural improvements, they opted to consult with them for the 11-foot slider they had installed as well. Note: if you choose a specialized energy advisor, the cost would be additional to a pre-upgrade evaluation.
Budget
Even if you're just replacing your windows with the same, more energy-efficient models, be aware that a window upgrade will take up a good chunk of your home renovation or deep energy retrofit budget. Shane recommends choosing the best windows you can afford, as you could be living with them for years to come. Or, if you're planning to sell your home soon, properly installed, high-performance windows will help increase your home's equity. If you're planning to apply for a rebate, be sure to review the terms and conditions before buying and make sure to keep the windows' ENERGY STAR labels, which you'll need for the application.
Shop around
Search online to see all the features and benefits that good quality, energy-efficient windows can provide. Nowadays you've got a lot more options than a white vinyl single- or double-hung type. Colleen says to ask yourself how you'll use the windows. Will they be easy to clean and do they lock securely? And before you visit a window manufacturer's showroom, Shane recommends talking to an energy-efficiency expert, as it's easy for one to prioritize price over performance.
Save up to $2,0003 in rebates
Planning your window renovation project? Check out our window rebates.
Note: FortisBC recommends that all energy efficiency renovations be undertaken in consultation with and by trained and experienced contractors. FortisBC will not be responsible for your use of the information contained in or linked from these webpages.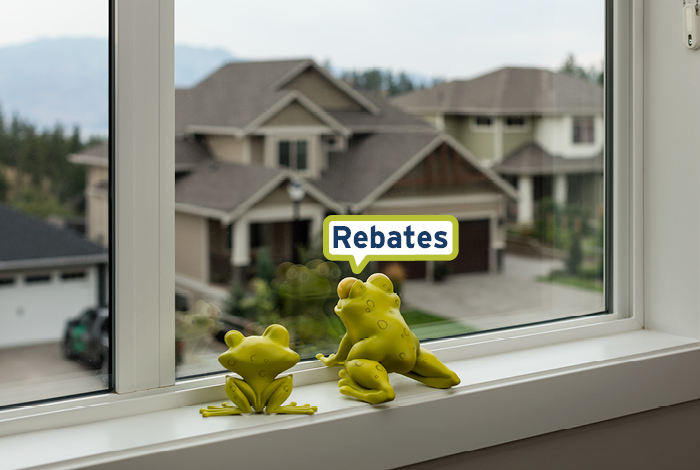 In our next blog
In the third part of this series, we look at Colleen and Shane's insulation upgrade.
Related stories
More about