Media centre details

Nelson gets charged up on a new EV fast-charging station
Jan 27, 2020
Newly opened station puts Nelson on the map for electric vehicle drivers
NELSON, B.C. – FortisBC and the City of Nelson celebrated the opening of Nelson's first publicly available direct current fast-charging (DCFC) electric vehicle (EV) station on Friday.
"Adopting EV's is one of many ways for individuals to reduce carbon emissions," said Mayor John Dooley, City of Nelson. "We hope that the added convenience of this fast-charging station helps grow EV adoption among our community, and we appreciate the support from FortisBC, the province and the federal government."
The new station, located at the Nelson and District Community Complex, provides a convenient and faster charge option right in the heart of the commercial district and makes Nelson more accessible for both local and out-of-town EV drivers. The 50-kilowatt station is expected to bring a compact EV from zero to 80 per cent charged in about a half an hour, as compared to the four Level-2 chargers located in downtown Nelson that require from three to four hours. The cost for a half hour charge at the new DC fast-charging station is $9 per half hour.
This fast-charging station was made possible through a partnership between FortisBC, the City of Nelson, Nelson Hydro, the Province of British Columbia and Natural Resources Canada. As part of the partnership, the City of Nelson is providing the location and FortisBC will own and manage the station.
This is the latest of 12 fast-charging stations FortisBC has built over the last year with support from municipalities and all levels of government, and adds to the five FortisBC-owned Kootenay stations that were opened as part of the accelerate Kootenays initiative in 2018.
All 12 stations were 50 per cent funded by Natural Resources Canada, 25 per cent by BC Ministry of Energy, Mines and Petroleum Resources and the remaining 25 per cent by FortisBC. The funding is provided by Natural Resources Canada's Electric Vehicle and Alternative Fuel Infrastructure Deployment Initiative, which aims to establish a coast-to-coast network of fast-chargers along the national highway system, natural gas refueling stations along key freight corridors and hydrogen refueling stations in major metropolitan areas. It is part of the Government of Canada's more than $180-billion Investing in Canada infrastructure plan. The Government of British Columbia is also contributing $300,000 towards the fast-chargers through its Clean Energy Vehicle Public Fast Charging Program.
This station brings the total DCFC chargers FortisBC owns and operates to 17 stations across 14 communities in the southern interior. FortisBC continues to look for opportunities to expand this network as part of its 30BY30 goal of reducing emissions from its customers by 30 per cent by 2030. For more information about the FortisBC electric vehicle fast-charging network, visit: fortisbc.com/electricvehicle.
From left to right: Blair Weston, Councillor Rik Logtenberg, Councillor Brittny Anderson, Councillor Jesse Woodward, Councillor Keith Page, Mayor John Dooley, Minister Michelle Mungall, Councillor Cal Renwick and Councillor Janice Morrison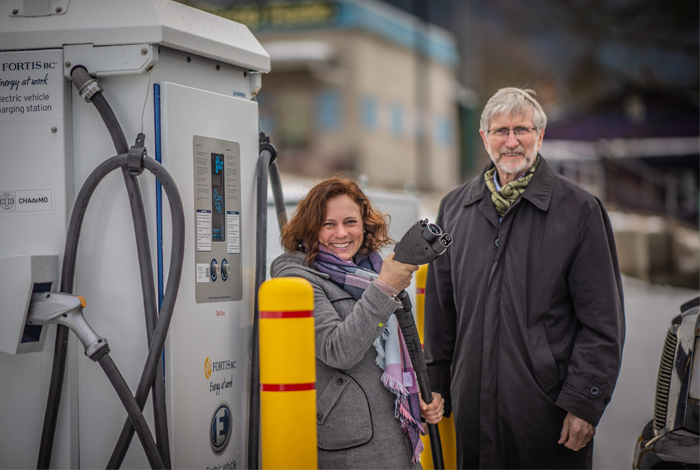 QUOTES:
"Electric vehicles play a key role in building a cleaner future. We are pleased to work with partners like FortisBC and the City of Nelson to give Canadians greener options to drive where they need to go."
The Honourable Seamus O'Regan
Canada's Minister of Natural Resources
"Nelson's first public fast-charging EV station increases EV infrastructure in the city, making it easier than ever to make the switch to cleaner transportation. Along with a range of rebates and financial incentives available to EV drivers, it is now more convenient and affordable to go electric and this station is a welcome addition to our EV charging infrastructure."
Michelle Mungall,
BC's Minister of Jobs, Economic Development and Competitiveness, and
MLA for Nelson Creston
"Building the necessary DC fast-charging infrastructure close to highways and local amenities where drivers need them most is a critical step in growing electric vehicle adoption. Collaborations like this are proving to be an effective way to achieve this, and I'd like to thank all the program partners for their commitment in opening this important station."
Mark Warren,
Director of Business Innovation,
FortisBC
Media contact