Stories

Who's behind the future of energy efficiency?
March 12, 2020
The first time I heard Mila Barbour, a program specialist with our Conservation and Energy Management team (C&EM) speak, she was talking about asphalt. And I was mesmerized.

Granted, asphalt is not really a topic of conversation that turns heads; what grabbed my attention was the passion Mila exuded when she shared how a newer technology in the manufacturing process called 'warm mix' reportedly uses less energy, resulting in lower costs and a reduction in greenhouse gas emissions for road paving.





Mila Barbour, Program Specialist, Innovative Technologies
Determining the future of energy efficiency
At FortisBC, we're always looking for new and innovative ways to help customers reduce energy use and lower greenhouse gas emissions. C&EM has been focused on this goal for the past 12 years, by offering rebates on high-efficiency equipment and education on low- and no-cost ways to save energy.
Mila's job is to investigate and evaluate new, innovative technologies that may help determine the future of energy efficiency in BC. Technologies like warm mix asphalt, ice rink de-aerators and natural gas heat pumps. "I literally have one of the coolest jobs in the organization," says Mila. "And I really do love educating people on the great things this organization is doing to lead innovation and bring it to our customers."
As well as electric rebates in our electricity service area, C&EM provides rebates to customers for upgrading to high-efficiency natural gas space and water heating equipment, which by today's standards offers efficiencies as high as 99 per cent. But Mila, and the rest of the Innovative Technologies team, is focused on finding technologies that perform at well over 100 per cent, so that by 2035 efficiencies this high will be the norm. Over the next four years one of the team's tasks is looking at bringing natural gas heat pumps (which claim to offer efficiencies as high as 160 per cent) from the test labs into people's homes and businesses.
Innovation starts with you
But, I asked, how does one take an idea and turn it into reality? "That's where our customers come in," said Mila. "We need to know how these technologies perform in real-life settings, so we find customers to pilot test them. This helps us determine if the technology is reliable, safe and practical for customers, and also if it achieves the claimed efficiencies," says Mila.
From pilot to rebate
Since 2011, C&EM has completed 19 pilot programs and 34 feasibility studies on potential technologies and transitioned more than 30 of them into rebate programs, like our high-efficiency water heater and combination heating and hot water system. We even ran a unique pilot program for ice rinks for a vortex mechanical de-aerator that removes micro air bubbles from cold water thereby eliminating the need to use hot water for ice resurfacing, saving natural gas. "The ice rink pilot was so successful that we now have a rebate program for commercial ice rinks," says Mila. "There's even a couple of professional hockey teams who've incorporated this technology into their arena's ice resurfacing equipment! Now tell me that isn't cool," she adds.
An award-winning team
The innovative technologies team has been so successful, they recently won the Award of Excellence in Technology Innovation and Advancement from ESource, a research and consulting consortium for North American utilities.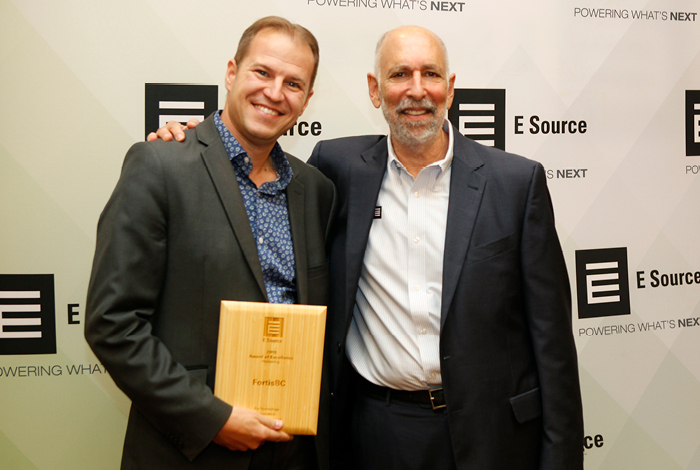 Jim Kobialko, Manager, Innovative Technologies, receiving the award from Wayne Greenburg, CEO of ESource.
Join us. Sign up to participate in a pilot program.
If you'd like to support the future of energy efficiency in BC, sign up to participate in a future pilot program. If chosen to participate, you could be eligible for incentives, be among the first to test a new product and help influence the future of energy efficiency in BC. So, let's go!
You might also be interested in:
Related stories
More about