Stories

What Orange Shirt Day means to 3 influential Indigenous leaders
September 20, 2023
T-shirts designed by Stz'uminus artist, John Marston.
Trigger warning: the contents of this article may be disturbing and upsetting to some readers. For emotional and crisis support, call the 24-hour National Indian Residential School Crisis Line:
1-866-925-4419

.

We recently had the honour of speaking with three influential individuals about Orange Shirt Day and the National Day for Truth and Reconciliation. In a space where their unique perspectives and opinions could be expressed, the conversations had with Bonnie Harvey, Simon Baker and Chief Willie Sellars, will, we hope, provide our readers with worldviews and experiences that will inch closer to what all our interviewees agreed is a necessary component of Reconciliation—the Truth.
What is Orange Shirt Day?
Phyllis Jack Webstad, Northern Secwépemc (Shuswap) from the Stswecem'c Xgat'tem First Nation (Canoe Creek/Dog Creek Indian Band) and her community established Orange Shirt Day in 2013. The symbol that represents Phyllis's creation comes from the memory of her orange shirt being taken from her on her first day at a residential school at just six years old.
What originally started as a grassroots initiative to remember the Survivors of the residential school system, Orange Shirt Day quickly grew into a day respected and recognized across the country. And, eight years after its widespread adoption, Canada established the National Day for Truth and Reconciliation.
We believe it's important to listen to the Truth in the experiences of Indigenous Peoples. On Orange Shirt Day and the National Day for Truth and Reconciliation, we're honoured to reflect on the thoughts and perspectives of Indigenous employees, partners and friends. We'd like to extend a personal thank you to the individuals below for sharing their unique worldviews and experiences with our audience.
Bonnie Harvey: Ɂaq'am, Traditional Ktunaxa Territory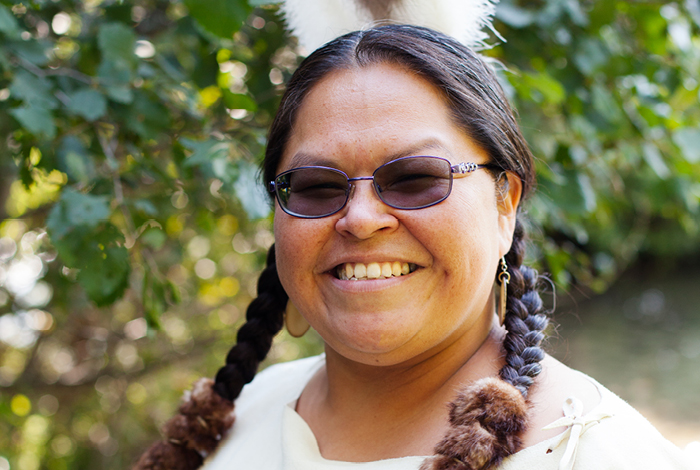 We were fortunate to have the opportunity to host Bonnie Harvey earlier this year for a virtual lesson on making traditional frybread. Bonnie, from Ɂaq'am, a First Nations community within the Traditional Territory of Ktunaxa Nation, is not just a champion of frybread, but also an inspiring member of the Ɂaq'am community. As an education ambassador with years of experience advocating for the transfer of Traditional Ktunaxa Knowledge, language and culture, Bonnie is a wellspring of hopeful and motivating insights that pay homage to the land, the Creator and her community.
When asked what came to mind when she thought about Orange Shirt Day and the National Day for Truth and Reconciliation, Bonnie told us that she perceives differences in the two. "In my mind, they are two different beings," she said. "Orange Shirt Day reminds me of the September 30 school cut off and nominal roll day. You had to have your Indigenous students on the local school district's nominal roll so the district could receive funding. After September 30, whether that student was in the chair or not, the school district received funding. But if the student went back to their community because they couldn't make it, and said 'I need help,' we needed to find resources to support the student through their education, even when the local school district had already received funding."
"Now, this isn't the case today," Bonnie continued. "We actually have comparable funding through education jurisdiction negotiations that we and other communities conducted with the First Nations Education Steering Committee. Out of that we were able to ensure that on-reserve schools receive the same funding as off-reserve schools for students. But for 20 years, Ɂaq'am schools didn't receive the same amount of funding. So now you have two decades of inadequate funding."
Despite systemic inequalities in education, Bonnie remains devoted to preserving Traditional Knowledge, language and culture. "We need to have a school so that we can provide language and culture and opportunities for our students to participate in our traditional activities so that they know they belong here." As we also learned, Bonnie believes that everyone should take an active part in preserving a community's history and stories. "Everyone has a responsibility to have knowledge that they're able to share," she said. "If we leave all our knowledge with one person, then that knowledge will be lost and forgotten when they are gone. So, it's our responsibility as a nation to educate and engage our friends on how important it is to have a connection to the Creator, the land and the animals."
Bonnie concluded our conversation by sharing a pledge of respect to mark Orange Shirt Day, a resource used in classrooms and at home to honour Orange Shirt Day and the Ktunaxa language. The pledge ends with a promise to respect oneself, classmates and teachers and is written in both Ktunaxa and English below:
Hu sukiⱡ q̓ukni kusawsaqa nawsanmiyitki,

Hawiȼkinin ka ʔa·k􀹂in

Hu ȼaqunani

Hu sakiⱡ ʔupxni

Qapsin ku kȼxaⱡ ʔitki·kȼiⱡ.

ʔiki·kȼun

Paⱡ nawsanmiyitki hu ȼxaⱡ ȼink􀹂apaⱡtiⱡik.

Paⱡ nawsanmiyitki hu ȼxaⱡ ʔakunxam̓ni.

Paⱡ nawsanmiytiki hu ȼxaⱡ wiⱡqaȼiʔti

Ku ʔaqⱡsmaknik􀹂maⱡ, kit̓ki·kȼaⱡka ȼ kamin.

I am glad to be here today.

Hold my hand

I am small yet

I don't know anything

That I am being taught

Teach me

For today I shall listen.

For today I shall try.

For today I shall honour my classmates, teachers and myself
Simon Baker: Sḵwx̱wú7mesh Úxwumixw (Squamish Nation)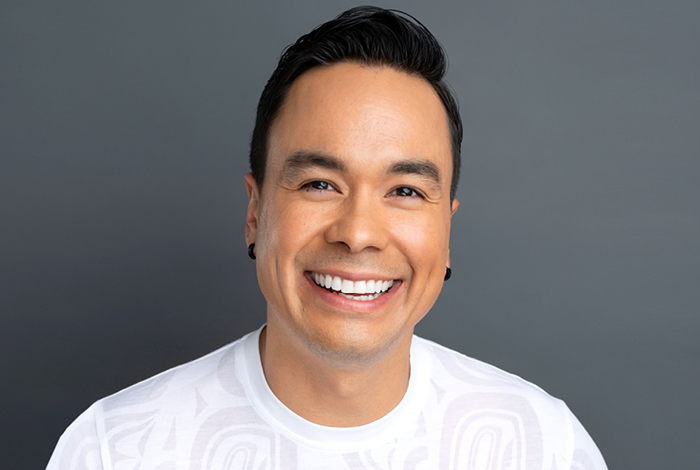 We were also lucky enough to gain the perspective of Simon Baker, actor and member of the Sḵwx̱wú7mesh Úxwumixw (Squamish Nation). Born in North Vancouver and raised in Langley B.C., Simon's background, career and unique life experiences have left him with an uplifting worldview that espouses community-building, togetherness and belonging, all while appreciating the complexities of identity, culture and history. Our connection to Simon stems from our collaboration on the docuseries, The New Energy, which takes viewers on a journey to First Nations communities and showcases economic Reconciliation through an Indigenous lens.
For Simon, the recognition of Orange Shirt Day and the National Day for Truth and Reconciliation creates positive awareness. "I always have to look at life positively," he said. "Just us sitting here talking is one step forward. It's going to be seen by not just Indigenous People but also by people who are interested and curious."
He also let us know that he believes these conversations are an opportunity for Indigenous and non-Indigenous people to continue to collaborate and foster meaningful relationships. "If we can all come together and understand and start to listen then we can start moving forward. This is what I'm learning from my leaders here, is that it's better to have a seat at the table than to be out in the cold."
But before we move forward, Simon makes it clear that we must all search for the Truth to recognize its impact. "When we get to a place where everyone understands, that's a move towards Truth and Reconciliation," he said. "That's what the orange shirts mean. It's giving those voices a voice. When you lose someone, you always want to carry their memories forward. Now we're here giving a voice back to them and doing ceremonies for them to let them know they're never forgotten."
Simon invites readers to visit the Indian Residential School Survivors Society and Orange Shirt Day Society. These sites house a variety of material, including resources for support, healing, justice and advancing the awareness of the impacts of the residential school system.
Chief Willie Sellars: Williams Lake First Nation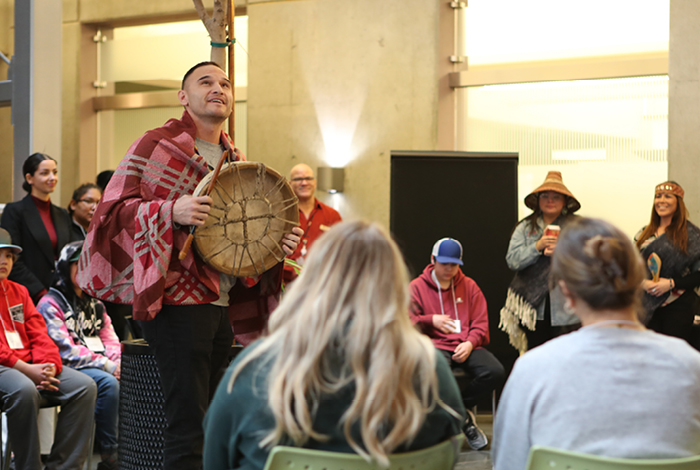 Willie Sellars, Kúkpi7 (Chief) of Williams Lake First Nation (WLFN), or the T'exelcemc (the people of WLFN), of the Secwépemc (Shuswap) Nation, shares Simon's sentiments when speaking about Orange Shirt Day and the National Day for Truth and Reconciliation. Born and raised in Williams Lake, B.C., Willie was first elected onto the WLFN Council at the age of 24 in 2008. A decade later, he was elected Chief of the WLFN and is currently serving his second term for the Nation. We had the privilege of hosting Chief Willie and members of his Nation's youth this year for a tour of our headquarters in Surrey.
Chief Willie believes that recognizing the Truth is the first step towards Reconciliation. "It's about healing, education and raising awareness," he said. "In order to heal and to achieve Reconciliation we need to educate ourselves about the true history of our country. That's exactly what Orange Shirt Day has done."
"The more we educate ourselves, the easier it's going to be," he continued. "What we need to do is make those uncomfortable conversations comfortable. It can't be something we refuse to talk about anymore. It's a discussion that's being had not just at our Chief and Council tables, but at boardroom tables about how we can be better allies and hold up the Indigenous Peoples of the territories that we're working in."
Although Willie believes Truth is the first step on the journey to Reconciliation, he also recognizes the challenges that come with talking about intergenerational trauma. During our conversation, he was reminded of a WLFN community event on the first recognition of the National Day for Truth and Reconciliation:
The day was a massive success, but it was also a day of a lot of trauma. We had over 400 people at our arbor in a circle, drumming and healing and celebrating. I remember that day because it was uplifting to see all the support from Indigenous and non-Indigenous people in the region. But the uplifting moment was mirrored by a suicide in the community on the same day. It was a reminder of the trauma that we have in our community and how we need to be cognizant of the triggers that happen on a day-to-day basis.
Willie Sellars, Kúkpi7 (Chief) of Williams Lake First Nation
Chief Willie concluded the story by saying that he still believes in the importance of "making uncomfortable conversations comfortable"; however, he notes that it's necessary to be aware of the triggers that Orange Shirt Day and the National Day for Truth and Reconciliation bring on. "This year, it'll be the same—it's all about education and raising awareness," he said. "But we have to support and be aware of the triggers that are happening in our communities on that day and remember that we're holding up Survivors of trauma."
It was an honour to gain these insights from Chief Willie. We'd like to invite our readers to explore Williams Lake First Nation to discover all the learning opportunities, events and rich history the Nation has to offer.
Why conversations matter
Orange Shirt Day's founder, Phyllis Jack Webstad, tells us that it's the conversations that matter. At FortisBC, we believe that our journey towards Reconciliation begins by listening to the Truth of experiences of Indigenous employees, friends and partners. It also means that we have a responsibility to engage in meaningful conversations that spread awareness about the legacy of the residential school system and its Survivors.
We value the opportunities we've had to listen and learn from leaders about Indigenous cultures, histories and values. Learn more about how we work together with Indigenous organizations, communities and businesses.
Related stories
More about