Stories

How Phyllis Webstad inspired a movement towards Reconciliation
September 30, 2021
Updated September 1, 2022


Imagine telling a story that inspires a movement, one that takes on a life of its own, is observed around Canada and beyond, and becomes bigger than you can even comprehend.
For Phyllis Jack Webstad, Northern Secwépemc (Shuswap) from the Stswecem'c Xgat'tem First Nation (Canoe Creek/Dog Creek Indian Band), that's exactly what happened.
The symbol that led a movement
Her powerful and personal story of resilience starts with her shiny new orange shirt taken from her on her first day at residential school when she was just six years old—the story that would be the beginning of Orange Shirt Day. Her shirt became symbolic of all that was taken from her and Indigenous communities through the residential school system.
She and her community created the first Orange Shirt Day in 2013 to honour the Survivors, remember those who never came home and acknowledge the ongoing intergenerational trauma for Survivors and their families. What was originally a grassroots initiative intended to keep the conversation alive in her own small BC community quickly spread across Canada, and as of 2021, the federal government made it the National Day for Truth and Reconciliation.1
At FortisBC, we're committed to Reconciliation, and for us that means getting educated about the truth of the experiences of Indigenous Peoples and taking action by participating in initiatives like Orange Shirt Day. We were honoured to hear Phyllis tell her story firsthand at a virtual event to staff, and we plan to continue to listen and learn from residential school Survivors on our journey towards Reconciliation.
In a one-on-one interview, she also shared how these efforts grew into a movement towards Reconciliation, what that's meant to her personally and her advice to people who wish to show their support and learn more.
Creating space for meaningful conversation
The idea for Orange Shirt Day was born out of the Truth and Reconciliation Commission's (TRC) visit to Williams Lake, BC in 2013.
Phyllis, a former student of St. Joseph's Mission Residential School, took part in planning for the TRC event in her community, together with representatives from First Nations, local government, schools and the RCMP. The organizers had two distinct goals: one was to be a bridge between Indigenous and non-Indigenous community members, and the second was to keep the conversation alive long after the TRC hearings concluded.
We chose Every Child Matters because when I shared how I felt when I was there, if I was hungry, lonely, sad, I felt like I didn't matter.
Phyllis Jack Webstad
To build a bridge, the organizers invited everyone in their community to hear the truth from Survivors. She explains that even though the school operated from 1891 to 1981 just 20 minutes south of town, many people in the area didn't know the school existed, let alone its long-reaching impact on Survivors and their families. It was at this event in May 2013 that she shared her story publicly for the first time.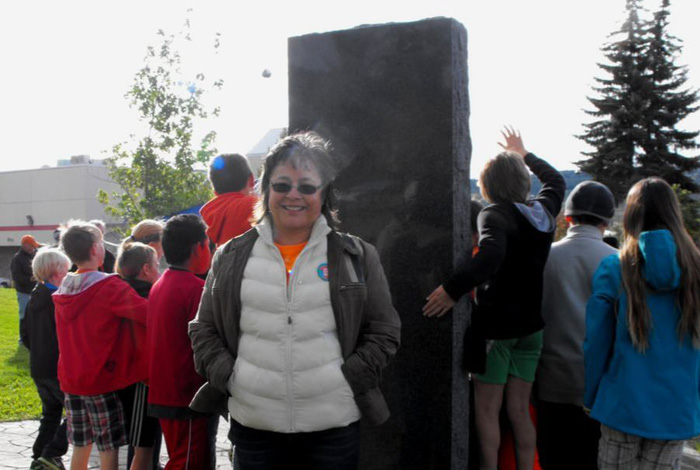 Phyllis shared her story with both Indigenous and non-Indigenous community members to help build a bridge between communities.
Inspired by her story, they pursued the idea of hosting an annual Orange Shirt Day as a way to keep the conversation alive. They chose September to align with the school year, and the timing became even more important once they learned from an Elder that September was known as 'crying month', the time of year when the children were taken away to residential schools.
Her story also inspired the phrase that has come to represent Orange Shirt Day.
"We chose Every Child Matters because when I shared how I felt when I was there, if I was hungry, lonely, sad, I felt like I didn't matter," said Phyllis.
"There were only a few adults there to hundreds of children. We had to console each other and come up with things in our own little minds. I had just turned six so it was really confusing. It was a lot of crying until our eyeballs fell out, nobody was going to come and console us. It's just really feeling insignificant, and that I didn't matter, so that's where Every Child Matters comes from."
A life of its own
Her story was so moving and symbolic of the experiences of the Survivors that it motivated others to get involved, including Shannon, a Presbyterian minister, who reached out to Phyllis to ask if she could help make Orange Shirt Day global. Later that year, while attending the TRC hearings in Vancouver, Phyllis described being handed a card, encouraging participation in the first Orange Shirt Day.
"It took a couple hours to remember Shannon. It still gives me goosebumps, that she and others from the Presbyterian ministry and their families made 5,000 of these cards and their families were passing them out at the TRC. From the very beginning, the first Orange Shirt Day, it just skyrocketed."
From that moment, the support for Orange Shirt Day was overwhelming. That first year, Phyllis created a scrapbook of every picture and posting she could find, from all over Canada and the United States.
"I've always been a person who needed to know everything. I actually had a good cry, a year or so ago, realizing that I will never know everything. Orange Shirt Day has a life of its own. I'll never know every picture, I'll never see every picture, I'll never know every design, I'll never know every event. It's just beyond human capability to be a part of everything."
The conversations continue
Phyllis continues to play a pivotal role in the Orange Shirt Society with a small, busy team of staff and volunteers based in Williams Lake. Proceeds from shirt sales and generous donations help run the organization and allow the development of resources to support Reconciliation, raising awareness of the impacts of the residential schools, and the concept of Every Child Matters. Phyllis dedicates her time to helping people learn the truth about residential schools and helping others share their stories so they don't have to carry the burden alone or pass the burden to the next generation.
I always go back to the basics of Orange Shirt Day when people try to complicate it. So, the day was started to make sure to have conversations about residential schools. It's the conversation that matters.
Phyllis Jack Webstad
Wearing orange matters
It remains very meaningful to Phyllis to see people and corporations take part.
"When I see someone wear an orange shirt it's like a little bit of justice for me, for Survivors in our lifetime. We can leave this earth knowing that the new generation is learning, and they care about what happened to us. We can leave knowing that the world is in good hands, they're going to make sure it never happens again."
It matters to others, as well.
"An Elder shared with me how when they see someone with a button or an orange shirt, like at the airport, it's a good feeling that somebody cares what happened. Maybe they'll go and say 'Hello, I'm a Survivor', and be able to have a conversation. Wear a button, wear a shirt, have a conversation with somebody about it."
Phyllis is grateful for creative ways people are showing their support, even fun events like turning BC Place orange and providing BC Lions tickets to Survivors, an event sponsored by FortisBC.
"Life can be understood backwards, but needs to be lived forward. Can't be crying all the time."
Continuing to educate ourselves and learn
Phyllis says it's also vital for people to continue to get educated about this truth, especially for those of us who didn't learn about this in school. She admits there's still lots of learning for her, too.
One day in the near future there will not be a Survivor left in Canada. The need to hear and tell the truth is now.
Phyllis Jack Webstad
"All across Canada there's 149 residential schools. Learn about whose territory you're in, what's the nearest residential schools, are there Survivors, can you bring them in to talk?"
"One day in the near future there will not be a Survivor left in Canada. The need to hear and tell the truth is now. I'm 54, in Williams Lake, my son's born in 1981, so Survivors are 46 and older. 40 – 50 years, there is going to be no Survivors left."
"Seeing that people care, that we're learning, so it won't happen again, means a lot."
We're grateful to Phyllis Webstad for sharing her story with us and helping us to better understand the impact of residential schools. Phyllis has co-authored a book that tells the full story of Orange Shirt Day, as well as resources for school-aged children. Her new book, Beyond the Orange Shirt Story, details the experiences of the many generations in her family touched by residential schools. All of her books can be purchased at medicinewheel.education.
At FortisBC, we value the opportunities we've had to listen and learn from leaders like Phyllis Webstad about Indigenous cultures, histories and values. Learn more about how we work together with Indigenous organizations, communities and businesses.
Related stories
More about