Stories

What it takes to keep your electricity flowing during a wildfire
May 8, 2022
As we head into another wildfire season, we're taking a look back at what it took to keep energy flowing last year.
In 2021, British Columbians suffered through one of our most harrowing wildfire seasons. Over 1,600 wildfires raged across the province, evacuating countless people from their homes.
With just over 56,000 kilometres of natural gas and electricity lines throughout the province, we keep a close eye on wildfires every year and actively work with emergency response teams to help keep our communities safe and keep energy flowing to our customers.
Our staff live and work in the affected communities so they're as worried as anyone about how the wildfires impact families, homes and businesses, but they also feel a shared responsibility to keep energy flowing in BC. That became most apparent last year during the Nk'Mip Creek wildfire.
The Nk'Mip Creek wildfire
At its peak, the Nk'Mip Creek wildfire was over 19,000 hectares large. We needed to replace approximately 32 electricity structures, all in challenging and isolating terrain. Due to the widespread damage, around 75 of our evacuated customers were without power for up to four weeks.
"We were operating on our last line of defense," explained Brandon Vatne, construction manager with FortisBC. "We had one more electricity line supplying the Osoyoos area. If we lost that, we were at risk of losing power to all of Osoyoos for weeks. We obviously didn't want that to happen, but we also had to stay safe. We were never going to risk the safety of our staff. This was a big deal for us, and thankfully, we got a lot of help."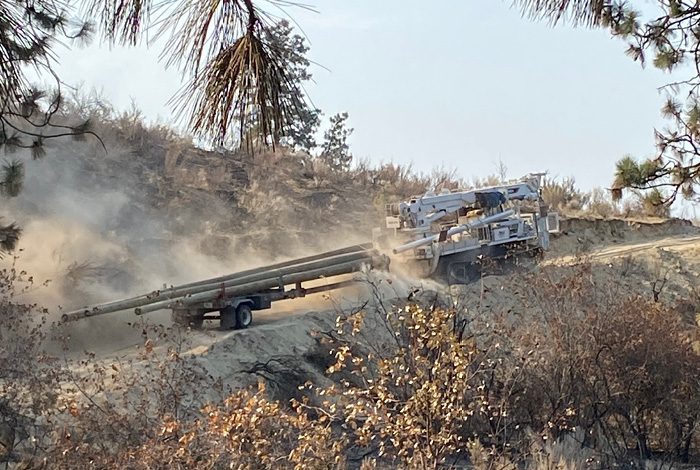 A team effort to rebuild the system quickly
Our first step was to understand the gravity of the situation. Our engineering teams needed to understand what we were dealing with so they could create appropriate designs to rebuild the system and gather necessary equipment. Every morning we met with BC Wildfire Service and, following approvals and instructions from local fire departments, drove out to the sites that were safe to access, took pictures, applied immediate fire retardant gel to structures still standing to mitigate further damage and protect equipment as best we could. In the meantime, we were purchasing power from BC Hydro to compensate for the decreased electricity our system was supplying.
The Osoyoos Indian Band was paramount in helping us restore service. "Often we, or our contractor crews, didn't know the safest way to get to the site," said Brandon. "Once we knew what the damage was and how to repair it, every single day, a liaison from the Osoyoos Indian Band would take us to the structures on foot so we could work on repairs. We couldn't have done this without the help of the Osoyoos Indian Band and their knowledge of their traditional lands."
Another concern was understanding where to store our equipment. We had a large number of poles, materials, outhouses, sanitization stations and countless other items that we wouldn't be able to carry each day. The Osoyoos Indian Band also shared a temporary yard to house all necessary equipment so that we could work efficiently and safely.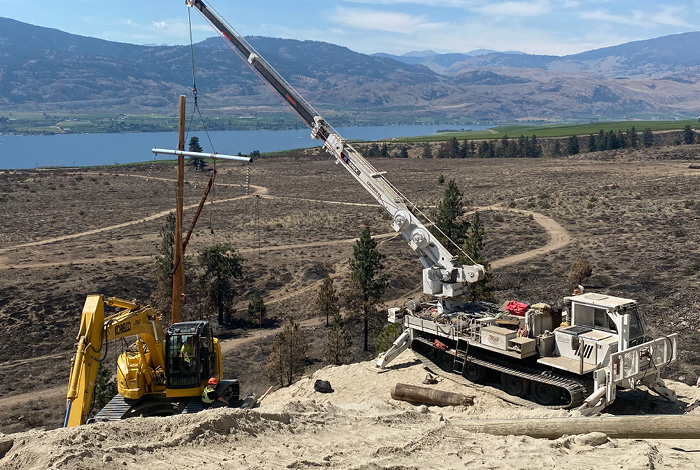 Fully restoring service, without injury
Everyone put in long hours, seven days a week in sweltering heat to fully repair damage and restore service in around five weeks, while making sure no further customers lost power including the town of Osoyoos. We estimate that our mitigation efforts saved up to $2.5 million in further damage.
"It's one thing to stare down the barrels of a catastrophic emergency and deal with it, but it's a whole other thing to do so under these conditions," expressed Brandon. "Everyone had each other's back and we kept electricity flowing without a single injury. I couldn't possibly be prouder of our teams. From our crews and internal teams across our organization, contractors, BC Wildfire Service, fire departments and the Osoyoos Indian Band, we couldn't have done this without everyone's help. I just want to say 'thank you'."
Find more information on staying prepared for emergencies.
Related stories
More about