Stories

How an 80s house was transformed into a modern, energy-efficient forever home
June 15, 2022
After the birth of their second child, Kelowna residents Colleen and Shane realized they'd outgrown their starter home, a tiny bungalow they'd lovingly renovated and lived in for five years. But living through another reno—now with two young kids—was not in the cards, so they decided their next home needed to be turnkey. Meaning they'd move in, arrange the furniture, add a little décor and be done with it!
A change in plans
"Well, that was the plan," said Colleen. "But when we saw this house, we couldn't say no. It was steps to the beach, near a park and bike path and super central. Plus, it had the perfect lot," she added.
The house Colleen (full disclosure, she's also a FortisBC employee) and Shane are referring to is an eighties-era classic design with a brick exterior. It already had a few cosmetic renovations done over the decades by previous owners. "But you could tell a lot of the work was poor DIY, as the flooring had gaps, the baseboards were falling off and a poorly installed bathtub liner in one of the bathrooms leaked. At least the furnace was high efficiency, fairly new and had been installed by a licensed gas contractor," said Shane.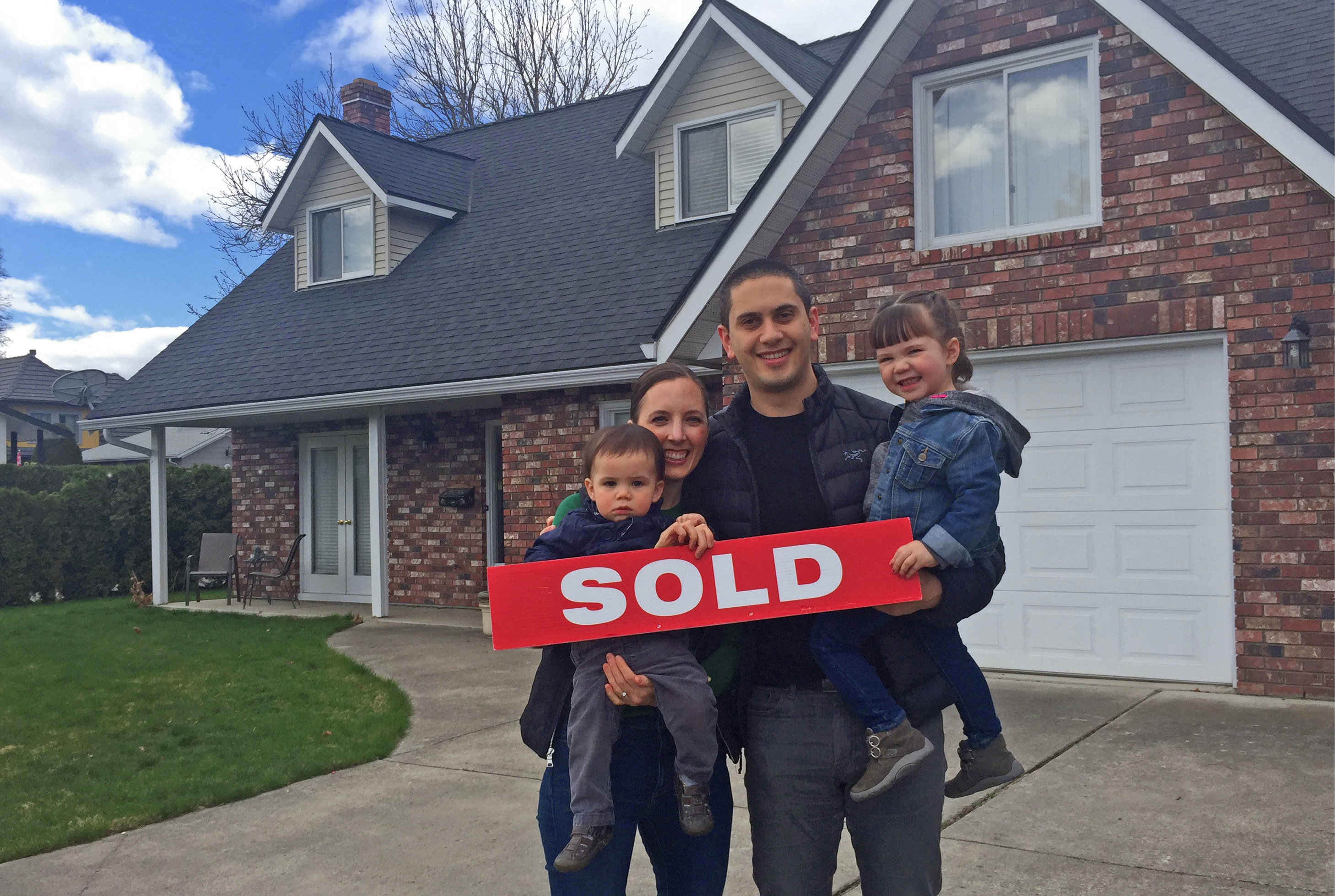 Colleen, Shane and their kids celebrating the purchase of their forever home.
The couple could tell the house had potential to be their forever home, but it needed to be brought up to today's standards in terms of energy efficiency—and style of course! "The windows were single pane, and we could feel drafts everywhere," said Colleen. "But despite this and the muddy brown carpeting, low kitchen ceilings and resident rats in the attic, we were sold," the couple gushed.
Live and learn
Despite all its issues, Colleen and Shane decided to live in the house for a few years before tackling their major renovation—after the rats were removed by a pest company. "We wanted to really understand how we lived in the space, figure out what we liked and didn't like, what was a must change and what we could live with," said Shane.
That period of living in the house pre-renovation helped Colleen and Shane determine their must have list that included—in addition to energy-efficiency upgrades—structural changes such as widening the hallways, opening up the living and dining room to the kitchen, and repurposing wasted space for a new mudroom and mechanical room. They also decided to remove the wood-burning fireplace and create additional window and door openings. "I spent so much time planning, I think it was my favourite part of the project," said Colleen.
How inefficient was it?
Before starting demolition and beginning the upgrades, Colleen and Shane had a pre-upgrade EnerGuide® home energy evaluation performed by a program-qualified energy advisor. The results, while not surprising, were eye opening. One of the things done during their energy evaluation was a blower door test, a diagnostic tool used to determine how much air is entering or escaping from a home. It also helps identify areas of air leakage.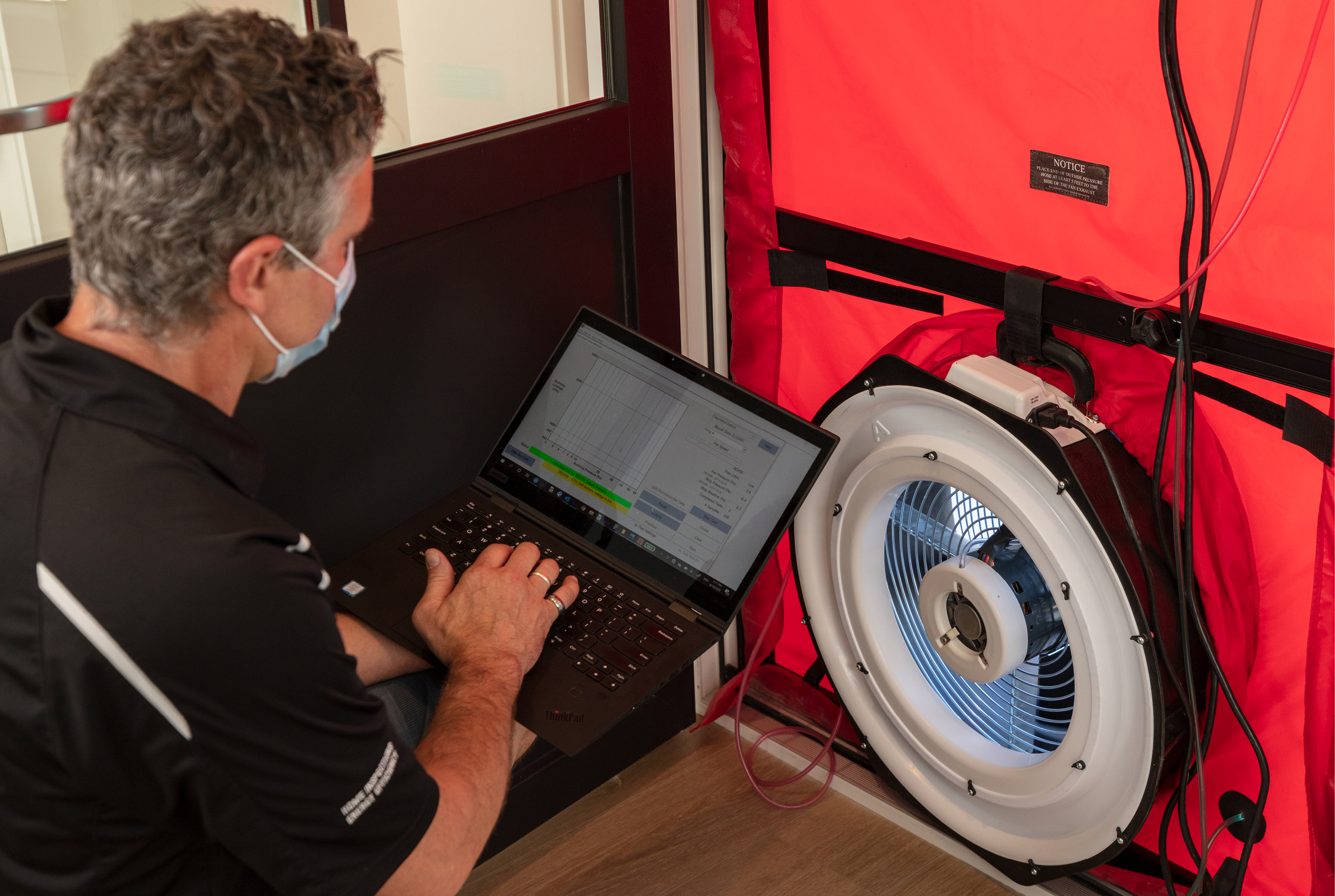 A blower door test being performed on Colleen and Shane's home to determine the amount and areas of heat loss.
The test on Colleen and Shane's home indicated that most of its heat loss was via the windows, exterior walls and air gaps. In addition, the evaluation determined the home used a total of 145 gigajoules of energy (both natural gas and electricity) annually but had the potential to decrease that number to 95 gigajoules or less if they made energy-efficiency upgrades such as attic and foundation insulation, new windows and a new water heater.
Colleen and Shane were eligible for a rebate on the cost of the energy evaluation, but another reason they had it done was so they could see how well their renovations would improve the efficiency of their home by way of a second blower door test once the renovations were complete. But you'll have to wait to find out the results in our final post!
An envelope of a different kind
Being that Colleen works at FortisBC, she had lots of colleagues she could ask for additional advice about energy efficiency and how to best bring their home up to today's building code and energy-efficiency standards. After all, Kelowna gets pretty hot in the summer and cold in the winter and that could lead to a lot of discomfort—and high heating and cooling costs—if a home is not energy efficient.
"It's important to look at a house as a whole system," says Pete Koepfgen, technical solutions manager, FortisBC. "You can have a high-efficiency furnace or air source heat pump, but if a home isn't insulated and air-sealed properly, all that air you paid to heat is going to escape via air gaps throughout the house, including the roof, around doors, above the foundation and around windows. In the summer, the reverse happens when the hot outside air infiltrates a cooled house and heat transfers back in through the walls, foundation and roof assemblies. That's why ensuring you have a properly insulated and sealed building envelope is so important," Pete added.
You can have a high-efficiency furnace or air source heat pump, but if a home isn't insulated and air-sealed properly, all that air you paid to heat is going to escape via air gaps throughout the house.
Pete Koepfgen, technical solutions manager, FortisBC
Building envelope, as Pete refers to, means the components that separate the indoors from the outdoors and includes the exterior walls, foundation, roof, windows and doors. In addition to optimizing energy savings, good designs of wall and roof assemblies with strategic placement of moisture barrier materials also help prevent mould growth.

Insulation cladding on the exterior and high-efficiency windows are two components of a good building envelope.
When all is said and demo'd
Once Colleen and Shane's pre-upgrade evaluation was completed, their plans were in place and their contractor was under contract, it was time for demo. "First we had to pack up and move in with my parents," said Colleen. "We were taking the entire house down to the studs, removing walls and drywall, adding beams, etc. It was no place for a young, busy family," she added. To save money, the couple tackled a lot of the demo themselves with help from family and friends. "Doing it ourselves was pretty exciting—in a totally exhausting kind of way," Shane chuckled.
As well as removing most of the drywall, old carpeting and insulation, the couple sold and donated as much as they could, including some bathroom fixtures, the kitchen cabinets, lighting, baseboards and trim. They also removed the leaky electric water heater with visions of a new high-efficiency tankless model in their future.
"We were so confident about what the house could be—functionally, aesthetically and also from an energy-efficiency standpoint—it quelled the shock of realizing there was next to nothing left of our home once the demo was completed," said Shane.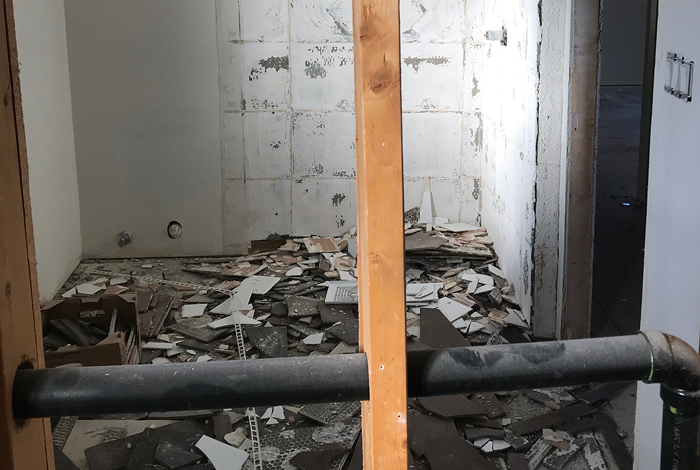 One of the bathrooms in Colleen and Shane's home after demolition.
Ready to start your energy-efficiency reno?
Colleen's advice for anyone considering a major renovation is to plan, plan and then plan some more. "Take your time and find a contractor who's knowledgeable about energy efficiency. Don't just focus on the finishings, as no matter how much you spend on them, a poorly insulated, sealed and heated home will be uncomfortable and more expensive to heat and cool," said Colleen. "Plus, other issues, like mould and pest infestations can happen if a home isn't insulated and sealed properly," added Shane.
In summary, here are Colleen and Shane's steps for a successful energy-efficiency reno:
Do your research
Find out what the current BC Building Code and energy-efficiency standards are. We've also got handy information on best practices for insulation and air sealing and when replacing a natural gas furnace.

Find rebates
As well as our rebates1 for high-efficiency upgrades such as space and water heating, insulation, doors and windows, you may also be eligible for rebates through the Province of BC's CleanBC Program or Canada's Greener Homes Grant Program.

Choose the right contractor
Look for a contractor experienced in energy-efficiency improvements and who understands their importance and added value to a home and the environment. For example, they won't convince you to skimp out on insulation so you can have more expensive bathroom tiles. If you're looking for a gas or electrical contractor, you can find one through our Trade Ally Network directory.

Get a pre- and post-upgrade energy evaluation
If you want to make your home as energy efficient as possible, it's a good idea to get a baseline of where it's at before starting your renos. Plus, you may be eligible for a rebate on your evaluation through Canada's Greener Homes, and once you've completed your renos and had your post-upgrade evaluation, you may also be eligible for our Home Renovation Rebate Program's home improvement bonus for improving your home's EnerGuide rating.
In our next blog
Now that their house was completely gutted it was time to put it all back together. Check back next month for blog two when we look at Colleen and Shane's window replacement project.
Related stories
More about