Stories

How to stay safe near dams: Water level edition
July 17, 2023
What causes the water level around dams to change so quickly? How can changing water levels put you in danger?
We manage and maintain four hydroelectric generating plants along the Kootenay River and understanding how and why the water levels change so quickly can help you recognize potential dangers. When you're out enjoying the lakes, reservoirs, rivers and streams—your safety is our top priority.
The ups and downs of water levels
It's hard to anticipate a danger when you can't see it—like strong currents and undertow—which is why it's so important to obey all signs, fences, buoys and safety booms warning you of dam hazards. To understand these hazards, let's start by understanding how the fast-changing water levels around a dam are created and why they can be dangerous.
Water levels can rise or fall quickly and without warning as dams use the flow of water to generate electricity. If you're near or on the water on the reservoir (the high side of the dam) when this happens, you may not notice an immediate change as water is flowing through the dam from under the water's surface. This can create a strong current and undertow that can:
Wash you downstream to an area that makes self-rescue difficult
Pin you against the structure
Pull you under water
Capsize an anchored boat
A quick change in water levels can also mean that earlier in the day, water may have been deep enough to jump into but is now too shallow and unsafe.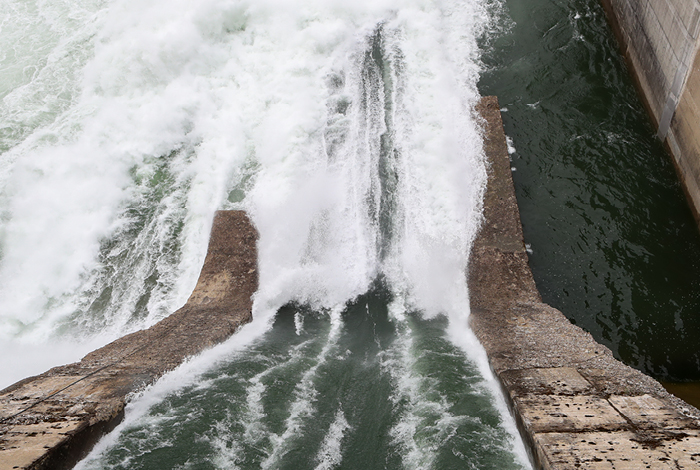 As the water flows through the dam and downstream—through either the spillway or hydroelectric generating plant—it creates fast moving water that can quickly change the landscape. Things to watch out for can be:
Sudden surges of water
Normally dry areas can pool water, leaving you stranded
Being swept away by strong currents
Becoming stranded along the shoreline as water level quickly rises
Pretty dam interesting
Now that you know the hazards around a dam, it can be helpful to know a little about them. We previously busted common myths about dams but did you know these fun dam facts?
Power for over a century
We have operated and maintained hydroelectric dams in B.C. for more than 100 years. The oldest of the dams we own, The Lower Bonnington Dam, was originally built in 1897.
The Upper Bonnington Generating Plant, originally built int 1907, has even been inducted into the Hydro Hall of Fame!
A team effort
Did you know that we also operate and maintain five generating plants owned by others? These have a combined generating capacity of 1,322 MW:
Plenty of dam power
The four hydroelectric generating plants that we own and operate on the Kootenay River has a combined total capacity of 225 MW. That's enough power to provide around 45 per cent of the annual electricity needs of our customers, stretching from around Princeton to Kelowna to Creston.
Learn more about the hazards around dams and how to stay safe.
Related stories
More about