Stories

How energy efficiency is vital to providing health care and achieving climate action goals
February 9, 2023
Updated April 11, 2023
Health care facilities like hospitals and long-term care sites are energy-intensive places. And their energy demands can get costly. But some organizations are finding unique ways to take action.
The first health care organization in BC to go all in on Renewable Natural Gas
Providence Health Care is finding ways to care for its long-term care residents while lowering its environmental impact. Through our collaboration, it has implemented innovative and cost-effective energy-efficiency upgrades to its heating equipment at one of its long-term care homes in Vancouver. Providence also went a step further by subscribing to our Renewable Natural Gas1 (RNG) program—the first health care organization to do this—which is helping to decarbonize its operations even further.
Together, this is helping lower annual operational costs, reduce greenhouse gas (GHG) emissions all while ensuring access to reliable energy through the gas system. This project is also serving as a blueprint for use in its other long-term care homes.
Taking care of residents
Providence Health Care operates acute-care hospitals and long-term care sites in Vancouver. Compassionate and respectful care is at the core of everything it does. For more than 10 years, we've worked together with Providence Health Care to improve the energy efficiency of health care facilities, which is helping support front-line services for British Columbians by reducing the money spent on energy costs.
Patients and residents are the reason we do what we do, and why we continue to look for opportunities to make improvements that have a positive impact. Improving operations through energy-efficiency upgrades allows us to make spaces more comfortable while also reducing our environmental impact and meeting our climate action goals.
Anthony Munster, executive director of projects, planning & facilities management at Providence Health Care
Improving energy efficiency
To better understand what upgrades would make a positive impact at its facilities, Providence listened to the feedback and concerns of residents. Recent heat domes prompted conversations around the need to add cooling into long-term care homes to help make these spaces more comfortable for residents.
With this, Providence looked into the idea of adding cooling to one of its buildings. It then realized it could take this project a step further. There was an opportunity to add cooling, as well as save energy and lower GHG emissions by upgrading the heating system.
Providence chose its St. Vincent's: Brock Fahrni long-term care home in Vancouver to install a new, high-efficiency heating and cooling system. It is home to 148 residents, many of them armed forces veterans. The site includes an artworks studio, a greenhouse and multiple spaces for residents to gather and share in activities.
By replacing older equipment with high-efficiency technology, Providence Health Care found an opportunity to improve multiple systems at St. Vincent's: Brock Fahrni. A key consideration for Providence with these upgrades was to ensure it continued to have access to reliable energy. It uses a significant amount of energy across its sites, from heating to sterilization and laundry, to serve the thousands of people it cares for.
FortisBC's ability to provide us with a reliable source of low-carbon Renewable Natural Gas has been essential in ensuring the success of this project. They have supported us in finding the best way forward and covered some of the costs for this new high-efficiency equipment that is helping us achieve our organizational goals. We look forward to working together to roll out similar initiatives at our other sites.
Anthony Munster, executive director of projects, planning & facilities management at Providence Health Care
Providence realized it could continue to use gas in its operations while making it more energy efficient by capturing what would be wasted heat and making it usable. There was potential to reuse warm exhausted air throughout the building to lower energy consumption and we found a technology, called a thermal gradient header, which could do just that.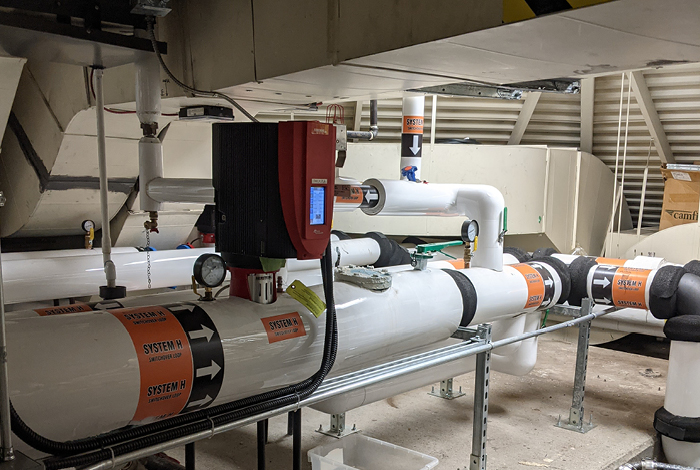 What if there was a way to put wasted heat to use? Providence found a way by installing a thermal gradient header system (system pictured above) that captures heat exhaust from one operation and transfers it to another area of the building to provide heat. It's a great way to use energy efficiently.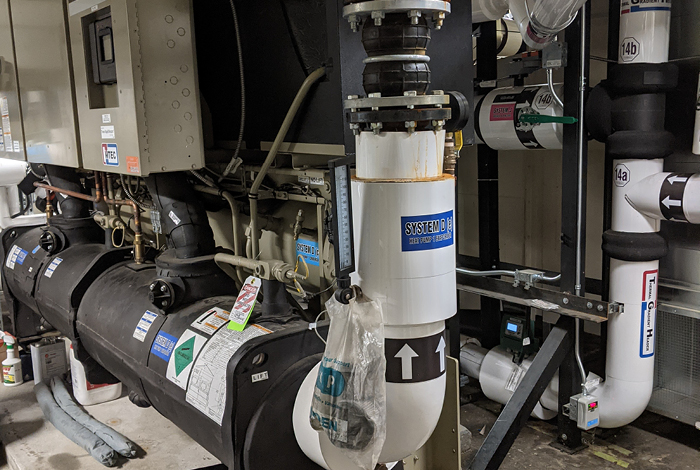 Installing a new thermal gradient header system and a high-efficiency boiler helped Providence improve the energy efficiency at St. Vincent's: Brock Fahrni and it will continue to see savings into the future—and will be able to provide cooling to residents, making the building more comfortable during the summer months.
A thermal gradient header system is designed to transfer thermal energy through a set of connected pipes. It is an efficient technology that provides simultaneous heating and cooling, essentially functioning as a smart hub for thermal energy that is transported to different zones based on the energy demands of the building. On top of that, Providence installed a high-efficiency condensing boiler to meet the heating demands of the building when there isn't enough waste heat generated by the thermal gradient header system.
Making a sustainable impact in health care
Providence Health Care also looked to change the way it received energy at the long-term care home. Providence decided it would receive energy directly from us rather than using energy generated from a nearby steam plant, which is typically less efficient. By cutting out the need for steam heating and with the addition of a new boiler, Providence improved the efficiency of their operations. This also created an opportunity for Providence to further reduce its environmental impact.

By working with Elizabeth Manhas, a key account manager at FortisBC, Providence learned it could further reduce GHG emissions through our RNG program. Our customers can subscribe to this program to designate a portion of their gas use as low-carbon RNG. Providence Health Care is the first health care organization in the province to sign up for the program and is now designating 100 per cent of its gas use at this care home as RNG.
All combined, Providence Health Care is really seeing the benefits from the project. It lowered its annual energy use at the facility by more than 10,500 gigajoules (GJ), the energy equivalent to heating almost 125 homes for a year.2 It's also saving around $100,000 in annual operational costs that helped cover the cost of becoming an RNG customer without impacting the overall budget for patient care. Providence has seen a reduction of 485 tonnes of carbon dioxide equivalent and received more than $300,000 in incentives through our Custom Efficiency Program, helping to cover a portion of the costs for the high-efficient technology.
The significant cost savings that investing in energy efficiency can have lets health care organizations, like Providence, take the next step. Providence found unique ways to decarbonize operations and put money into services for patients and residents.
Replicating energy efficiency success across other facilities
The successful completion of these energy-efficiency upgrades supports Providence Health Care's Greenhouse Gas Emissions Reduction Project. This project targets an 80 per cent reduction in GHG emissions by 2024 at six core sites: St. Vincent's: Langara, Mount Saint Joseph Hospital, Holy Family Hospital, Youville, St. Vincent's: Honoria Conway and St. Vincent's: Brock Fahrni.
To achieve this target, Providence is looking at how it will replicate this project across its other long-term care homes in Vancouver. Replicable projects are incredibly valuable because the same or very similar process can be taken from one building to another without having to design a different system. It can become a quick and easy win for an organization to see energy and cost savings.
It's inspiring to see how energy-efficiency upgrades can have an environmental impact while also improving the spaces for the residents and patients in the buildings. It's a win-win! Working together with Providence Health Care has shown the value of working together to ensure these projects are successful and cost effective. Providence Health Care is an exceptional leader in their sector when it comes to implementing energy-efficiency upgrades that lower energy use and then taking the next step by using RNG to further reduce GHG emissions.
Elizabeth Manhas, key account manager at FortisBC
When looking ahead at how we will achieve provincial climate action goals, it's important to consider how energy efficiency will help us get there. Using renewable and low-carbon gases3 is part of the solution but we need to make sure we're using energy efficiently to see even further GHG emissions reductions. Supporting energy-efficiency upgrades and investing in renewable and low-carbon gases is in line with our Clean Growth Pathway to 2050 and commitment to supporting BC's lower-carbon future with affordable, reliable and diversified energy solutions.
Related stories
More about