Why choose natural gas

If you're considering your energy options, natural gas is a safe, reliable source of energy that's easy to use in your home or business. Here are a few more reasons to choose natural gas:
| | |
| --- | --- |
| | Save money. |
FortisBC's natural gas is about one third the cost of electricity in BC, so it's a great energy choice for British Columbians who want to save money.
For example, space heating uses up the largest amount of energy in your home—see the space heating fuel cost comparison below:
Average annual space heating cost comparison for Lower Mainland and Squamish1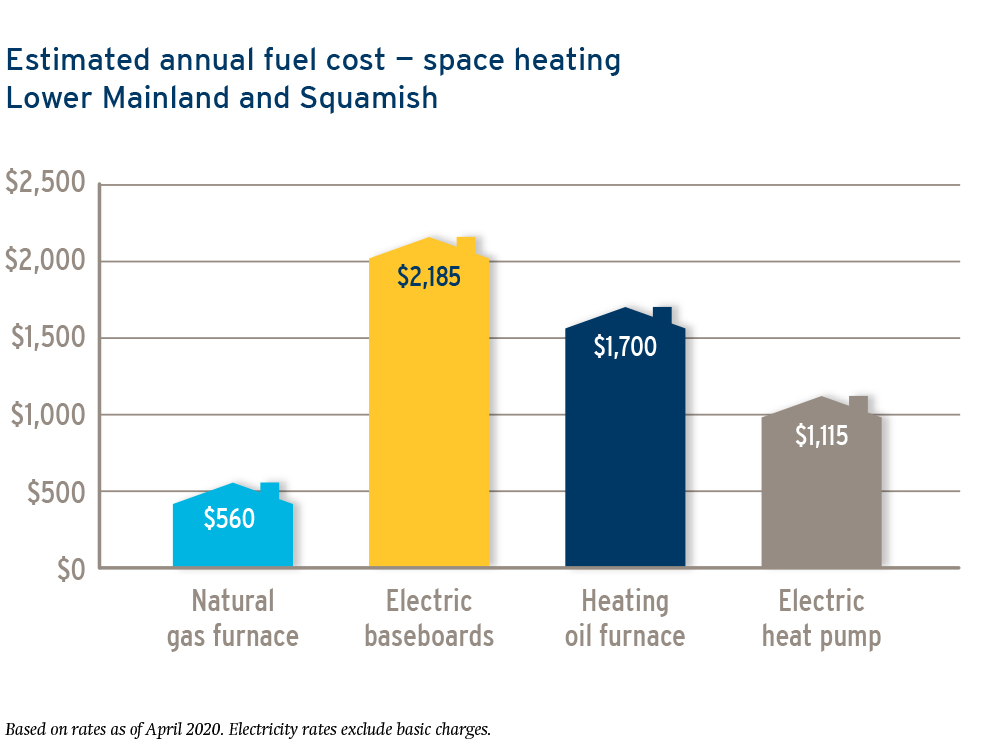 | | |
| --- | --- |
| | Get big rebates when you connect to gas. |
For a limited time, connect to natural gas and install a natural gas heating system or heating and hot water system, and you could be eligible for rebates up to $2,700.
| | |
| --- | --- |
| | Take the affordable path to a cleaner future. |
BC's natural gas has an important role to play as our province moves towards a lower-carbon future. Natural gas is the cleanest fossil fuel, and it's an abundant, local energy source with existing infrastructure that helps British Columbians heat their homes in a cost-effective way.2
The future of natural gas
We're focused on keeping this affordable energy available for our customers, while lowering the carbon footprint of natural gas by increasing the amount of carbon neutral Renewable Natural Gas (RNG) in our system, and exploring the possibilities of extracting hydrogen gas from electricity.3 In fact, we're aiming to produce 15 per cent of our natural gas supply with RNG and hydrogen by 2030. By 2050, our goal is for 30 per cent of our supply to come from these renewable sources.
Supporting energy conservation
While more British Columbians are using natural gas than ever before—we have more than 1 million customers—the amount of natural gas being used by individual customers is going down. That's thanks to our customers' growing awareness of energy conservation, provincial energy policies and building codes and the efficiency of newer natural gas appliances. We're proud to support all of these initiatives, with our rebates on efficient appliances, our conservation programs and energy-saving tips.
Learn how we're partnering for climate action.
| | |
| --- | --- |
| | Enjoy the convenience and cosiness only natural gas appliances can offer. |
Natural gas space and water heating systems are up to 98 per cent efficient, and natural gas appliances provide unique comfort and convenience:
get precise temperature control and instant heat with natural gas cooking appliances
get cosy at the flick of a switch with natural gas indoor fireplaces
enjoy instant heat and forget about tank refills with natural gas barbecues
There's also outdoor natural gas heating for your pool or patio, backyard fire pits and fireplaces, backup generators and more.
Learn more about
natural gas heating systems and appliances
.