Stories

Why it's important to support local organizations this winter season
December 13, 2021
Shelter, food and clothing are all basic necessities that every person should have but unfortunately for many living in BC, this is not the case. There are many local organizations that could use a helping hand this winter so they can help support those in need. When we support these local organizations, the donations, clothing and assistance directly helps British Columbians.
One local community organization, the Downtown Eastside Women's Centre (DEWC), provides basic necessities to help vulnerable women of all ages who are in need. Through our recent donation to DEWC, we've learned more about how they are helping around 750 women a day in Vancouver's Downtown Eastside and what support they need in order to continue to provide these services in the community.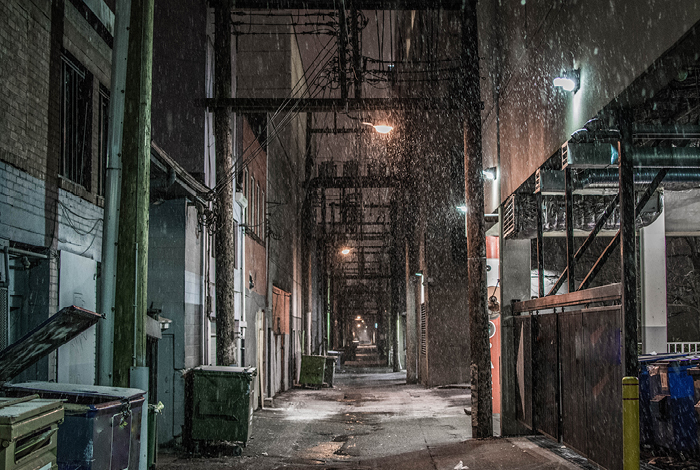 Providing safe environments for those in need
For more than 40 years, DEWC has provided safe, non-judgmental environments for women from all walks of life, who live and/or work in Vancouver's Downtown Eastside. They provide one of the few spaces in the area for self-identified women and their children who are in need of refuge from violence, homelessness, addiction and poverty.
The centre provides basic necessities including hot meals, free clothing, safe shelters, phone and computer access as well as counseling, advocacy and programs which support and empower women to improve their situations. These services, especially during a global pandemic, are critical to helping those most vulnerable and ensuring they have some of their basic needs met every day. Their work shows the need to have protected spaces for women and provide them with the care and support they need.
Serving up meals for women and children
One of the most important DEWC services is their meal program. They serve more than 700 meals every day and the program is an essential part of fulfilling a basic need for those most vulnerable. The centre provides breakfast, hot lunches, afternoon snacks, and dinner for groups that meet after hours, while also providing meals for the 24-hour emergency shelter. The meal program, for many women, is the first point of contact with DEWC and is a starting point to helping them learn more about the other services DEWC provides such as housing support and employment services.
While the meal program is one of the most important programs at DEWC, it's also one of the most underfunded. For some members, this is the only meal they will have that day so it's important DEWC is able to continue to offer this program through fundraising and donations.
This has been especially important during the COVID-19 pandemic when these services were most needed. The centre was looking for more help to meet an increase in demand for their services and higher costs so they reached out to FortisBC requesting funding support through our community investment program. With a donation from FortisBC, they were able to continue to have staff members serve meals to members, purchase large amounts of food and bring in additional cleaning and sanitation equipment.
Recognizing the importance of Indigenous programs
With 78 per cent of members identifying as Indigenous, DEWC recognizes the importance to have specific programs and services for these women. With financial support from FortisBC, DEWC was able to continue to offer Indigenous culture programming and further advocate for Indigenous women under the Indigenous Women's Project program.
The Indigenous Women's Project program provides emotional support to women surrounding residential school trauma, cultural isolation and violence. In addition, through this program, they connect Indigenous women and Elders with the services at DEWC, ensuring women receive culturally responsive support from the community. They also work with women to develop and implement cultural, recreational, social and/or Indigenous educational activities.
It's important that Indigenous women have safe support services in place to help them and DEWC is ensuring that they have dedicated resources to help not only advocate for these women but work with them to provide specific services so they can feel included and empowered.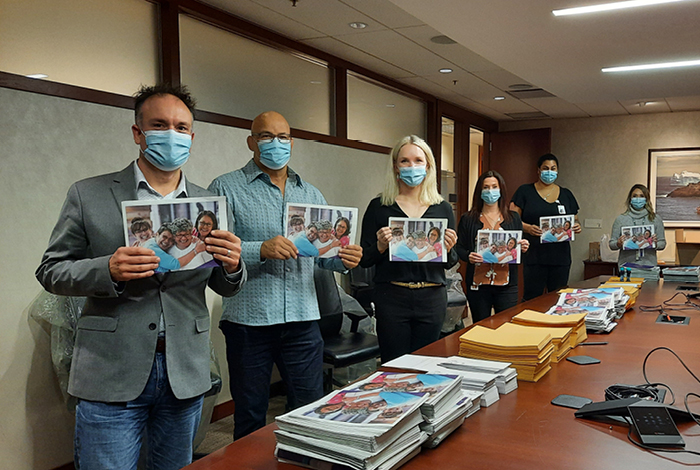 In the spirt of giving, FortisBC employees recently reconnected with DEWC to lend a helping hand. Employees picked up DEWC's printed newsletters, brought them back to our Vancouver office where they stuffed them and then returned them to the centre to be mailed out.
From left to right: Mike Leclair, Greg Edgelow, Vanessa Connolly, Janet Devaney, Khadija Glover and Breannen Dick.
How you can help this winter season
With the holidays around the corner, people may be looking for ways to give back to their communities.
Recently, we connected again with DEWC to lend a helping hand. FortisBC employees picked up a portion of the 3,500 DEWC's printed newsletters and envelopes, brought them back to our Vancouver office where our employees stuffed them and then returned them to the centre so they could be mailed out to DEWC's donor list and subscribers. The newsletter highlighted the items the centre needed either through financial or in-kind donations. This was an opportunity where we could provide hands-on support to help DEWC in their efforts to raise more money and clothing for their members.
There are many organizations like DEWC that could use a helping hand this winter season and are welcoming both in-kind and financial donations. Consider creating a fundraiser at work where you can donate the funds directly to the organization of your choice or collect winter clothing that is clean and in good condition and drop it off. Some items that are in high demand this season are:
Blankets
Sleeping bags
Rain boots or warm shoes
Hand heating packs
Warm clothing such as sweaters, long pants, leggings, gloves, toques, scarves and long socks
You can also contact the organization directly and ask them what items they need and what their process is to have them dropped off so you can get them to the right place. Organizations like DEWC may also have a wish list where they outline what critical items are needed.
Learn more about our community investment program that is helping organizations like the DEWC.
Related stories
More about