Stories

Upgrading insulation isn't a DIY job. Here's why.
November 21, 2019
Updated October 8, 2020
Who doesn't want to save money on home renovations? That's why many of us take on some of the labour ourselves. But installing insulation should be a job left to the professionals.
It only looks easy
Case in point. Years ago I decided to take up pottery after Demi Moore made it look so easy in the movie Ghost. But after throwing my first clump of clay on the wheel and ending up with a bowl that couldn't hold—well—anything, I realized that potters are skilled artisans and only make it look easy.
The same goes for installing insulation. What looks to be an easy job for a do-it-yourselfer isn't necessarily so. But unlike pottery—where the results of one's ineptitude are immediately apparent—you don't often experience the results of a poor insulation job until long after it's done.
Confessions of a former weekend warrior
Other than the blown-in insulation installed by licensed contractors in my attic, I insulated the walls and exposed floor of my entire house by myself. I do work in the field of energy efficiency, so I'd say I'm more knowledgeable than the average homeowner. Plus, I wore my appropriate personal protective gear, watched a bunch of YouTube videos and even took a workshop at a local hardware store on DIY insulation.
Hire a pro if you want a rebate
So why am I now recommending that you don't DIY, or use unlicensed and unexperienced contractors for that matter? First off, now that rebates are available, you don't have to. And to be eligible for insulation rebates it must be installed by a licensed contractor. Why, you ask? Because as energy professionals we know poorly installed insulation can cause mold, mildew and cold spots, and it may not save as much energy you'd expect it to.
Why we offer rebates
The reason we offer rebates is to help you save money on your energy bills and reduce the province's overall greenhouse gas emissions. If the insulation isn't installed properly you won't see the energy savings.
Not convinced?
If I haven't convinced you on the importance of a proper installation, trust the industry professionals. Together with BC Housing we published a 98-page best practice guide on proper insulation procedures for homes in BC. It's pretty complicated and technical. But good news. I've pulled some salient points from the guide about attic insulation (our most popular insulation rebate) that you can share with your contractor.
5 tips for a quality attic insulation job
Seal holes: before insulation is installed, make sure your contractor is aware of holes around pot lights, vents and ducts that will need to be sealed.
Batten down the hatch: be sure your contractor seals around the attic hatch door and secures it so that when you open the hatch, insulation doesn't fall out.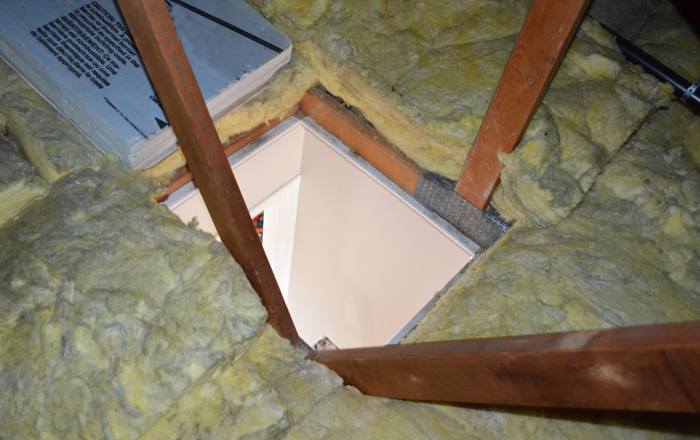 Attic access hatch with insulated gypsum cover.
Don't block attic vents and soffits: make sure the contractor doesn't cover attic vents or soffits with insulation, as this may cause mold.
Get even: if using batt insulation, you don't want gaps between the batts. If using blown-in insulation, make sure there's an even thickness of it throughout the space.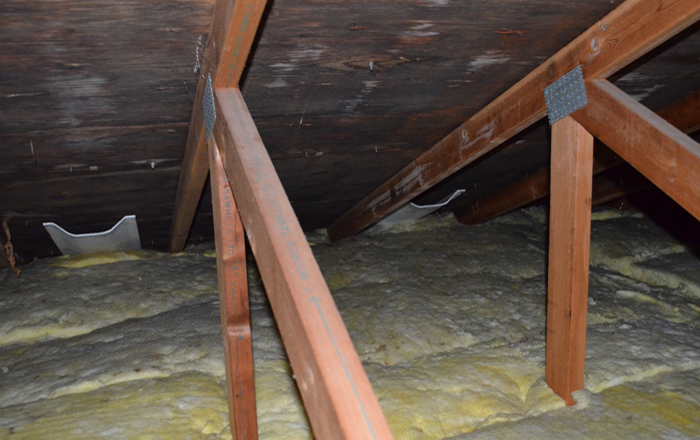 Batt insulation with no gaps.
Make space to vent: if you have a chimney and/or a vertical B-vent, make sure there's a three-inch gap around them so the heat from the chimney and vent don't heat up the insulation. In addition, the b-vent should have a metal shield around it.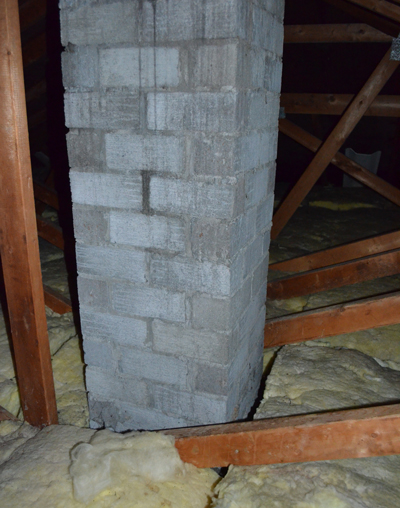 Three-inch gap around chimney.
Hire your contractor
Now that you've educated yourself on the benefits of a quality insulation job, it's time to find a contractor. We've made it easy for you to find one with our program-registered insulation contractors. These folks have been trained in industry best practices and are knowledgeable about the upgrade requirements to qualify for insulation rebates. Meaning, they've read that 98-page guide so you don't have to.
So don't do what I did. Don't install your own insulation—leave it to the professionals. If you don't, it could end up costing you more in the long run.
Read this in-language
We've translated the information in this blog post into Traditional Chinese, Simplified Chinese and Punjabi.
Related stories
More about