Stories

See this 80s house brought back to life and given another 40 plus years
September 14, 2022
In our fourth and final blog on Colleen and Shane's deep energy retrofit of their 80s fixer upper home in Kelowna, you'll finally get to see some post-renovation photos. We've made you wait for the big reveal, but at least you didn't have to wait 10 months like Colleen and Shane did for their home's renovation to be completed. But it was all worth it, says the couple. We hope you'll agree!
"Our contractor was committed to getting it right with our energy-efficiency improvements and we see and feel the results every day," said Shane. "And our energy bills have decreased, even with the extreme weather we had in 2021!" he added.
While the home does look amazing, the family stresses that their renovation wasn't all about aesthetics, like trendy tiles and high-end fixtures. "It feels so good without a cool breeze coming through our windows on a cold winter night," said Shane.
"We've also noticed that we don't have to turn on the air conditioning system until much later in the summer or turn on the heat until later in the winter," said Colleen. "And the house no longer has cold or hot spots. It's the same temperature throughout."
Before and after photos
Shane and Colleen could go on and on telling you how great their home now feels, but we know you're here for something more visual. Here are some before and after photos.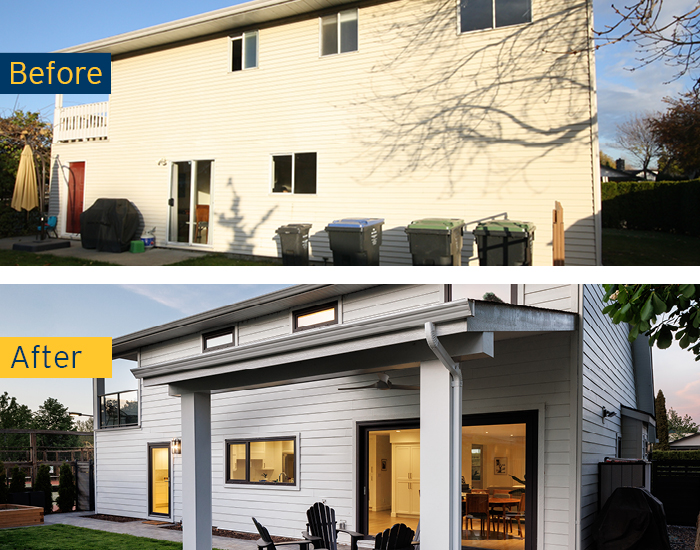 The back of the home was transformed inside and out by opening up the wall on the right and adding an 11-foot triple-pane slider. The kitchen window was moved and enlarged, the old slider on the left was removed and replaced with a door off the new laundry room and the bedroom and bathroom windows on the second floor were reconfigured as well.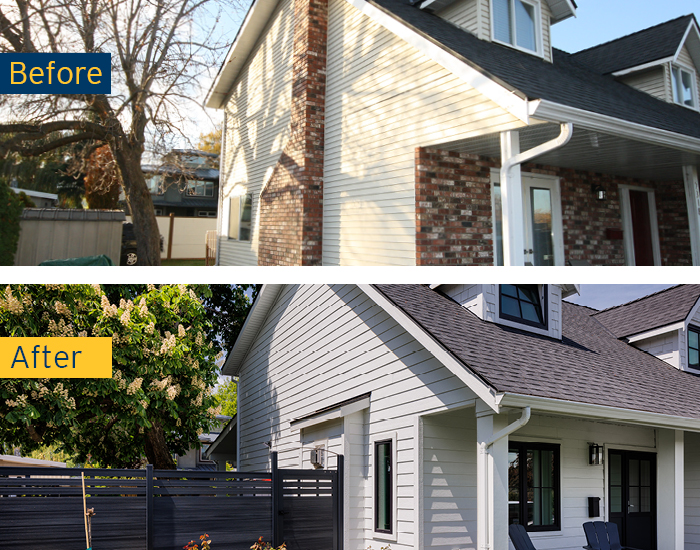 The French doors were removed and replaced with windows. The front door was replaced as well as the dormer windows in the bedrooms. The chimney was removed as the new EnerChoice® fireplace vents out the side of the home. And while Colleen and Shane loved their Chestnut tree, it was blocking light from entering the home due to the location of the window in the before photo. So they had the window closed up and then flanked the new fireplace with two windows a few feet away from the tree. The biggest change of course was the removal of the brick façade. If you recall in our last blog, the exterior of the home was being wrapped in an innovative insulation cladding product before the new exterior siding was installed.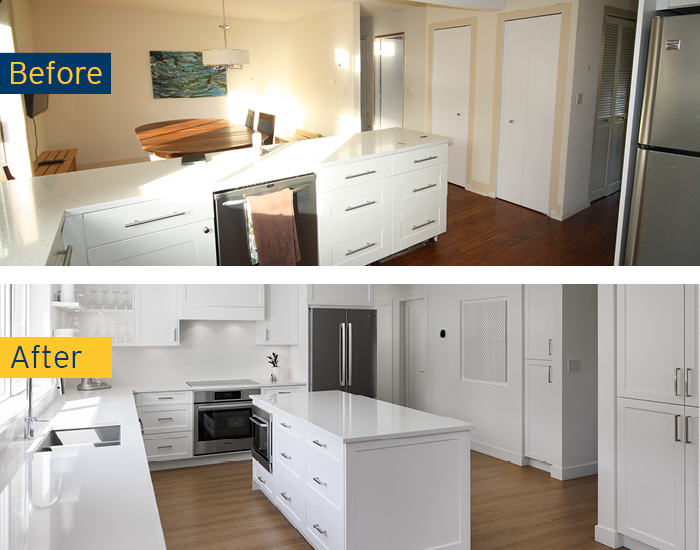 Here's the before and after view of the kitchen, the photo taken from what is now their dining room. The kitchen was flipped with the dining room and the wall with the painting in the before photo is the same wall where the new fridge is now. Colleen and Shane say it has a much better flow and they can easily watch the kids in the backyard from the new kitchen window.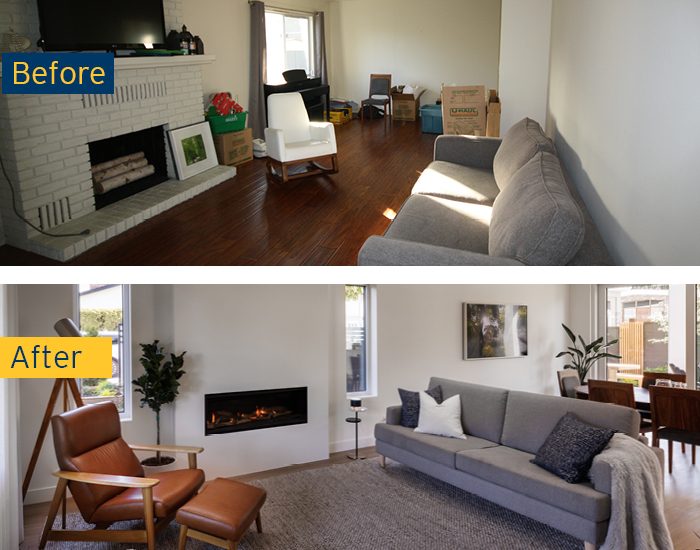 Remember the dark living room? The dated wood-burning fireplace is now gone and replaced with a high-efficiency EnerChoice natural gas insert. You can see the gorgeous 11-foot slider where the big blank wall was and the wall behind the couch in the before photo was removed to make the main floor living area open concept.

There's something so rewarding about rebuilding a house and making it better than it was when originally built. We gave it a new life—functionally and aesthetically—and achieved a standard of energy efficiency that didn't even exist when it was built 40 years ago.
Colleen, homeowner
The rebates
Colleen and Shane received a total of $6,700 in rebates for the windows, insulation, fireplace, appliances and bonuses through our Home Renovation Rebate Program. With the rebate money the couple was able to do a few more projects, one of which was their gorgeous, custom made-on-site picnic table and benches created by a local craftsperson.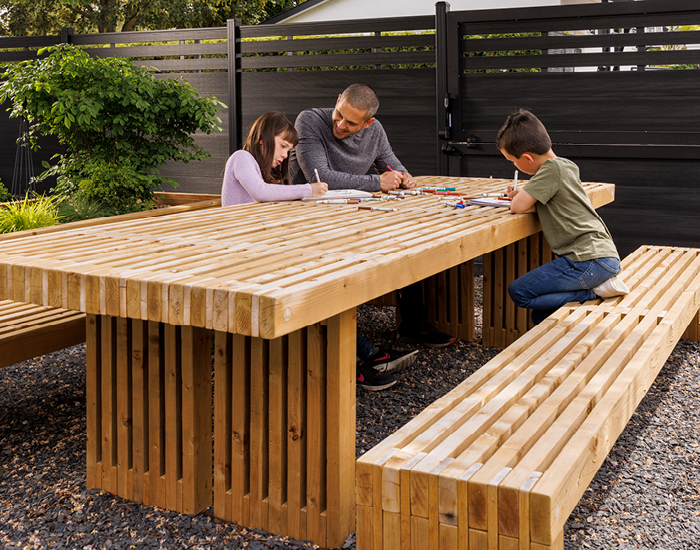 The rebate money they got from their energy-efficiency upgrades funded this gorgeous custom made-on-site picnic table and benches.
The energy savings
Thanks to features in our Account Online, Colleen and Shane were able to find out their natural gas and electricity use in 2019 (before the reno) and again in 2021 (after the reno). This way we're comparing apples to apples. Here's what we found.
Electricity savings
In 2019, the home used a total of 11,002 kilowatt hours (kWh) of electricity. In 2021? Only 6,921 kWh—their electricity use was cut by almost 40 per cent. The old appliances (fridge, clothes washer and dryer) were replaced with ENERGY STAR® models, but the air conditioner wasn't and, as Colleen mentioned, because of the improved building envelope it hasn't been used as much as it was before the reno—even the heat dome in 2021 didn't cause a spike in their electricity use.
One of the main consumers of electricity in the home however, had been a large, leaky electric storage tank water heater. During the renovation it was replaced with a high-efficiency tankless natural gas model. I know what you're thinking, their natural gas use must've skyrocketed right? Let's see.
Natural gas savings
In 2019, the home used a total of 73.2 gigajoules (GJ) of natural gas. At the time, natural gas was only being used for central space heating. The home had the same high-efficiency natural gas furnace before and after the reno, so any reduction in natural gas consumption for space heating can be 100 per cent attributed to the improved building envelope. But in 2021, their natural gas consumption actually increased, by almost 12 GJ. Was their deep energy retrofit all for naught? Not so quick.
Remember that leaky electric water heater? As their water is now heated with natural gas, it's understandable that their gas use would increase. But by how much? In July and August of 2021, when natural gas was only being used for water heating, they consumed an average of 1.75 GJ per month. Multiply that by 12 for every month of the year and we can assume that approximately 21 GJ of the natural gas the home used in 2021 was for heating water, and 64 GJ was used for space heating, more than nine GJ less than in 2019, even with the addition of an EnerChoice natural gas fireplace (replacing the wood-burning one), which Shane admits was on most days during a month-long cold snap at the end of 2021.
Does the energy efficiency paradox exist?
Some folks believe that energy-efficiency upgrades don't work as they just motivate people to use more energy because it's cheaper to do so. But in Colleen and Shane's case, they are using less energy, even with the heat dome and cold snaps in 2021. In fact, the post-upgrade EnerGuide® energy evaluation on the renovated home gave it a rating of 76, meaning it could potentially operate on as little as 76 GJ of energy (natural gas and electricity combined) per year. This is about 24 per cent less energy than what an average newly built home of the same size would use. And while they did reduce their energy consumption in 2021, Colleen and Shane admit they can do better.
"You're in a bit of a honeymoon phase when you move into a newly renovated home," said Shane. "For example, we'd always run out of hot water with the electric water heater and now that we have a tankless model that never runs out, I did notice that we were taking longer showers," he admitted.
"And once some of the COVID restrictions were lifted we began having company over again," said Colleen. "Plus, with our kids now older and in school, I've noticed they're showering more often and we've got more laundry, so that's led to an increase in energy use," she added.
There's definitely an opportunity for Shane and Colleen to use less energy by practicing more energy-saving habits. "Now that we've been in our newly renovated home for over a year, the honeymoon phase is over," laughed Colleen. "I'm noticing we're using the fireplace less and putting on sweaters instead, and I'm making sure my parents don't automatically crank up the heat when they stay with us—as old habits die hard sometimes," she added.
With the improvement to the home's building envelope and good energy-saving habits, Colleen and Shane will continue to save energy over the years. If a home has a poor envelope with air gaps and leaks and you replace an old, inefficient heating system with a high-efficiency one without making any improvements to the home's envelope, the heat is still going to escape your home just as fast. It'll just cost less to do so. So here are a few more ways to reduce greenhouse gas emissions and your energy use.
Practice energy-saving habits
Here are some quick and easy ways to help you save energy.
Zone heating
If you're all hanging out in one spot in the home (which is usually where a fireplace would be if you have one) take advantage of the heat from the fireplace and keep the central space heating system temperature a bit lower, e.g. 18 °C instead of 20 °C.
Socks and sweaters
Instead of reaching for the thermostat, reach for a sweater or some woolly socks.
Take shorter showers
Did you know that if a household of four people shortened their daily showers by just two minutes, they'd save about 27,740 litres of water and $821 a year on water heating costs if using a standard natural gas storage tank water heater? (Colleen and Shane's savings would be less—$46 a year—as their water heater is high efficiency and uses much less gas to heat the same amount of water.) FortisBC electricity customers with a standard electric storage tank water heater would save $1452 a year on water heating costs.
Use window coverings
Not only are curtains and blinds great for privacy, but they can also help keep out summer heat. When the hot sun is shining through your windows, close the curtains to prevent solar heat gain inside your home. Once the sun has passed you can open them again. In winter, you can use the sun to help heat up your home by opening the curtains and letting the sunshine in.
You can get rebates too
Want to take advantage of our Home Renovation Rebate Program like Colleen and Shane did? The good news is you don't have to take on a major home renovation to participate. A smaller upgrade, like attic insulation, could be done in a day by a licensed professional and you'd be eligible for a rebate of up to $900.4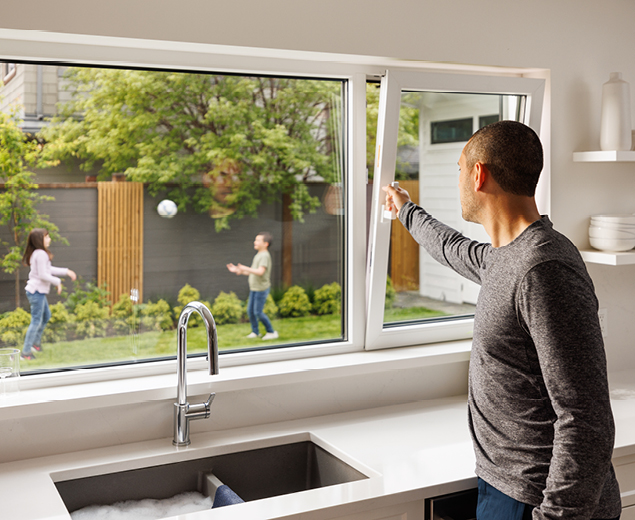 It's easy to watch the kids from the kitchen now.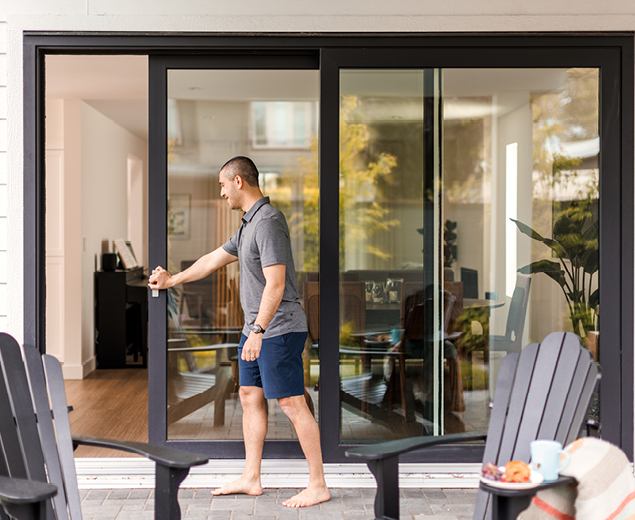 A view of the 11-foot slider from outside.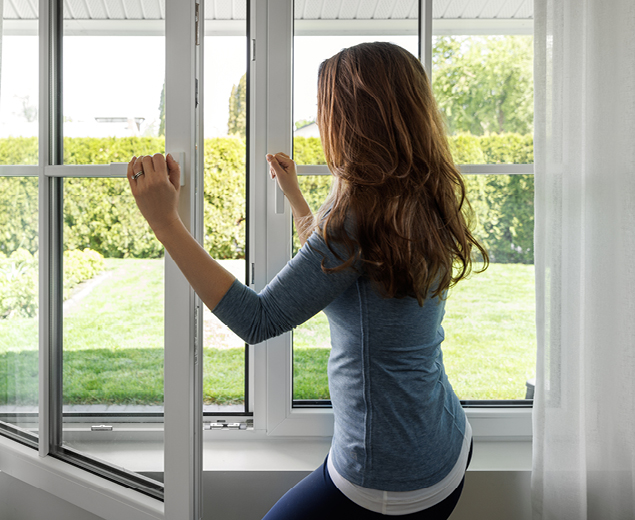 Colleen loves the proprietary locking mechanisms on the windows.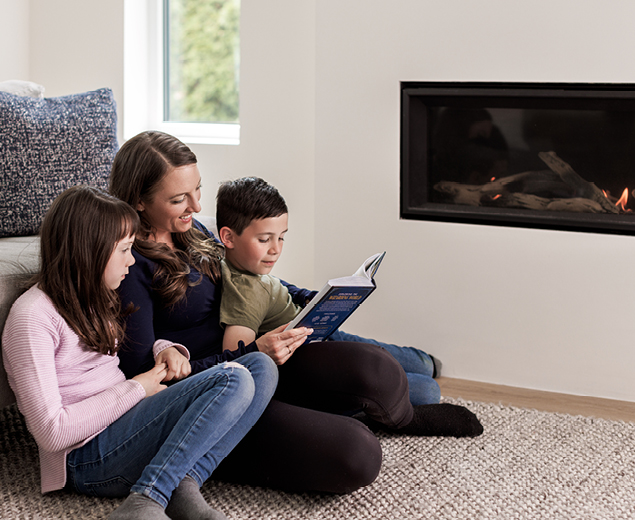 An EnerChoice high-efficiency natural gas fireplace is great for zone heating.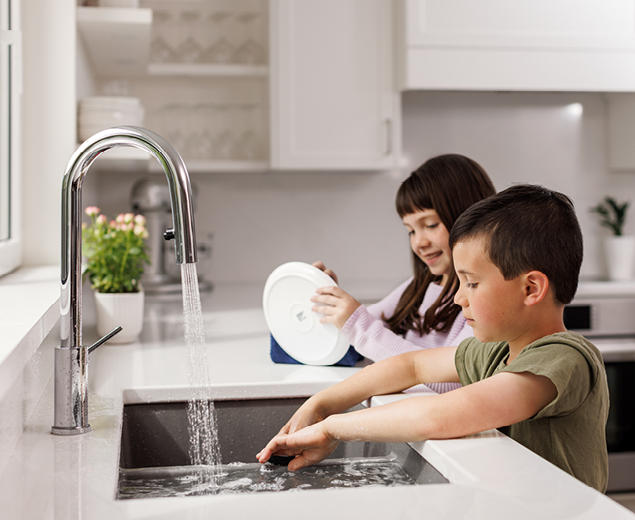 The kids still dislike doing dishes!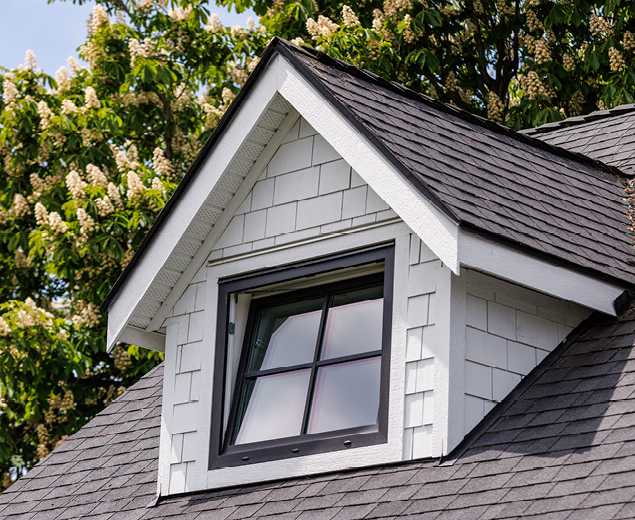 The windows can open in multiple ways.
Related stories
More about