Stories

Next Generation Home invites you to see, hear and feel energy efficiency
December 13, 2022
Clean, fresh air paired with stunning countertops and beautiful backsplashes. Quiet, peaceful ambiance together with gorgeous wood flooring and plush carpets. One of the first things you experience at the newest Wilden Living Lab project in Kelowna is that it doesn't just look great, it feels great–right from the top floor bedrooms to the basement-level utility room.
The Next Generation Home is an experiential show home in Kelowna that invites the public to explore firsthand the results of building to Step Code 5, the highest level of the BC Energy Step Code.
Stepping up to improve home performance
The home is the newest project by Wilden Living Lab, a unique collaboration between UBC Okanagan, Okanagan College, the Wilden Group, AuthenTech Homes and FortisBC. The forward-thinking project partners first began working together in 2016 to test the energy efficiency of two identical homes, the Home of Today and the Home of Tomorrow, built side-by-side to different standards. The comparative results over a three-year period found that Home of Tomorrow, the home built beyond building code standards, used 67 per cent less energy and had 99.6 per cent less carbon emissions than the Home of Today, built to standard code.
Now, the collaboration has gone a step further with the ultra-efficient Next Generation Home. The home is designed to achieve net-zero energy consumption, meaning the home will produce as much energy as it uses in a year through the use of solar panels and renewable energy. It incorporates many of the lessons learned from the first project and combines academic research, experiential learning for trades and contractor training students, ongoing energy monitoring and the creation of an electronic contractor decision support tool led by UBC Okanagan.
And while energy efficiency might not be the first thing to come to mind when searching for a new home, achieving Step 5 is increasingly important for homeowners and builders alike–and for good reason. In response to the critical need to address climate change, the province of BC is requiring all new homes to be built to Step 5 by 2032. With these requirements, there is now a major push to educate construction practitioners about the BC Energy Step Code.
A home built for the next generation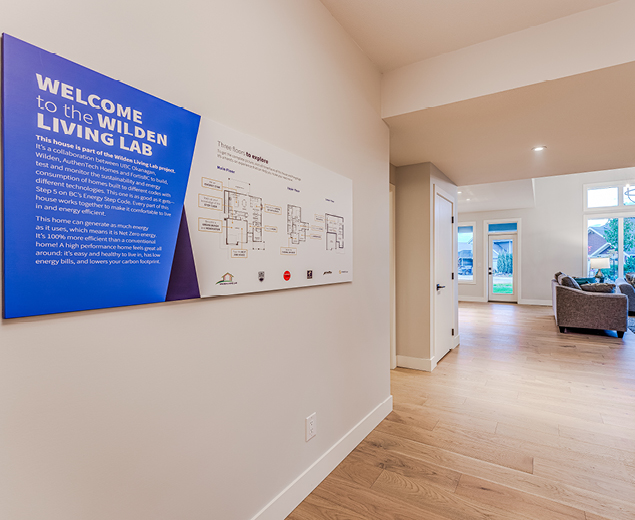 The Next Generation Home is part of the Wilden Living project in Kelowna.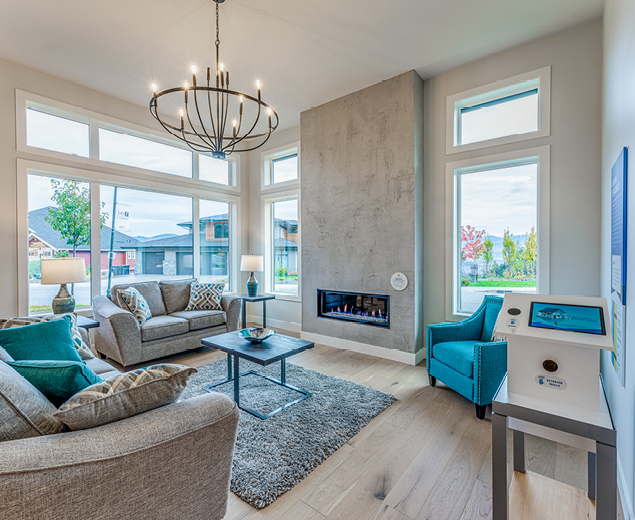 The ENERGY STAR® gas fireplace is one of the most energy-efficient on the market.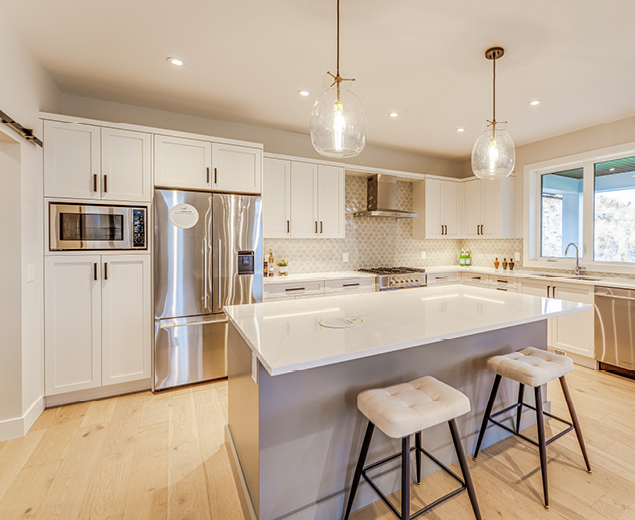 The beautiful kitchen features all ENERGY STAR® appliances.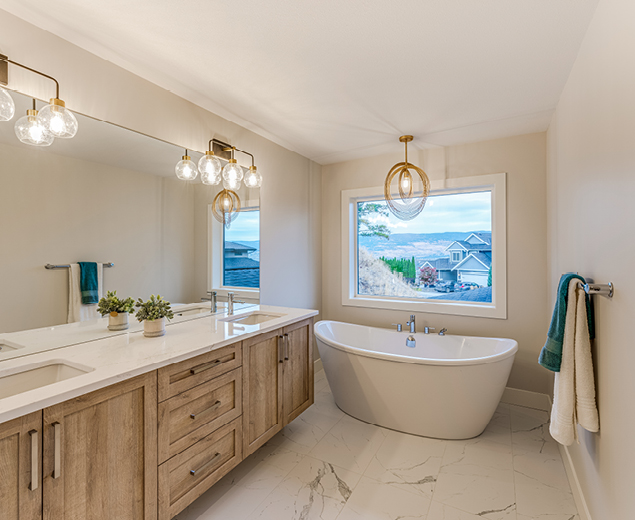 The on-demand water heater provides unlimited hot water.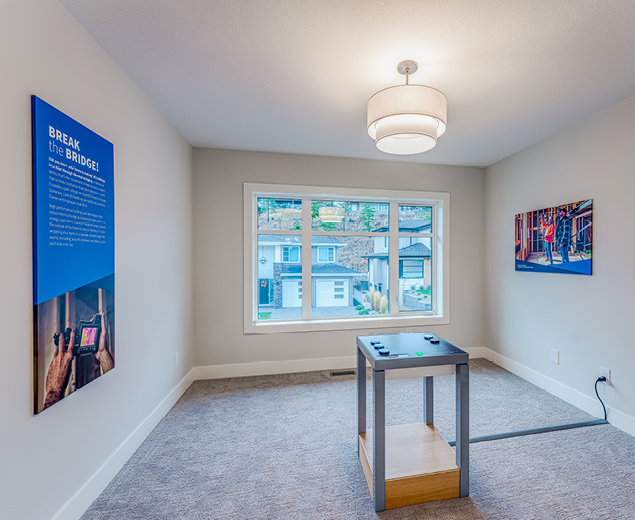 Those who visit the Next Generation Home will enjoy an interactive experience with several displays.


So, what makes this home so efficient? Achieving Step 5 requires builders to follow a whole-home systems approach to reduce the total energy requirements. It's important to understand all of the components of the home and how they work together as a system. The design, location and materials all contribute to a home that is comfortable, conserves energy and reduces emissions.
This is done by creating high-insulation wall systems and an airtight envelope, installing highly energy-efficient windows and mechanical systems, use of heat energy recovery systems and renewable energy. The Next Generation house has a high-tech building envelope that's airtight, an efficient solar photovoltaic system, top-notch energy recovery and storage systems and highly-efficient mechanical systems. As a result, it's gas needs are minimal and can be easily met with Renewable Natural Gas.1
It's critical to focus on these high-performance elements right from the design stage, especially the building envelope which can be difficult and costly to improve after the home is complete. Airtightness is measured in air exchanges and Step 5 requires that there is just one air exchange or less per hour. By focusing on airtightness first, the Next Generation home achieved impressive results–0.57 air exchanges per hour, that's just one exchange every two hours! A high-efficiency ventilation system ensures there is always fresh air in the home even on the smokiest Okanagan days.
Working together to advance new construction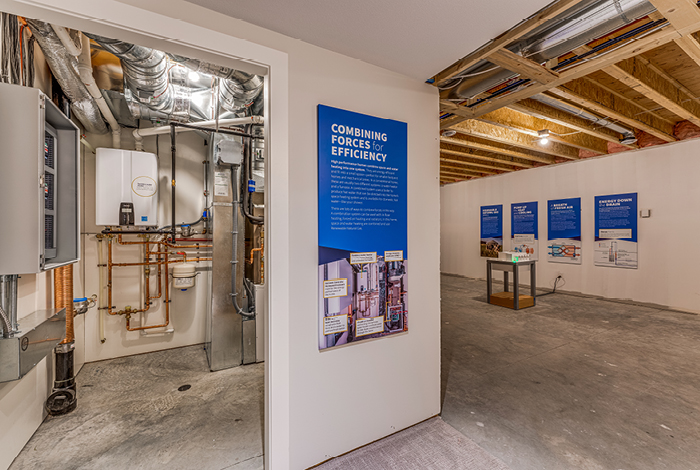 By working together on projects like the Wilden Living Lab, we're taking steps to help transform the housing market towards the construction of increasingly energy-efficient homes.
The data collected through the project will help builders and home buyers make informed decisions when it comes to the less tangible features of a quality-built home–one that incorporates the highest performance into the overall design. With the exception of ENERGY STAR® appliances, many of these critical elements can be invisible to builders and homebuyers. The aim of this project is to gain important insights about energy-efficiency that can ultimately influence a new generation of construction.
The best part is that all the home's high-performance features are available today. Plus, we have a range of rebates available to help off-set the costs of energy-efficient upgrades.
Improving efficiency in your home today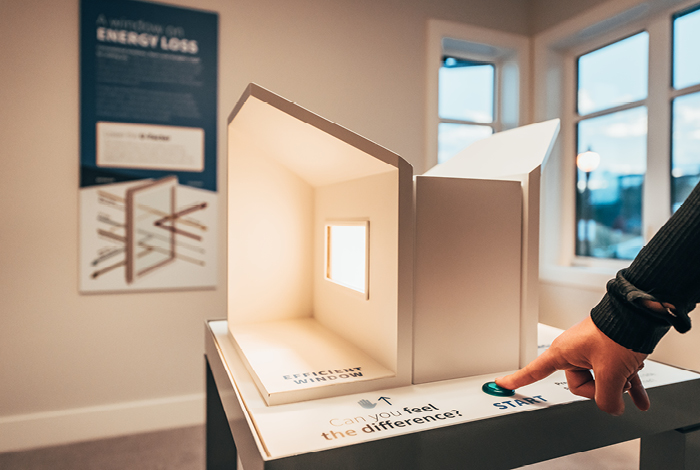 Even if you aren't in the market for a new home, you can still learn how you can improve the efficiency in your home by visiting the Next Generation Home. Those who visit the Next Generation home will enjoy an interactive experience with several displays. There will be a Wilden Living Lab representative on hand to answer questions as well.
The Next Generation Home is located at 215 Echo Ridge Drive in Kelowna and is open to the public Saturday through Thursday, noon to 5 pm until May 18, 2023. More information about Wilden Living Lab can be found here.
Related stories
More about