Stories

Meet the winners of FortisBC's 2023 Efficiency in Action Awards
May 12, 2023
After two years of virtual ceremonies for the Efficiency in Action Awards, we were pleased to gather the 2023 winners for a real-life, real-time celebration of their achievements. This year's winners include 11 organizations from across BC that are leading the way to save energy, reduce carbon emissions and promote safety, whether building new projects, improving existing buildings and processes, or getting customers and communities on board.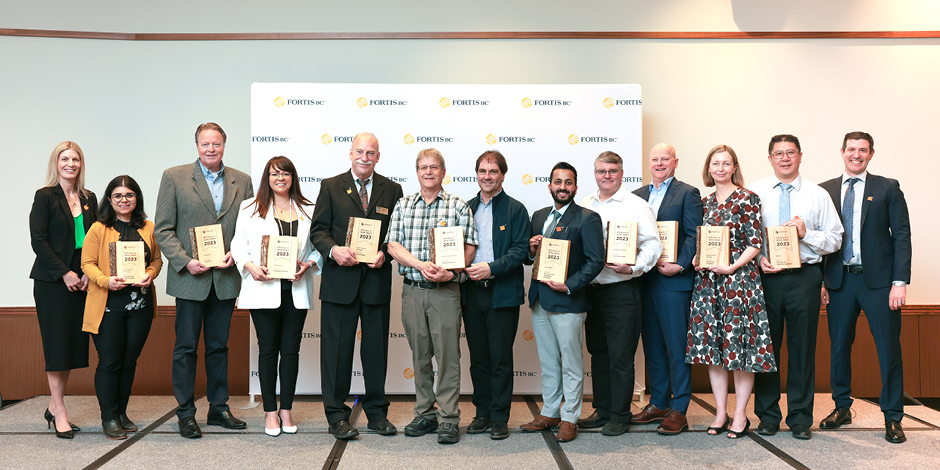 FortisBC is proud to present the winners of the 2023 Efficiency in Action Awards with their award plaques (L to R): Danielle Wensink, FortisBC; Ghazel Ebrahimi, Provincial Health Services Authority; Robert Wruck, Kalesnikoff; Chief Sharleen Gale, Fort Nelson First Nation; Mayor Arnold DeBoon, Town of Creston; Berry Bepple and Brett Apolczer, School District No.57; Jasdeep Singh Gulati, BC Care Providers Association & EngAge BC; Scott Stewart, New Chelsea Society; Graeme Scott, QuadReal Property Group; Jennifer Natland, Canada Place; Herman Louie, City of Burnaby; and Joe Mazza, FortisBC
Energy-efficient and safe communities
Since 2018, Fort Nelson First Nation has consistently worked to improve the energy efficiency of its community's homes, which is why we've chosen it as our winner in the Community category. The entire community participated in our Energy Conservation Assistance Program (ECAP)—securing the most participants at one time in the history of the program. In the last two years alone, the community accessed more than $160,000 in Indigenous Communities Conservation Program rebates. We estimate the community can expect to see annual savings of approximately $100 per ECAP participant, based on an average of 7.81 GJ saved and billed at a rate of $12.78 per GJ.

We recognized the City of Burnaby Engineering Department in the Safety category for demonstrating leadership in community safety, specifically in its approach to BC 1 Call. The city is proactive about encouraging residents and contractors who live and work in Burnaby to contact BC 1 Call to find the location of gas lines and other utilities before they dig. Its successful outreach strategy has resulted in a 40 per cent reduction in gas line hits over 10 years—and no gas line hits at all in 2022.
Building for energy efficiency
New construction projects are an opportune time to build in energy-efficient features, and these three award winners took advantage of our commercial new construction programs to achieve higher efficiency.
While redeveloping the iconic Canada Post building in downtown Vancouver into The Post, QuadReal Property Group (winner in the Large Commercial category) incorporated features like double- and triple-glazed windows, LED lighting and heat recovery technologies—delivering an energy-efficient future for this office/retail space. QuadReal received $500,000 in incentives for the upgrades, which are expected to result in combined energy savings of about 4,600 GJ annually.
We had an amazing opportunity at The Post to focus on an energy-efficient envelope and a high-efficiency mechanical system, which will lead to major reductions in its energy use and carbon footprint. The Post is one of Canada's most ambitious heritage redevelopments and will be a signature landmark in Vancouver. It was our priority to position the property as a leader in performance and sustainability.
Julie Lacasse, vice president, office, QuadReal Property Group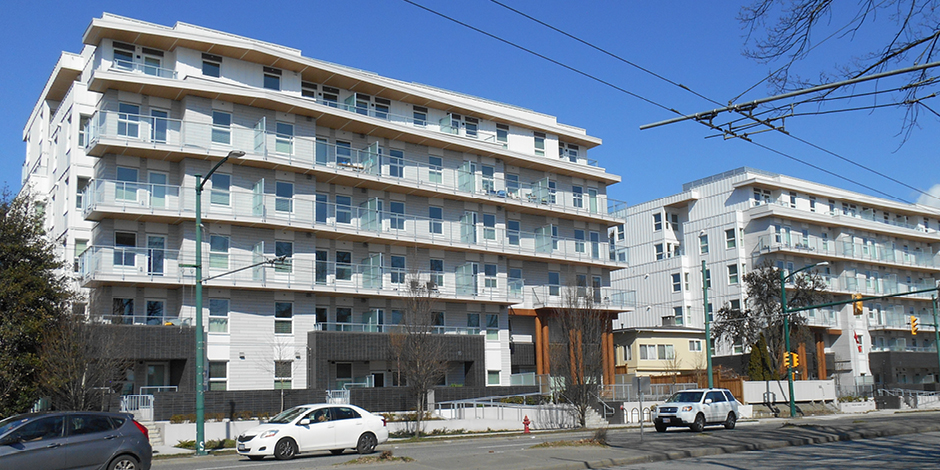 New Chelsea Society's Chelsea Marine multi-unit residential building in Vancouver.
The New Chelsea Society also has a legacy in Vancouver: delivering low-cost housing for Lower Mainland seniors, families and people with disabilities. For the new Chelsea Marine multi-unit residential building, they called on their FortisBC energy specialist as well as BC Housing, who worked with their key account manager to help them achieve BC Energy Step Code 4—a high level of whole-building energy efficiency—and get over $208,000 in rebates from the Commercial New Construction Performance Program. We're pleased to recognize the New Chelsea Society with an award in the Small Commercial category.
In the Kootenays, the Town of Creston faced some obstacles in constructing its new Emergency Services Building, which houses its ambulance and fire services. But it received help (and an award in the Public Sector: Municipal category) in the form of rebates for a high-efficiency boiler, furnace and heat recovery ventilation. It also incorporated 12-inch-thick insulated concrete panels into the building envelope, which help keep building temperatures comfortable through the hot summers and cold winters, without the need for energy-hungry air conditioning.
The new facility not only provides a new and improved space for the emergency services personnel, but it also provided an opportunity to take advantage of energy efficient lighting, heating and cooling options during the design process. We continue to seek additional upgrades, including the addition of solar panels to further improve energy efficiency using renewable energy sources.
Mike Moore, chief administrative officer, Town of Creston
Upgrading to high-efficiency equipment for business
Energy-efficient equipment can help businesses enhance their productivity, as well as save operating costs. When Bates Restaurants Ltd., which runs several McDonald's locations, was upgrading six griddles and eight fryers they used our commercial kitchen equipment rebate program to get the highest efficiency ones possible. We recognized them with an award in the Foodservice category, and they're saving over 600 GJ of natural gas annually while continuing to serve up those beloved burgers, fries and more.
We strongly believe in playing a role with reducing energy consumption in our restaurants. With the support from FortisBC, we were able to purchase new high-efficiency equipment for two of our restaurants, which has resulted in significant energy savings. Moving forward, we continue to seek out areas where we can make a positive impact, while maintaining a focus on energy usage and consumption reduction.
Andy Bates, owner, Bates Restaurants Ltd.
A winner in our Industrial category, Castlegar-based Kalesnikoff manufactures mass timber products for building construction with a focus on sustainability and reducing waste. We provided rebates for LED lighting in its new mass timber manufacturing plant, as well as supporting energy-efficiency upgrades for its lumber mill—a wood conveyor system and high-efficiency compressed air systems—that together are saving about 1.6 million kWh of electricity annually. Kalesnikoff also participated in our Industrial Strategic Engagement Management Program, working with dedicated industry consultants to identify low-cost energy savings projects using resources it already has.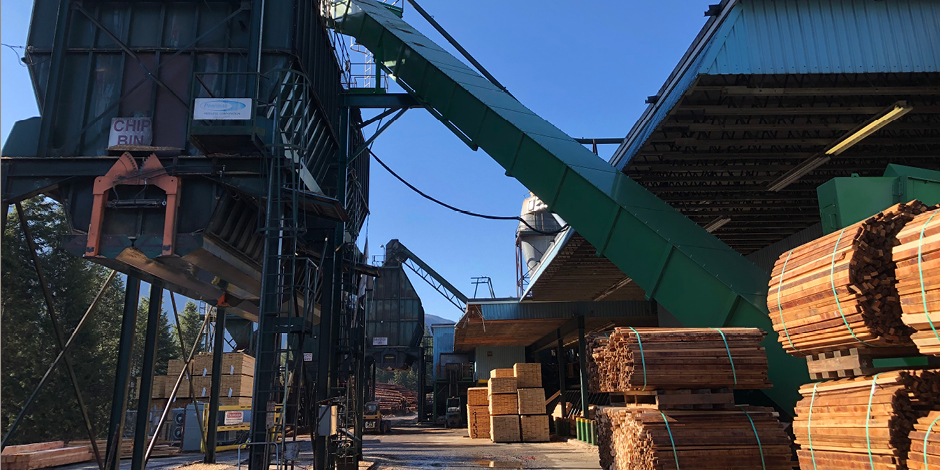 Kalesnikoff received funding support for energy-efficient upgrades it made to its lumber mill, including replacing a chip blower with a conveyor system for the handling of wood waste chips it provides to the pulp and paper industry.
Embracing innovative technologies
BC Care Providers Association & EngAge BC (BCCPA) looks for innovative ways to improve energy efficiency in its care homes. We recognized BCCPA in the Innovation category this year because of the unique commercial laundry application it implemented with help from a FortisBC energy specialist. After evaluating, measuring and verifying this technology that claimed to reduce hot water energy consumption, BCCPA implemented it at two of their senior care homes. The results of their two projects showed domestic hot water energy savings of 70 per cent, or 908 GJ of natural gas annually.
We're continuously looking for innovative solutions to reduce energy consumption across our homes and encourage our members to be proactive in looking for energy-efficient upgrades as they not only help our members to be energy efficient and keep operational costs down, but help in bringing resilience, quality and comfort for the occupants.
Jasdeep Singh Gulati, energy specialist, BC Care Providers Association & EngAge BC
In the Public Sector: Federal category, we recognized Canada Place Corporation. When looking to improve energy efficiency, Canada Place opted to move away from the central steam plant system it was using and connect to FortisBC's gas system instead. We funded the study to complete the initial analysis for Canada Place to connect to our system. To facilitate this change, Canada Place received almost $1.2 million in incentives to install condensing gas boilers and heat recovery chillers. The building is expected to save more than 40,000 GJ annually.
At Vancouver's iconic Canada Place, we expect to cut greenhouse gas emissions in half by replacing our old boiler system with new, high-efficiency equipment. Our new system not only ensures we have a more efficient and reliable source of energy, but also aligns with the vision for the Port of Vancouver to be the world's most sustainable port. We thank our tenants for their support and FortisBC for their assistance throughout the process.
Mike Turner, director of maintenance and Canada Place facilities
High-efficiency schools and health care
School District No. 57 (SD57) has demonstrated that it's a strong advocate for energy efficiency, which is why it's our winner in the Medium Commercial category. Supported by its energy and sustainable conservation policy, it takes a systems approach to its schools to balance energy efficiency and economics. SD57 received approximately $245,000 in incentives for implementing more than 25 different applications across the district. These energy-efficiency upgrades are expected to save approximately 8,900 GJ annually.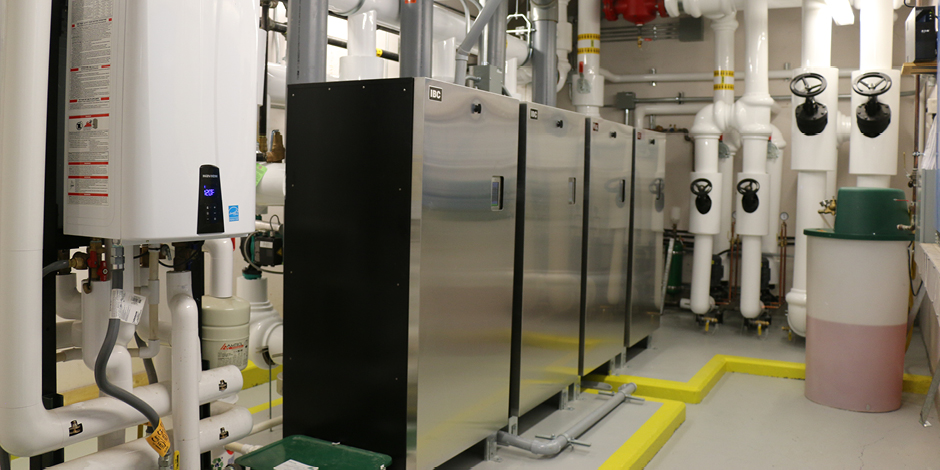 SD57 used some of the funding it received to install new high-efficiency condensing boilers and a tankless water heater in one of its schools. It also used funds for further improvements to HVAC ventilation, controls and more.
A winner in the Public Sector: Provincial category, Provincial Health Services Authority (PHSA) is constantly looking for opportunities to reduce its energy consumption and has several ongoing energy efficiency projects in partnership with FortisBC. PHSA has received more than $1.2 million in incentives for multiple projects through our Custom Efficiency Program, including for the Vancouver Island Cancer Centre, the Children and Women's Health Centre of BC and the Centre for Mental Health and Addiction. The energy-efficiency upgrades employed at these facilities are expected to save approximately 24,000 GJ per year.
We're always looking for energy efficiency and carbon emission reduction opportunities across our building portfolio. Identifying those opportunities and seeking solutions in a complex setting such as the health care sector, can only be done through collaborative efforts. The support we've received from FortisBC through various energy study programs and incentives has helped open many doors for us which has helped the organization take impactful steps towards our climate targets and goals.
Ghazal Ebrahimi, energy and carbon emissions manager, Provincial Health Services Authority
Related stories
More about