Stories

Meet 6 women rethinking the future of energy in BC
March 8, 2022
Today, March 8, we're celebrating and recognizing International Women's Day, a global movement promoting equality and a gender-inclusive world. So we thought it was the perfect time to highlight some of the amazing women at FortisBC who are making an impact and helping rethink the future of energy in BC.
Whether designing traffic plans, working to protect vegetation or species at risk on our work sites, or leading our natural gas and electricity field crews, you can bet women like Melissa, Carrie, Maureen, Asia, Ava and Melanie are rolling up their sleeves every day helping the communities where they live and work. Let's meet these six women who deliver!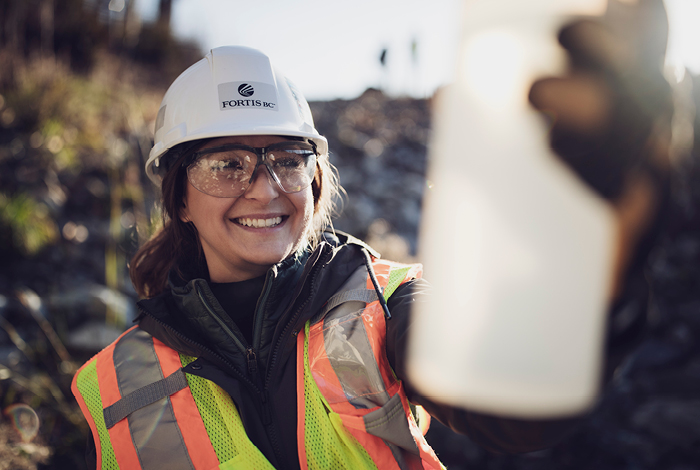 Melissa, environmental program lead
From an early age, Melissa, an environmental program lead with our environment and sustainability department was passionate about nature and wildlife. "One of my favourite things to do was climb trees and play with bugs," said Melissa. But when she was about to enter university she was unsure of what career opportunities there would be in ecology and sustainability, so pursued a more traditional path in business. "As I progressed through my undergraduate program, I was struggling to feel inspired by my business courses. Eventually I made the decision to switch to environmental sciences and it was a decision I've not regretted for one second," she said.
Melissa's first job after graduating was with an environmental engineering firm supporting the rehabilitation of derelict land and contaminated sites. During this time she also completed a Master's of Science in environmental practice, which enabled her to further refine her knowledge into the affects contamination can have on ecosystems and human health.
When Melissa joined FortisBC her first task was supporting the final stages of a gas line construction project, but soon after found herself back working on a contaminated site at the City of Vancouver's landfill that would eventually be used for the construction of a Renewable Natural Gas (RNG) production facility. Melissa says the project doesn't have the typical environmental sensitivities that would be present in more remote or wildland areas, but it still comes with its own environmental considerations. "At the landfill there's vegetation adjacent to the project site area, so any construction activities have to consider the potential disturbance to birds and wildlife that use this vegetation for habitat. Erosion and sediment control, handling of hazardous materials and spill prevention have also been my focus for this project," Melissa explained.
What would Melissa tell young women who might be interested in pursuing the environmental fields? "You only have to read the news to know how important these professions will be as we head into the future. With climate change and biodiversity threats, toxic contamination and numerous forms of waste in our environment, there's no shortage of potential career paths, especially at FortisBC as we work toward providing our customers with more sustainable energy options," said Melissa.


Carrie, regional manager, operations
A mechanical engineer by trade, Carrie oversees the operations—the work we do in the field such as installing and maintaining our gas lines—in the Okanagan and Kootenays. She provides leadership to her team of operations managers and supervisors and works hard to ensure a safe, collaborative and productive work environment. "I want people to do their best and that means making sure they feel valued," said Carrie. "Seeing the operations group work together to accomplish daunting tasks makes me so proud of how my team cares for our customers, especially in adverse situations," she added.
One of the most adverse situations Carrie and her team encountered was the loss of gas service to the town of Princeton when the line that services the community was damaged during the historic November 2021 floods. "We went to the community to set up an emergency operations centre and organize a field crew to repair the line. Unfortunately we had to shut off the gas to complete the repairs and that resulted in nearly 900 homes losing heat and hot water for days," Carrie explained.
During the emergency Carrie supported the response coordination and ensured the crews onsite had what they needed to work safely and effectively—from tracking progress, solving technical issues to making sure everyone was well fed during the long days. "The Princeton flood was a large emergency that required a significant emergency response coordination between us and other agencies. Working with all the people made me so proud of what we do at FortisBC to help our communities. The team always came together and people volunteered to come out and work long days in ugly conditions to help the community," Carrie beamed.
Carrie also supports women entering the science, technology, engineering and mathematics (or STEM), fields. "STEM fields are traditionally male-dominated and it's important to me to keep encouraging young women to pursue a career in STEM or the trades," said Carrie.
There are so many opportunities for women in non-traditional roles and I tell them to just be themselves, enjoy their work and build a supportive community around them.
Carrie, regional manager


Maureen, environment manager
Like Melissa, Maureen, the environment manager for our electricity division, grew up with a love for nature and a desire to protect all creatures. She says she knew she needed a career that was a little bit different from other vocations. "My first job after graduating from BCIT in Civil and Structural Engineering Technology was definitely different," said Maureen. "I worked for a gravel pit operation sieving and sizing aggregate."
Luckily her next job working for the Ministry of Environment was more in line with her career goals. After 12 years with the Ministry, her desire for more challenge led her back to university where she completed both a Bachelor's and Master's degree in environmental disciplines. In 2005, she joined FortisBC and stepped away in 2009 for a while, rejoining the team in 2016. Since then, she hasn't looked back.
Working side-by-side with our electricity operations and construction project crews, Maureen and her team identify numerous environmental risks. "For example, on all Electric Generation, Transmission and Distribution projects we identify potential environmental risks and develop controls to mitigate those risks. We work in concert with Operations and PMO to develop measures to minimize impacts to a variety of Species at Risk and to migratory birds that may be present in and around our infrastructure," said Maureen. "This close working relationship with Electric PMO and Operations teams supports a proactive and progressive approach to environmental management," she added.
The rewarding work and strong relationships Maureen's built over the years has made her feel like she's part of a family at FortisBC. After all, sustaining and enhancing the environment is a priority at FortisBC, and Maureen and her team have shown how we're taking actions today to help the environment and working toward a cleaner energy future.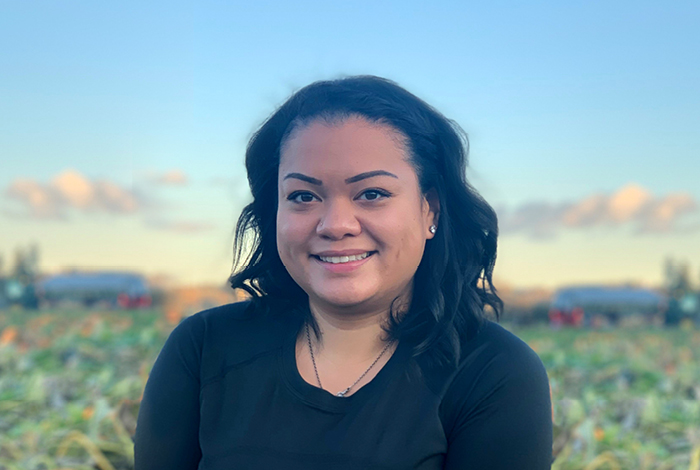 Asia, asset management engineer
After earning her Bachelor of Science degree in chemistry, Asia started working in the food safety industry. But after two years she felt stagnated and wanted more of a challenge. When she heard about all the diverse types of jobs in engineering she knew she'd found her niche. Following a five term co-op at FortisBC, she got on full-time as an engineer in training and has never looked back.
Asia is now an asset management engineer working on major infrastructure projects. "My job is to take a problem such as a gas line that needs upgrading due to increasing demand and identify how best to develop various solutions," said Asia. "I always have an eye to solutions and alternatives that will help support our goal to reduce our customers' greenhouse gas emissions by 30 per cent* by 2030 and support the province's CleanBC climate change targets," she added.
Asia, who says she had a difficult time figuring out what she wanted to do after high school, encourages students to consider engineering. "Engineering is a great option as it allows for a broad choice of careers in a variety of industries," said Asia. So what kind of person would be right for engineering? "If you have a love for science and a curiosity about how things work, engineering is a wonderful option. Curiosity drives one to find unique solutions to solve complex problems; a very valuable trait in this day and age of seeking solutions to the climate crisis."


Ava, traffic engineer
Curious about building design and architecture, Ava took a computer assisted drafting and architecture course in high school on the advice of her teacher. She was immediately hooked and applied to UBC's Civil Engineering Program. But her transition into work life wasn't as smooth.
"In one of my first jobs as an engineer, I wasn't allowed on a work site because the construction team felt a woman brought bad luck," said Ava. But Ava persevered, as she was committed to grow her skills and career. So she met with her manager every day for a couple of weeks to convince him to let her on site. "He finally gave in and I ended up helping the team reach milestones on the project earlier than planned," she added.
Nowadays, no one's telling Ava she doesn't belong on a work site. She now works as a traffic engineer on FortisBC construction projects. "I manage and look after all traffic and transportation items on projects such as gas line upgrades occurring in busy traffic areas. Before our crews dig up sections of a road to access gas lines, we design traffic management plans for each project to ensure our crews are safe and traffic can still keep moving smoothly through the work zone," said Ava.
Ava says one of the best things about working at FortisBC is the people. "I get to work with a team of talented folks, where I'm learning more every day and I get to watch my traffic designs come to fruition."


Melanie, project director
Melanie is one of our senior engineers. But believe it or not, engineering wasn't even a consideration for her until she was working as an administrator at a manufacturing company. "My boss, who was an engineer, saw something in me and constantly encouraged me to take drafting courses. "He'd say to me 'you should be an engineer.' It uplifted and inspired me," said Melanie.
Melanie followed through on her boss' advice and went back to school receiving a degree in mechanical engineering. But she's never forgotten how her old boss mentored and encouraged her and now she's paying it forward providing the same to women interested in pursuing a career in engineering.
I want to see more female engineers in the profession, so I tell young women to have confidence in themselves to achieve whatever goals they put in front of them. Engineering is an extremely rewarding career choice but isn't always easy when you're the only woman or a minority in your field. I tell them they deserve to have a seat at the table just as much as anyone else and encourage them to network and find a suitable mentor just like I did many years ago and have continued to do throughout my career.
Melanie, project director
You can help us rethink the future of energy too
Thank you Melissa, Carrie, Maureen, Asia, Ava and Melanie for telling us a little more about who you are and helping to create a diverse, inclusive and respectful workplace. Want to join us? We've got opportunities for growth not only in engineering, but in a multitude of career paths across the province. Find your next opportunity now.
Related stories
More about