Stories

Keeping BC free and clear of zebra and quagga mussels
August 8, 2022
Protecting the natural spaces and native species in BC means ensuring everything continues to thrive and grow in their natural habitat. This includes being aware of and preventing invasive species from entering and disrupting our local ecosystems.
Our team of Qualified Environment Professionals (QEPs) take precautions and preventative measures and works with local organizations to ensure aquatic invasive species, like zebra and quagga mussels, don't enter BC waterways.
Let's take a deeper dive into what these invasive species are and the collective effort it takes to keep them out of BC.
Aquatic invasive species and their impact
In general, invasive species are non-native plants, animals, insects or even fungi that become established in an ecosystem because they reproduce quickly and don't have any natural predators or controls. Because of this, the species can grow quite rapidly and have the ability to outcompete native plant and animal species, which can impact the surrounding environment.
The type of invasive species determines the impact to the natural environment. Aquatic invasive species live and grow underwater and can impact biodiversity, threaten at-risk species and affect the water quality. If they are introduced into a body of water they can also impact fish spawning habitats and displace native fish and plant species.
Invasive species can be introduced intentionally or accidentally but you may be able to guess the primary contributor to the spread of invasive species. It's people. This is why it's important to understand what invasive species are, how they can be introduced and what you can do to prevent them from entering our waterways.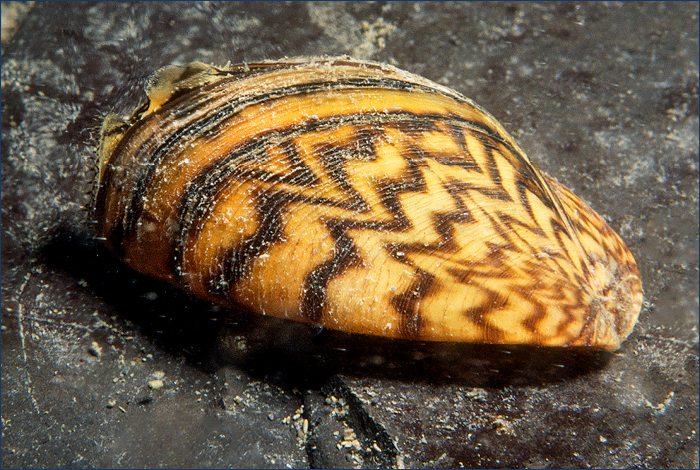 Zebra mussels, pictured above, are an aquatic invasive species that can significantly impact the natural environment and species in the surrounding areas where they are introduced.
Being aware of zebra and quagga mussels
While there are a number of invasive species our QEPs are aware of, two of the major ones they've put measures in place to prevent are zebra and quagga mussels.
These mussels have not been introduced into BC waterways—and we want to keep it that way—but they can be found in Ontario, Quebec and Manitoba as well as in the United States. These species are both freshwater mussels that, once introduced to a body of water, can filter out specific food sources, or plankton, that native species may feed upon. They can enter waterways by attaching themselves to boats, docks and beaches and then rapidly spreading.
As a hydroelectricity provider to customers in the Southern Interior, we also want to prevent these mussels from entering any of our waterways because they could clog intake structures, which would result in less water flowing through our dams and potential damage to our infrastructure. This is important because a mussel infestation in waterways where we own and operate hydroelectric facilities could severely impact the reliability of the electricity system due to unplanned outages if mussels were to attach themselves to parts of our infrastructure. Additionally, the costs to implement a treatment system in hydroelectric facilities infested with zebra or quagga mussels can range between $100,000 to $2 million.


Zebra and quagga mussels haven't entered into BC and our team continues to perform preventative work to ensure they stay out of our waterways. Photo credit: The United States Fish and Wildlife Service.

Our team collaborated with the provincial government to develop a process for equipment coming into our hydroelectric facilities and working in the water. This was to ensure proper measures were in place to prevent these mussels from entering BC. When we don't know the history of the equipment or third-party equipment is brought into one of our dams and used in or around the water, we must follow the proper screening process. Depending on where the equipment is from, it may need to go through inspection and/or decontamination procedures by provincially accredited personnel.
This is only one piece of the puzzle as it's a shared responsibility between us all to take other necessary steps to prevent zebra and quagga mussels coming into BC.
We're in this together
A local organization, the Central Kootenay Invasive Species Society (CKISS), is a non-profit society formed by residents and organizational representatives in 2005, that plays a critical role in stopping the spread of many invasive species. The society raises awareness and educates the public about local invasive species and their impact, works to prevent the introduction and spread of invasive species and promotes coordinated management activities.
We're proud of the collective efforts so far because it would only take one contaminated boat to start a new infestation of zebra and quagga mussels. Last year, CKISS collected 267 samples from nine waterbodies in the Central Kootenay region as part of the province's mussel lake monitoring program and we are happy to report they came back negative for the presence of these mussels. It's been great to work with many different organizations, including FortisBC, across the province to ensure we all put in effort to prevent the spread of these mussels and we thank the public for doing their part as well.
- Laurie Frankcom, education program coordinator, CKISS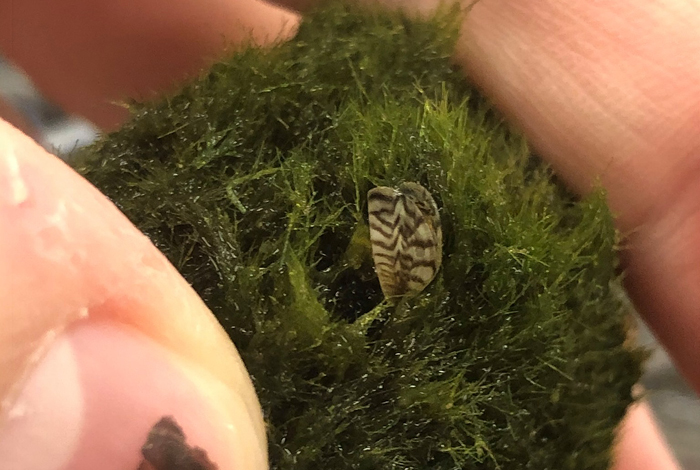 A close call last year as zebra mussels were discovered in a shipment of moss balls for aquariums and were sold in BC. Luckily none entered into our waterways but this was a reminder for aquarium owners to never dump the contents of their aquariums into natural waterways or drains. Proper disposal of aquatic plants is to dry and freeze them and add them to household garbage. Photo credit: Government of BC.
We've worked with CKISS for many years and support their aquatic invasive species monitoring efforts they conduct specially within the Columbia River Basin region. FortisBC, CKISS and a number of other organizations are members of the Columbia Basin Aquatic Invasive Species team that brings organizations together in a joint effort to prevent aquatic invasive species from entering the Columbia River Basin region.
Did you Clean, Drain, Dry?
We also support CKISS by funding billboards that are posted in the Kootenay region reminding the public to "Clean, Drain, Dry" their watercrafts, which include sailboats, motorboats, car toppers, kayaks, canoes and paddle boards transported from one body of water in BC to another. Because these watercrafts can carry invasive species, it's important that people take the proper actions:
Clean the watercraft and gear to remove all plants, animals and mud onto land. This even includes floaters, oars, lifejackets and fishing gear. If it touches the water, it needs to be cleaned.
Drain all water from the boat or gear including internal compartments onto land.
Dry all parts of the watercraft completely before launching it into another body of water.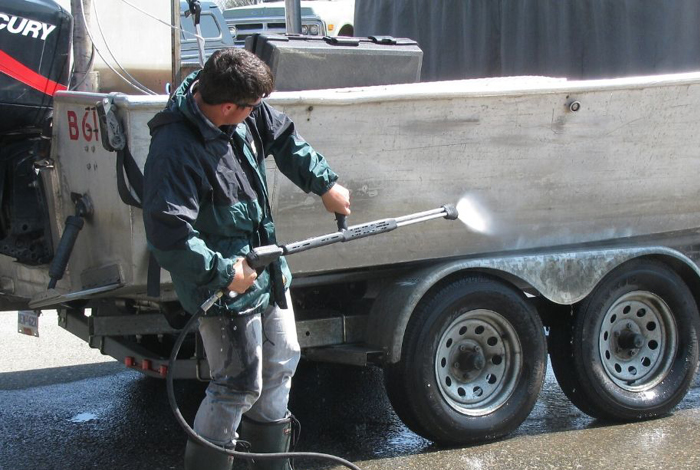 For anyone boating or out on the water, ensure all water equipment including boats, paddle boards, kayaks and motorboats are cleaned properly, drained of any excess water and are completely dried to help prevent the introducing and spread of aquatic invasive species. Photo credit: Invasive Species Council of British Columbia.

We would like to remind the public that any suspected invasive mussels should be reported immediately to the Conservation Officer Service's Report All Poachers and Polluters. In addition, all watercraft owners should follow Clean, Drain, Dry protocol when travelling between waterbodies to prevent the spread of aquatic invasive species.
- Laurie Frankcom, education program coordinator, CKISS
If you're in the Kootenay area and out on the water this summer, be sure to check out the specific boat wash locations across the Kootenays where you can hose off your gear and help prevent the spread of aquatic invasive species.
To report any suspected invasive mussels, contact: 1-877-952-7277.
Related stories
More about