Stories

How we overcame an emergency to keep energy flowing to the Sunshine Coast
June 22, 2020
As an operations supervisor with FortisBC, Ben McCarthy is used to waking up early. So he was enjoying the chance to sleep in on Saturday, February 1, when suddenly his cellphone started buzzing. He looked over and saw over a dozen text messages, each seemingly more urgent than the last.
The text and picture messages revealed that extreme weather on the Sunshine Coast had washed out a section of asphalt on Lower Road in Roberts Creek, exposing two natural gas lines and a large water main. By the time Ben got to the site, the damage expanded downhill approximately 360 metres to the creek.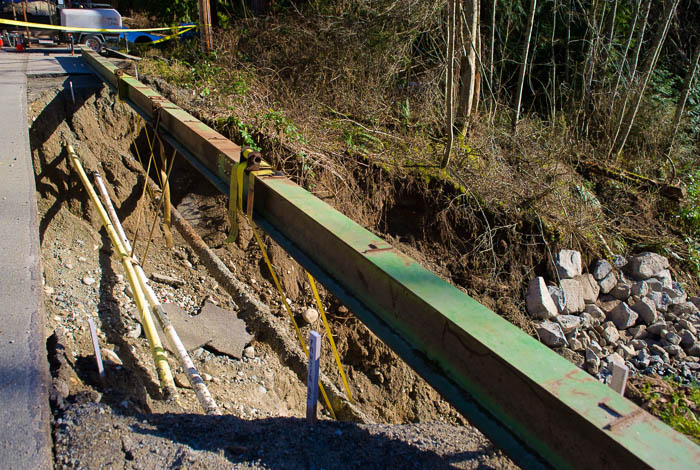 Getting worse by the minute
"I couldn't believe what I saw," shared Ben as he thought back to the scene. "There was so much destruction and it kept getting worse by the minute. We had two lines there that served natural gas to all of Gibsons and they were exposed. Fixing damage is one thing, but replacing the line completely in an unplanned emergency like this? If something happens to the line, then customers in Gibsons could be without natural gas for at least a week, likely longer. And, with the road washed out, there's nothing protecting the line."
Ben and his team quickly put up sandbags to protect the road itself, as water was running all along the road. But this was a much larger task – the road and surrounding area needed to be repaired, a water main and two natural gas lines were both exposed and damaged, and there was no indication of how much time the team had. This all needed to be done simultaneously. We needed help.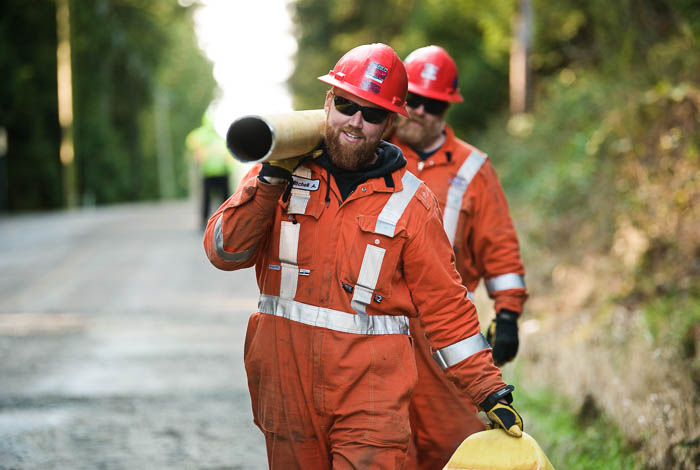 Calling in reinforcements
Luckily, FortisBC contracting partners Canadian Utilities happened to be in Gibsons and offered to help. Canadian Utilities raced over and helped our crews put in a bypass to help natural gas keep flowing in case one of the natural gas lines became further damaged while exposed. With that bypass in place, we were able to buy ourselves more time.
At the same time, FortisBC's distribution service agent Norm Purdy was able to source a 60-foot beam to support the exposed natural gas lines and the water main as work began.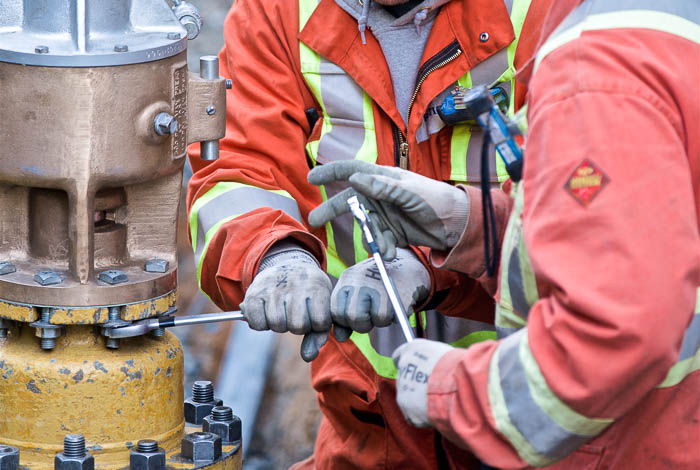 Communication is paramount in an emergency
FortisBC reached out to the Sunshine Coast Regional District and the Ministry of Transportation and Infrastructure to inform them of the situation and the potential scenarios we faced. The Sunshine Coast Regional District activated their Emergency Operations Centre and brought all hands on deck, meeting with FortisBC and the Ministry of Transportation and Infrastructure on site to come up with a plan.
We brought in additional FortisBC crews from Langford to share expertise on the best way to handle specific equipment, and welders from Nanaimo for an extra set of hands. Even Canadian Utilities' sister company in Washington expedited equipment since they were the closest in proximity to have them in possession.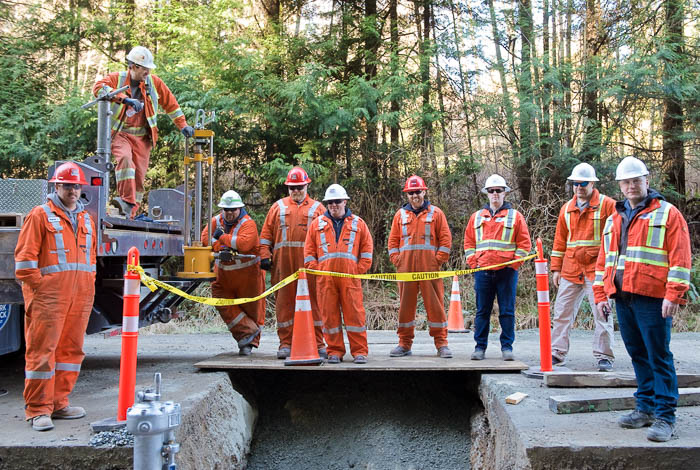 A team effort
FortisBC crews took turns spending the night at the site to keep an eye on the situation with Norm Purdy taking the first shift on the first night. While it was a complicated job, with the teamwork and partnership of all involved, all damage was repaired and everything was back to normal in just two-and-a-half weeks.
"I lost a lot of sleep over those two-and-a-half weeks," said Ben. "But I was humbled by the collaboration and cooperation. It takes a team effort to deliver energy and this proved it.
From our crews in operations, engineering and planning, Canadian Utilities, the Ministry of Transportation and Infrastructure, the Sunshine Coast Regional District and all the individual contractors, we all partnered together to do what made sense and did it safely."
Related stories
More about