Stories

How to store and maintain food during an outage
March 13, 2017
Updated August 3, 2021
In Southern BC, we can take our fridges for granted—well, most of the time. There are times when weather, wildlife and wear can take a toll on the approximately 7,335 kilometres of poles and wires we maintain, so it's important to be prepared for unexpected power outages that can lead to some unexpected defrosts.
A question we're sometimes asked when this happens is: "how long will my food keep during an outage?"
For answers, we reached out to Karine Lawrence. As a food scientist, she cares about safe food storage and handling practices in industrial and food service settings. She keeps informed about emerging foodborne pathogens that can cause outbreaks.
As a busy mom of two living through all that the Okanagan's four seasons can bring, she wants to avoid food waste while keeping her family safe. Her top recommendation is to be ready and informed before the power goes out. That means practicing safe food handling techniques.
"Your food has a better chance of staying safe during an outage if it's been safely handled at all times and stored at a safe temperature," explained Karine.
According to Karine, the ideal temperature to set your fridge is 4 °C and your freezer is to -18 °C.
She found studies that show an alarming number of fridges are too warm. In 2006, Food Safety Magazine reported that 20 per cent of domestic and commercial refrigerators operate at a temperature of greater than 10 °C (50 °F). This supports an earlier US study that found 48 per cent were at temperatures greater than 5.0 °C and 17 per cent greater than 8.3 °C.
Failing to keep food at a proper temperature could lead to the growth of illness-causing bacteria like salmonella, listeria and E. Coli.
How can you tell if your fridge is cold enough? Keep a working thermometer in your fridge at all times and make sure it reads 4 °C. Not sure if your thermometer is accurate? Place it in water with ice and make sure it reads 0 °C.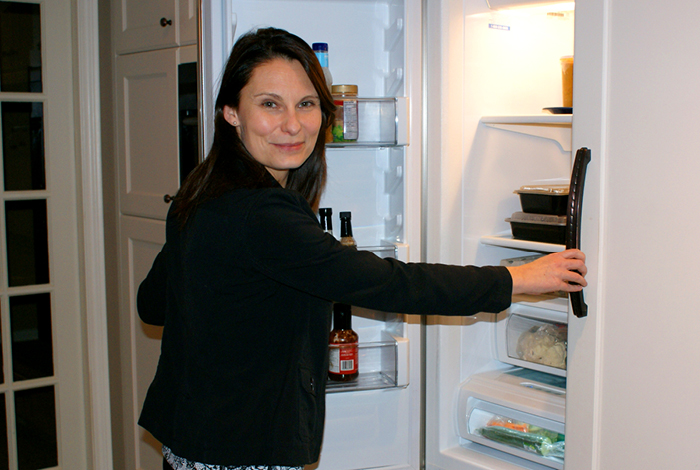 She also recommends avoiding unnecessary fridge browsing during an outage - a properly sealed fridge should maintain food safely for four hours or even longer, so long as the door is kept closed. Food also remains safe at room temperature for up to two hours, which, incidentally, is about as long as you should put out appetizers during a cocktail party but longer than you should put out potato salad at a picnic on a hot day.

She offers these tips to manage food before, during and after an outage:
Before an outage
Keep a few days' worth of ready-to-eat foods that do not require cooking or cooling.
Keep your fridge clean and defrost and clean your freezer regularly.
Make sure the seals around your fridge or freezer door are in good repair.
Ensure that raw meat/fish are stored away from ready-to-eat food and any drips are contained.
Store leftovers in clean, small containers and cool promptly.
Avoid leaving food on the kitchen counter for more than two hours.
Keep a block of ice in your freezer.
Keep a working thermometer in your fridge.
Have a back-up generator if you live in an area at high risk for outages, such as a heavily forested area.
During a power outage
Record the time the power went out.
Move everything to the coldest part of the fridge; in the back, high-up and close together.
Move your ice block from the freezer to the fridge. (Do not use ice or snow from outside, this can contaminate your food).
Keep your fridge and freezer door closed as much as possible to keep the cold air in.
For a prolonged outage, transport food carefully in a cooler to a working fridge.
After a power outage
Check the fridge temperature when the power is restored to make sure the temperature is below 4.4 °C (40 °F).
Inspect the food, any food that is below 4.4 °C (40 °F) or still has ice crystals is safe.
Cook any thawed food that is still at a safe temperate to an internal temperature of 74 °C (165 °F). Do not refreeze thawed food.
Clean and sanitize the fridge with a bleach mixture (5 ml/1 tsp bleach per 750 ml/3 cups water).
If the outage lasts for more than four hours, pay special attention to perishable food. At risk foods are:

high in moisture (yogurt and milk).
low in acidity (as opposed to high acid foods like lemon juice, Coca-Cola and pickles).
high in protein (meat, seafood, fish, eggs and dairy) especially if they are raw and uncooked.
The Canadian Food Inspection Agency also provides this comprehensive list of how to be prepared and handle food during a power outage.
Find more help in being prepared for outages.
| | |
| --- | --- |
| | Karine Lawrence is a certified food safety professional specializing in post-farm food safety. As the principal consultant and owner of Sirocco Food and Wine Consulting services, she delivers training and develops and implements food safety plans to the food manufacturing industry across Canada and the United States. Karine holds a masters in food science from the University of British Columbia. She is a certified Hazard Analysis Critical Control Point (HACCP) professional (Certified Canadian HACCP Professional, American Society for Quality-Certified HACCP Auditor), Food Safety Preventive Controls Alliance Lead Instructor and certified Safe Quality Food (SFQ) trainer and consultant. |
You might also be interested in:
Related stories
More about