Stories

How the Trauma Pup Program cares for our communities
September 6, 2022
The scene of an emergency is a traumatic experience for anyone, and especially difficult for children. When first responders arrive on scene of a fire, vehicle accident or medical emergency, they often comfort children who are frightened and in distress. That's when something as small as a plush toy can make a world of difference.
For over 20 years, FortisBC has supported the Trauma Pup Program to supply local fire departments with plush toys to give to children in distress after their family experiences an emergency. The fire pups have become standard equipment on local fire trucks and are a welcome tool used by first responders across the province.
When a house fire forced a little boy and his family out of their home, a fire pup came to the rescue.
Fire pup to the rescue
By the time the Augustine and Doré family noticed smoke emerging from one of the rooms in their home, it was too late to stop the flames from quickly spreading. Within a matter of minutes, their home along with the majority of their belongings were gone.
The first responders quickly relocated the family to a new home. While they had somewhere safe to stay, the experience was overwhelming, especially for their son Andrew whose third birthday was just days away.
Days later, Andrew was comforted with birthday gifts from friends and family, but there was one toy – a fire pup from the first responders, that made a lasting impression.



According to his family, Andrew was delighted to receive his pup, now named WoofWoofSpot, and the two have been inseparable ever since. Not only did the pup provide him with much needed comfort, it also helped put his family at ease during this difficult time.
A small gesture can make a big impact
Something as small as a stuffed animal can bring tremendous emotional comfort to a child who is going through a traumatic experience. Not only do first responders look after physical needs, they look beyond the physical needs to also address how they can help a child cope with the emotional pain they might be experiencing. The fire pups are a tool used by first responders to calm children down, which in turns helps calm their families.
"Mental health is a big part of safety," said Tanya Kowalenko, program manager, public safety, FortisBC. "The fire pup toy is a small gesture that can provide a lot of emotional relief for a family and their children. All we want to do is show families we care."
Our public safety team works with organizations like the Fire Prevention Officers Association of British Columbia as one of our many efforts to keep our communities safe.
The Trauma Pup Program provides over 1,000 fire pups to local fire departments each year. As of December 2021, over 90 fire departments participate in the program, along with several smaller volunteer departments within their regions.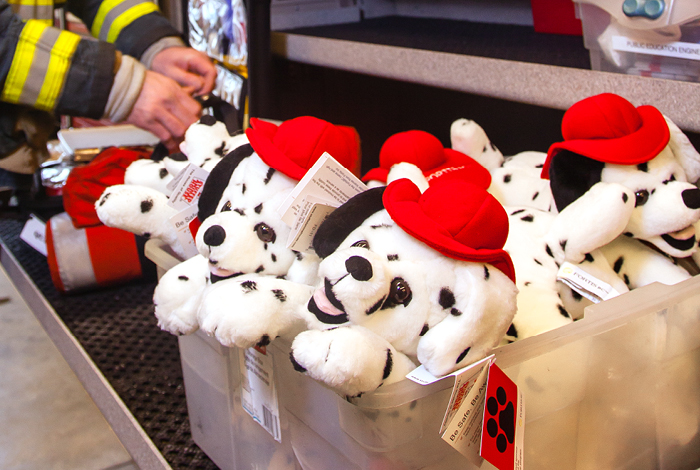 Investing in communities where we live and work
The Trauma Pup Program is just one of many grassroots initiatives we support. Every year, through our Community Investment Program, we work with community leaders who have passion and insights into the specific needs of their communities, and collaborate on projects that focus on safety, education, Indigenous initiatives and the environment. Together we're focused on creating a positive difference to the well-being of British Columbians.
Related stories